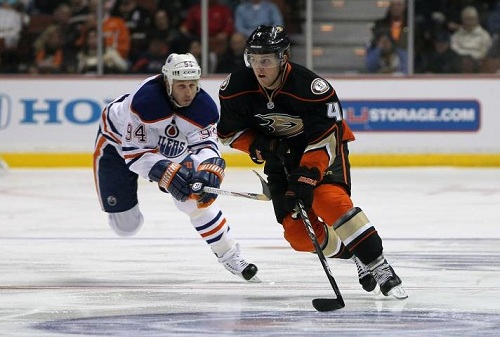 Last night's game against the Edmonton Oilers was the third straight game that Ryan Getzlaf had been off of the Anaheim Ducks' roster. The team captain received an injury to his right leg in a game versus the Dallas Stars, when he became tangled up with Jamie Benn. "It's day to day," Ducks coach Bruce Boudreau said. "We want him to heal as much as possible." It was a decision made by both Boudreau and Getzlaf as to remain cautious on the Ducks' short road to the playoffs.
Edmonton started the game on a rough note, getting a total of three penalties in the first period alone. One was cancelled out, but the second resulted in a power play goal by Radek Dvorak, who tipped the puck in as Ben Lovejoy's shot rebounded off of Devan Dubnyk. This was the first goal of the night, giving the Ducks a single point lead. The rest of the period went without a goal, but another call was made on the Oilers as the period ended, giving Anaheim a power play advantage at the opening of the second.
There were many scoring attempts on Anaheim's part at the midway point of the game, who outshot Edmonton 20-0 four minutes into the period since the middle of the first. Francois Beauchemin battled for the puck in front of the opposing net and had a wide-open shot when Dubnyk conveniently knocked off his own net with his back. No call was made. The entire period went without a goal from either side.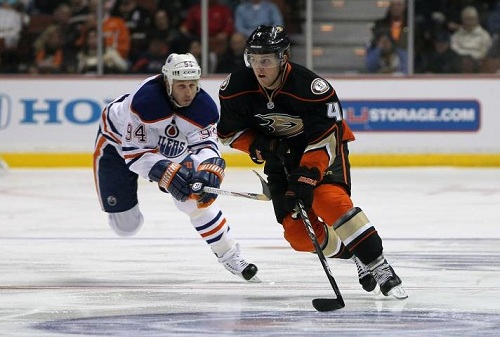 However, just a minute into the third period the Oilers obtained their first goal of the game by Nick Schultz. It was a surprise goal that went right between Jonas Hiller's right shoulder pad and the cross bar, that tied up the game. Dubnyk was playing very well last night, stopping shots from both Saku Koivu and Daniel Winnick within seconds. Then another goal off a rebound for Dvorak, this time assisted by Winnick. The Ducks took back a 2-1 lead which Hiller helped to maintain, making an amazing save with three minutes remaining in the game.
The Oilers take out their goal tender for an extra attacker in a feeble attempt to tie up the game and send it into overtime. Though the outcome was obvious both teams drew out the game with timeouts, Edmonton at 29 seconds and Anaheim at 6 seconds. Another win for the Anaheim Ducks. Light up that dome!