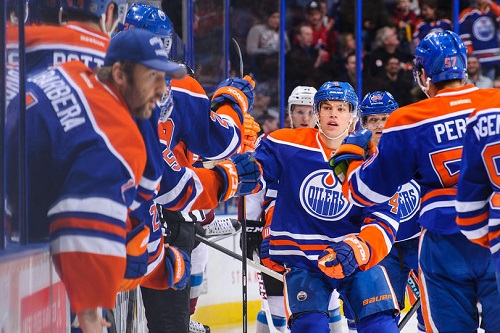 Here we are, it's finally here. We've been waiting for it since April 12th, this is the fresh slate that every Oilers fan has been thinking about for months on end. It's the start of the 2014-15 NHL season, and hopefully the start of a new era in Edmonton hockey history.
The Oilers made a number of changes this off-season, from in-game entertainment to on the ice. It was a summer that saw many staples of the dark years leave, and new faces with proven track records come to town. It was, to say the least, a blast of fresh air coming through the rotted out windows of Rexall Place.
The Subtractions:
They were everywhere. Assistant GM Ricky Olczyk was let go and got a job in Carolina, while assistant coach Steve Smith left the organization to also join the Hurricanes on their new coaching staff. Kelly Buchberger also left the coaching staff, and took another position within the organization. Also off the ice, the much debated Rexall Place DJ was let go, as well as the usual people in charge of in-game entertainment.
On the ice, the Oilers saw a number of moves, starting on the back end. Philip Larsen, Anton Belov and Denis Grebeshkov all signed in the KHL, while Mark Fraser is still an unrestricted free agent looking for work. Up front, Ryan Smyth retired, Sam Gagner was traded to Tampa Bay (and then Arizona) and Ryan Jones was allowed to walk. Ben Eager, who was also in the system still, signed a contract in the KHL over the summer.
The Additions:
The Oilers were busy making additions everywhere this summer. Bill Scott was promoted from OKC to take over the assistant GM's position, while Bob Nicholson took over as the Vice-Chairman of the Oilers Entertainment Group. Craig Ramsay joined on as an assistant coach, while Rocky Thompson was promoted from OKC to fill in on the coaching staff as well.
On the ice, Edmonton got busy early, especially on defense. Edmonton signed both Mark Fayne and Nikita Nikitin to multi-year deals to fill top-four roles, while Keith Aulie was signed on to be the seventh defender. Up front, Benoit Pouliot was signed to provide secondary scoring, while Edmonton targeted Teddy Purcell in the Gagner trade to address that secondary scoring issue as well.
In the draft, Edmonton addressed center by drafting big Leon Draisaitl with the third overall pick, and signing him to an NHL deal. Also in the prospect ranks, Bogdan Yakimov, Dillon Simpson, Mitch Moroz and Jujhar Khaira lead an impressive group of first year players making the jump from junior level, college level and Europe.
The X-Factor:
For me, It's Teddy Purcell up front. Edmonton has high level talent, but sorely was lacking secondary scoring last year. Purcell has had some very productive seasons at the NHL level, and has proven before he can play with skill. He's a guy who was described as a timely scorer, which is something Edmonton hasn't had for years. If he can provide Edmonton with some legit depth scoring wise, this team will have a much improved offense.
He's also played on the power-play before, and could really help a unit that struggled mightily a year ago. His size and leadership should help the team too, and should improve a unit that employed Ryan Jones in this spot a year ago. Up front, he could change the dynamic with a big year.
Player To Watch:
Mark Fayne, the new number five, is the man to watch for Edmonton this year. He'll be tasked with the same job he had in New Jersey, taking on the opponent's top guns and posting a Corsi for % of over 50%. That's going to be very tough, but if he can do that Edmonton will likely find themselves in the playoffs.
Fayne is a solid shut-down defender with real size and an ability to play physical. Defensively, he's extremely solid, and has a history of success against top opponents in the eastern conference. This isn't another Cam Barker or Nick Schultz, this is a proven NHL top-four defender in the early part of his prime. He's going to be a massive part of this team, and will be well worth watching.
Player On The Hot-Seat:
Mark Arcobello, which might surprise some people. Arco was solid in 41 NHL games last year, but will be tasked with a major role of filling a top-nine center job full-time this season. That could backfire in a major way and cost Edmonton their season, so he'll be on a short leash. If Arco comes out and plays like he did last year, Edmonton will be in business, but if not Arco may find himself out of NHL work.
His career, and to a lesser extent Edmonton's playoff hopes, rest on his shoulders this year. Edmonton can't afford to wait, so he'll be on the hot-seat. Many will say Nail Yakupov, but he's improved over the off-season, and I believe the former first overall pick has a much longer leash with the coaching staff.
Expected Line-up:
Taylor Hall – Ryan Nugent-Hopkins – Jordan Eberle
Benoit Pouliot – Leon Draisaitl – Nail Yakupov
David Perron – Mark Arcobello – Teddy Purcell
Matt Hendricks – Boyd Gordon – Jesse Joensuu
Will Acton, Luke Gazdic
Nikita Nikitin – Mark Fayne
Oscar Klefbom – Justin Schultz
Andrew Ference – Jeff Petry
Darnell Nurse
Ben Scrivens, Viktor Fasth
Most Interesting Story Line From Camp:
Klefbom and Nurse won spots while Martin Marincin got sent down. I thought Marincin actually played well, and out-played Klefbom, but here we are. I'd suspect, and Bob Stauffer hinted at it, that Marincin is back-up with the big squad in short order. I'm thinking Darnell gets his nine-games and gets sent back to the OHL unless he is THAT good.
Klefbom, if he performs well, could force Edmonton's hand on a trade, but he could end up swapping spots with Marincin early on depending on the injury situation with Nikita Nikitin.
Story Line To Watch During The Season:
The goaltending battle is going to be the big thing here. Last year Edmonton was derailed early on by terrible play in between the pipes, but spent multiple assets to fix this hole last season. Ben Scrivens enters the year as the starter, but Viktor Fasth is a solid 1B option and played very well during the pre-season.
Fasth is good enough to give Scrivens a solid run for the starters job, and the battle between these two should be one of the most interesting things to watch this year.
The Darkhorse from OKC:
Martin Marincin is the obvious choice for immediate work in Edmonton from OKC after his surprise demotion, but the darkhorse candidate is Anton Lander, who had a rough training camp, but fills a hole at center. Lander is defensively responsible and is a good possession player who has posted offense at the AHL-level. Should that offense ever make it to the NHL-level, Lander would be a huge add to an Oiler line-up lacking center depth. He'll likely get a chance at some point this year for one last chance.
The Prediction:
The Oilers will be improved, it's tough not to be. Edmonton will have two good goalies for the length of the season and went out and improved both their defensive depth-chart and wing depth over the summer. That said, the team failed to address center and that will likely keep them from getting to the promised land.
The team is better off, but just isn't there right now. I'll say 10th in the western conference and 18th overall in the NHL this season. That's legit improvement, and should be viewed as a success by the Oilers faithful.