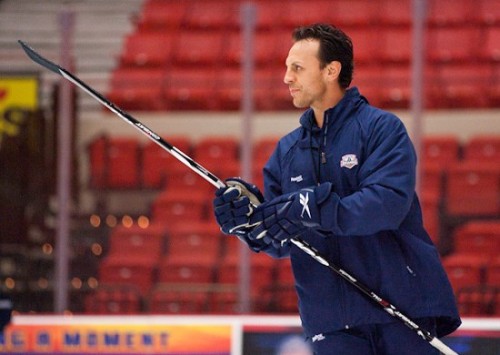 Dallas Eakins has gotten a lot of criticism for his handling of the Edmonton Oilers last season, and quite frankly, deservedly so in some cases. However, he has been revamping the coaching staff for the upcoming season in a way that inspires a little bit of hope. The choices to play around with the coaches demonstrates that Eakins realizes his past approach wasn't working, and hopefully shows his willingness to get some new perspectives.
Craig Ramsay was added earlier this summer as an assistant coach, and he's now joined by young Rocky Thompson. Thompson was promoted to assistant coach of the Edmonton Oilers from his previous post as an assistant coach with the Oklahoma City Barons.
Eakins has expressed in interviews recently that he wants only three men behind the bench this season – Thomson, this attitude implies, will be the eyes from above (something that is fitting for him, as in Oklahoma he would spend the first two periods of a game watching in the press box).
This could be a very beneficial addition for Edmonton– not only a different perspective game-wise, but physically a different perspective. Thompson might be able to spot some things that the other coaches just can't at ice level, and perhaps identify some gaps or problem zones that need adjusting during a game.
Rocky is fairly well known as a coach who likes to take a strategic eye to the ice, cutting up and arranging game footage, working out positional strategy for different players, etc. He was also known, during his time with the Barons, as a very hands-on coach who would watch during practice and help players correct missteps they might be making, or teach them things they might need to develop.
For a team that has been flailing for so many seasons, new and fresh perspectives from the coaching side are perhaps as important as snatching up new, skilled players. Oil City has some new eyes in the sky, and hopefully they'll spot some things that can be fixed and improved.