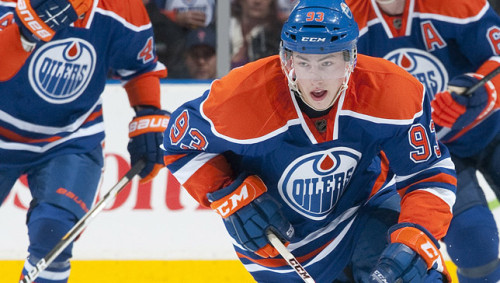 The worst month of the year for hockey fans has finally come to a close, that's right, we've reached the end of August. One of only two months without hockey on the calender year, and the only one without something to look forward to, August usually marks the dog-days of hockey off-season. Now we enter September, the land of training camps and pre-season games.
The Oilers were mostly quiet throughout the month of August, but did make a few subtle moves. Let's take a look at them.
Oilers Sign Dr. Drai:
The Oilers made a non-surprising signing earlier in the month by inking third overall draft pick Leon Draisaitl to his standard three-year entry level contract. The move was a given, as it has become a summer tradition in Edmonton to sign the first round draft choice at some point during July or August since 2010 when the team signed Taylor Hall.
Draisaitl, like Hall, Nugent-Hopkins and Yakupov before him, will likely suit up right away in the NHL. The Oil failed to add a veteran NHL center this off-season, and have two spots on their depth chart up for grabs, the second and third line jobs. Draisaitl will join Anton Lander and Mark Arcobello in the battle for those spots.
Draisaitl provides Edmonton with another big body with skill, fitting in with the trend this summer that Craig MacTavish went with. Draisaitl has tons of skill and a huge frame at only 18 years old, and it's likely he isn't done growing. He's a good puck possession player that can put up offense and has great play-making skills. That size and skill makes him the perfect compliment to the Nuge.
Leon's offensive numbers in junior suggest an impact player, and his NHLE suggest we should expect a player that produces in his first season at the NHL level. He's not Taylor Hall, but he's a potential impact player that some have compared to Joe Thornton. He puts up points, protects the puck and has a lot of size.
I'm not sure he's ready, and think even if he makes the team a sheltered role would be best, but the Oilers clearly love this kid. He'll be interesting to watch at the youngstars tournament and in training camp in September. Although I'd send him back to the WHL, I suspect he is in the lineup on October 9th against Calgary.
Jultz Returns:
Earlier this week the Oilers re-signed defender Justin Schultz to a one-year deal worth $3.675 M on the cap. It's the bridge contract that was hinted at and expected, and it will allow Schultz to be at camp when it opens on September 18th.
The deal has it's pros and it's cons. The pros are obvious, it's a short-term deal that allows Edmonton more time to see exactly what kind of player Schultz is. They know he is dynamic offensively, but the questions are there with his defensive ability, which was inconsistent at best last season. This gives Edmonton more time to adequately observe the player.
The cons are obvious too. It's a deal that allows Schultz to break that bank next summer with a big year. If he's able to put up a solid point total and tweak his defensive game a little, he could easily be in the range of $5 M per season on his next deal. This one-year deal gives Schultz more leverage next time around.
Overall, I like the one-year term, but I hate the dollar amount. $3.675 M is far too much for a player that still isn't anything more than a third pairing defender. Yes, he puts up points, but he is a guy that far too often makes mistakes on goals against, and who simply isn't very good defensively at this point.
As for the player, we know Schultz has dynamic offensive ability. He's a good passer, has solid instincts with the puck, and has a killer wrist shot. He's usually money on the power-play too, making him a valuable piece. That said, he's not yet developed defensively and makes a lot of mistakes. He isn't good a knowing when to pinch and when to stay back, he loses a lot of battles, and doesn't do a very good job of boxing out the opponent in front of the net.
He's got a lot of potential, but Justin Schultz needs a lot of work defensively before he becomes the player he thinks he is. He should be playing on the third pairing this season with lots of power-play time.
I'm hoping Craig Ramsay gets to this kid, it could do wonders for his career.
Tube Change!:
Away from the ice, the Oilers saw another change this week. Sportsnet revealed their new broadcast teams, including the Oilers crew. Kevin Quinn returns as play-by-play man, while Gene Principe returns as the rink side reporter. The one change came at the color-commentator spot, as Louie Debrusk finds himself out and Drew Remenda finds himself in.
Remenda served as the color commentator for the San Jose Sharks broadcasts the last few years, but was let go back in the spring by Comcast Sportsnet Bay Area. Remenda is a solid add in my mind, as he isn't afraid to speak the truth and won't be afraid to comment negatively on players. He's also a former coach and understands the game very well, and he brings a highly intelligent take to the table. He'll upgrade the overall product in my mind for fans.
A Look Ahead:
September is going to be fun. The Oilers rookie squad will head to Penticton to participate in the youngstars tournament, and will also battle the U Of A Golden Bears before everyone hits main camp on September 18th. The Oil will also start their pre-season slate on September 21st with a split-squad match-up against the Flames. We're almost there my friends. Buckle hockey, here comes hockey.