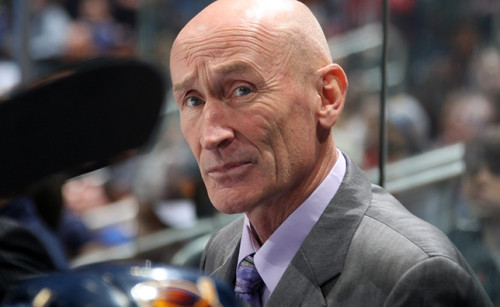 There's a Ramsay trying to start a spark in the Edmonton Oilers organization, and it's not the one who yells at everyone – veteran NHL player and coach Craig Ramsay has hopped onto the Dallas Eakins ride of doom as an assistant coach, and hopefully he'll be able to yank the wheel in the right direction. I'll say one good thing about Eakins – he made a strong choice here. The Oilers officially announced the decision on June 10th, though speculation and rumors had been floating for awhile.
Ramsay is older, he may not be super high profile for some fans, but let's face it – things can't get much worse, and he is a very solid addition in a lot of the places the Oilers need it most. He'll be able to work with the defense and on the power play, two elements he's proven successful at in the past. He's not a hot head who's going to throw a towel at a player or raise his voice, igniting the frustrations of a struggling team. Instead, he's the soft and silent type, someone who will be able to step in and carefully adjust some of the faults, able to talk with the players and guide them.
His background is pretty impeccable for this position as well. He's been head coach for three separate teams, and regardless of what type of team he stepped into in those situations, experience is experience. He's worked with a lot of really great coaches, and a lot of his experience has come specifically as an assistant or associate coach, which is also extremely helpful, as he's not stepping into totally new and foreign territory with the assistant coach role.
Eakins and Ramsay also have some personal ties – they were both in the Florida Panthers organization at the same time for a period of two years (Eakins as a player, Ramsay as an assistant/associate coach), and have a tie through their Roger Neilson connection.
Eakins spoke to the press about his decision, stating that "there's one goal here and that's to win. When you can add great experienced people, you can't be thinking. "I better not, because he might know more than me. I already know Craig knows more than me."
The first step to solving a problem is admitting that you have one, right?
Eakins went on to sing Ramsay's praises, interviewing that "With Craig I checked off a lot of boxes. Experience. Power play. Penalty Kill. Defence. Teacher. I don't care what box. They all get checked off with Craig."
There's a lot of optimism surrounding this pick, and deservedly so.
What does Ramsay have to say about it all? A succinct little statement that might make Oilers fans smile: when asked about joining the struggling Oilers who haven't made it to the playoffs in years, Ramsay simply said "there's a challenge. I love a challenge."