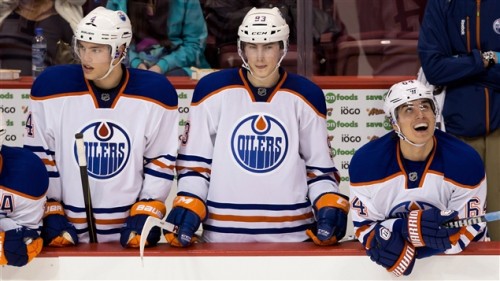 The Oilers made a few transactions following their 4-1 loss to Nashville on Wednesday night, shuffling the deck a little bit and getting a few players back from injury.
Gazdic To OKC:
I mentioned on Wednesday night that Edmonton should send Luke Gazdic down to OKC for a two-week conditioning stint, and the team has done just that. Gazdic suffered a shoulder injury late last season, and required off-season shoulder surgery to repair the damage. Gazdic missed training camp, and while he has been skating, he is no where near game shape right now.
He'll head down to Oklahoma City and get in some game action, his version of the pre-season, with the Barons over the next two weeks. He'll need an impressive showing, because Jesse Joensuu and Matt Hendricks are tearing it up on the fourth line right now. Gazdic provides that toughness Edmonton loves, but not much else.
Gaz will likely get the full two weeks in OKC and then make his return to Edmonton in mid-November, where he is likely to serve as the 13th forward with Will Acton also getting regular press-box duty.
Bachman To OKC:
The Oilers also sent down goalie Richard Bachman to the Barons after the game. Bachman is clearly the number three goalie in the organization and provides Edmonton with an option who has proven himself in the pro ranks. He's a solid AHL starter, and should help the Barons, who have struggled a bit out of the gate down in Oklahoma City.
Bachman didn't get into any game action in Edmonton during his stint, and hopefully we don't see him on the roster again due to injury this season. Bachman will return to his starting role this weekend with the Barons.
Fasth Off IR:
The Oilers have been riding Ben Scrivens quite a bit here over the last few weeks since Fasth went down. Scrivens has won four games for Edmonton in that span, and has been sensational for the team, keeping them in each contest. The Oilers will need to give him a break eventually, and need someone they can trust in net.
Fasth is that guy, and will likely get some action relatively quickly here. Fasth is a legit NHL goalie, and gives Edmonton a duo that can go out every night and give the team a chance to win. Fasth had a good pre-season and was decent in his start in Vancouver in the season's second game.
Fasth was suffering from a groin injury, which luckily for him and the team was not severe. He'll be dressed Saturday against Vancouver.
Nikitin And Hunt:
No word on Nikita Nikitin, who has been suffering from back spasms and missed the last two games for Edmonton. He recently underwent a MRI, and his status for Saturday is up in the air. Brad Hunt has played the last two games, and in my mind has struggled. He isn't the reason the Oilers lost Wednesday, but he's not getting the job done. Hunt has a great shot, but can't do much defensively.
Personally, I can't see Oscar Klefbom doing a worse job, in fact I think Klefbom would be a massive improvement here. I think the hope is Nikitin's injury is short-term, but if it is a longer term deal, we could see Klefbom join the roster shuffle and head up to Edmonton in short order. It's not out of the question by a long shot.
Leon:
Draisaitl is staying with the team for now, but that could change at anytime before the 39 game mark. Leon played good for a stretch during the winning streak, but still hasn't impressed me to the point where I think he should be in the NHL. Leon is big, skilled, and will be a very good player, but I don't think he is ready just yet.
We know Edmonton has shown interest in Kyle Brodziak, and you'd have to think they revisit that should the club remain within striking distance and Leon hasn't broken through to a spot where you HAVE to keep him.