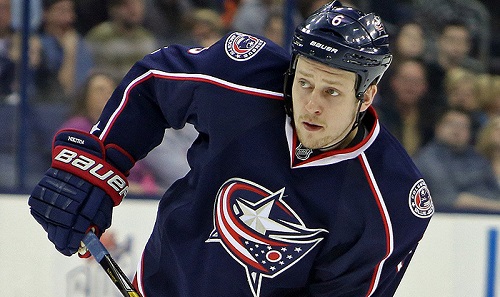 The Edmonton Oilers recently signed former Columbus Blue Jackets defenseman Nikita Nikitin to a two year deal worth about $4.5 million a year.
Many have been fairly torn about the decision, with fairly persistently lingering comments that Edmonton overpaid for the defenseman in this case. While the Oilers are not in a huge cap crunch yet, it's always a better to have a little wiggle room. One thing many fans have expressed concern over is how Nikitin's signing may potentially complicate the contracts with Jeff Petry and Justin Schultz – seeing Nikitin signed for over 4 million a year might make them reluctant to sign for a smaller amount and make things difficult for Edmonton. However, while Petry and Schultz are restricted free agents, Nikitin was not – so, in my opinion at least, the comparison would likely not have a huge impact on future discussions about either of the defenders' contracts. Also, let's face it – the Oilers are likely not the top choice for players, given how they've been doing lately. Until they improve and become a team who consistently makes the Playoffs, they're probably going to have to put up a little bit more cash in order to convince players to come their way.
One good thing about signing veteran 28-year old Nikitin is that some of the potential defensive talents the Oilers have been nurturing – Darnell Nurse, Oscar Klefbom, Martin Marincin – can take a little more time to grow. While he's not a star defenseman, he's solid, and that's enough of an improvement for the flailing Oilers.
Another benefit to the two year signing in particular is that it gives the Oilers a little bit of both worlds and is a bit more flexible than a one year signing or a longer 4-5 year signing. Nikitin will hopefully help them improve in the short term – if he ends up not meshing with the other players and not helping the team, they're stuck with him for a relatively short time, and if he makes a positive addition, they can hopefully easily resign him.
The Oilers still have about $20 million in cap space, which is a reasonable amount to make some tweaks. While many fans were concerned Nikitin's signing would push Petry and Schultz to ask for more, having earned about $2 million and $1 million, respectively, their past season (something like $1.8 million for Petry and $925,000 for Schultz), the Oilers could likely get both defensemen on board for about 6-7 million if they chose to do so, which would still leave low double digits in cap space for acquiring two or three more players.N
Love Reading About Hockey?

Subscribe to keep up-to-date with the latest and most interesting hockey news!
| | |
| --- | --- |
| | We hate spam just as much as you |