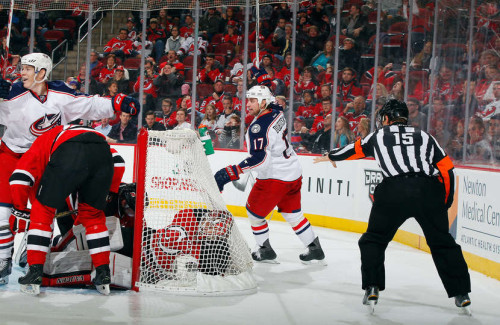 Unfortunately, the story of last night is much more than Patrik Elias' return to the lineup. His time on the power-play unit was sloppy and seemed confused, and his line (the third, with Jacob Josefson and Stefan Matteau) produced zero points. Josefson has a mere four assists on the season, and Matteau has yet to record a point. It will take time for this line to find their chemistry with the addition of Elias 20 games into the season. There is not much else to say.
The most controversial, conversation sparking story of last night, though, was the goal that would have tied the game at 2, just over halfway in to the third period. It would have, if the referees had counted it.
Backstory: Columbus had a delayed penalty against captain Nick Foligno. There was a scramble for the puck in the corner. It got to Adam Henrique, he missed the net and got it back, without Columbus touching the puck. He then shot from the right circle and scored — his second of the night. The referees, though, thought that Campbell got his stick between a pass along the boards (he did, to be fair) and that he had controlled it enough to warrant a stoppage in play. Here is the caveat, though: there was no whistle. Campbell barely controlled the puck, and the play was not whistled down to signal that Henrique should not playing as normal. Behold, the play in question:
Note: there was no whistle. Campbell touched the puck, but he did the almost polar opposite of control it: he lost it, and couldn't find it in his skates. Plays like these are not reviewable and are not allowed to be challenged by a coach. So, players, coaches, teams and fans are forced to take the call of the on-ice officiating team. Their reasoning was: Our bad. We should have called a whistle. No goal. When, in hockey, do referees get to take back things they should have seen? How many games would have ended differently?
To me, the goal was too important to the game for such a minor thing to be overturned without a question. Maybe this should be a league thing. But, surfing the internet, I'm not the only one expressing my concern. During the game itself, player-turned-commentator Ken Daneyko expressed his dislike for the call, and backlash surfaced among viewers. But, here is what both Henrique and Coach John Hynes had to say:
While Henrique tried to stay neutral on the call, he let one telling statement slip: "They say they want more goals…" he began, but stopped himself and returned to the neutral "we'll put it behind us" stance. You can imagine a player's frustration over such a call.
Though I doubt one questionable call will make the entire NHL review the policy on these things (though I'd venture to say there has already been more than one questionable call this season, but I digress), it may be worth it to allow more on-ice called to be reviewed in Toronto. It may, at the very least, have changed the outcome of this game. It won't be easily forgotten among fans, especially if the Devils are one win out of the playoffs, or two points away from a non-wild card spot, come playoff time.
Love Reading About Hockey?

Subscribe to keep up-to-date with the latest and most interesting hockey news!
| | |
| --- | --- |
| | We hate spam just as much as you |