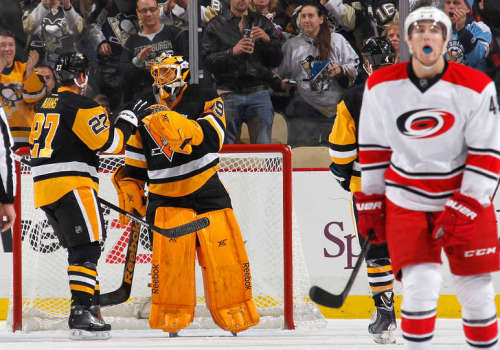 Fun Facts:
Other than shutouts, Marc-Andre Fleury earned his third best save percentage of the season with a .960SV%.
Beau Bennett has totaled five points (1G, 4A) over the span of eight games. He earned two assists tonight. His lone goal and remaining two assists were against the Montreal Canadiens on November 18th.
Video Recap:
https://www.youtube.com/watch?v=dtRtP2aUnCs
The Good:
Beau Bennett made a triumphant return from a second knee injury and the mumps with the primary assists on both Penguin goals against the Carolina Hurricanes. It was great to see Bennett make an immediate impact – not only for the team but for himself. Make all the "made of glass" jokes you want, but Bennett can and will be a very important part of this team if he can stay healthy. Don't forget, he had a very strong camp, preseason and a few regular season games playing with Steve Downie and Brandon Sutter. With Pascal Dupuis out, Bennet should get a shot at playing with Sidney Crosby. Anything is an improvement over Bryan Rust at this point.
No surprise that Marc-Andre Fleury stood on his head yet again for the Pittsburgh Penguins. Other than a back to back start against the Florida Panthers and Tampa Bay Lightning, Fleury has been sharp all season. This might have been one his greatest individual efforts of the season. The Penguins were giving up plenty of chances and quite a few odd man rushes. They almost gave up another late period goal, a common theme over this losing streak, but Fleury had other ideas:
https://www.youtube.com/watch?v=_Y_AL-Z3fJ4
The general consensus in Pittsburgh is that Fleury should be in the Vezina conversation. Fleury is currently leading the league with six shutouts, tied for second in wins with 20, fifth for Save% with a .928 and sixth for GAA with 2.12 GAA. As of right now, Pekka Rinne is his only real competition. At the very least, Fleury should finish this season as a Vezina finalist.
Chris Kunitz earned a goal and an assist giving him a total four points (2G, 2A) in six games since returning from injury. It seems as if Kunitz's age is starting to catch up with him but, he played well with Beau Bennet and Brandon Sutter while Evgeni Malkin took some first line duties with Sidney Crosby. Kunitz may have had his best season behind him already but, he can still be a very effective and important player for the Penguins.
Christian Ehrhoff also returned from injury totaling 24:59 of ice time and had a solid night defensively. The best players may not be returning yet, but the spark that has been provided by the three that have already was significant enough to get back to winning ways.
The Bad:
The power-play feels a lot worse than just "bad." The Penguins were 3 for 47 on the man advantage in December compared to 9 for 37 in November. Not to mention their ridiculous 15 for 38 in the month of October. With more players coming back, the injury scapegoat is wearing thin. Zone entry is starting to look like a problem which is a huge step back for Mike Johnston's system. Not to sound like a broken record, but the Penguins need to simplify. Entry, shots, rebounds.
A few defensive lapses gave the Carolina Hurricanes more than enough odd-man chances tonight. Weak coverage around the crease resulted in a few turnovers as well. This is somewhat concerning considering it only adds to the problems they had against the New Jersey Devils.
For Next Time:
Give Beau Bennett a shot at first line minutes. As long as Pascal Dupuis is out and no one else is coming in, it couldn't hurt (save your injury jokes please). Sidney Crosby could use a spark and a few good setups.
Put Christian Ehrhoff on the power-play. Before injury, his offensive side was really starting to shine. He's got an amazing slapshot which could definitely generate some much needed rebounds.
Penguins are at the Bell Centre to face the Montreal Canadiens on Saturday at 7:00pm ET. Happy New Year!
Love Reading About Hockey?

Subscribe to keep up-to-date with the latest and most interesting hockey news!
| | |
| --- | --- |
| | We hate spam just as much as you |