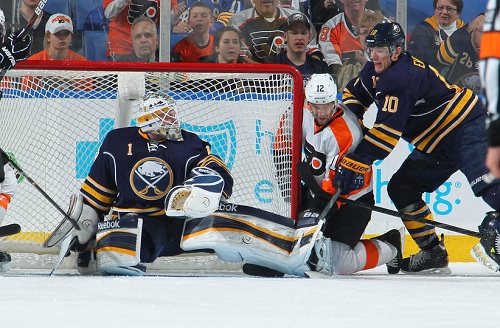 Jhonas Enroth made the most of a rare start and helped lead the Sabres to a 1-0 victory over the Philadelphia Flyers. Enroth made 29 saves in the win. This was his first shutout since November 2011 and the 3rd of his career. "I'm feeling good right now" said Enroth.
The Sabres, which have been booed at home several times for their lackluster play, finally gave the fans something to cheer about. The Sabres killed off all 3 Flyers power-plays, and were very effective in creating chances.
Christian Ehroff scored the game's only goal in the early seconds of the 3rd period. Steve Ott won a face-off in the Flyers zone and it came back to Ehroff who let one go to beat goaltender Steve Mason. The Sabres are holding onto slim playoff hopes. With only 6 games remaining, the Sabres would probably have to win all their remaining games to make it. A New York Rangers victory Saturday did not help Buffalo who now are 6 points back of the Rangers for the 8th playoff spot.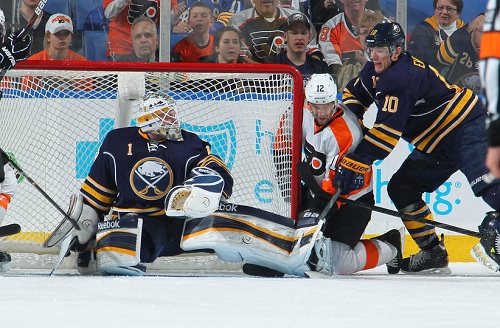 D Chad Ruhwedel made his NHL debut with the Sabres. "These guys made it easy…felt comfortable" Ruhwedel had just completed his junior season at UMass-Lowell where they lost in the semifinals to eventual champion Yale. Ruhwedel had 23 points (7g-16a) this season for the Riverhawks. He was just recently named to the American Hockey Coaches Association All America First Team. With the Sabres short on defensemen due to trades and the season ending injury to Tyler Myers, signing Ruhwedel was a no-brainer.
The Sabres play the Tampa Bay Lightning Sunday at 5:00.