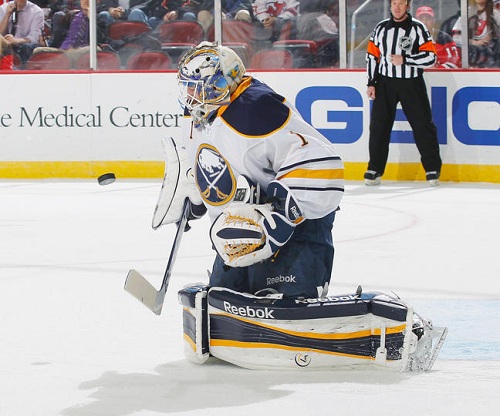 Jhonas Enroth had not started a game in about one month. His last start came February 5, which was a loss. Coming into the game, Enroth had a save percentage of .847 and a goals against average of 4.73. Ryan Miller had started 14 games in a row before Enroth's start. The Sabres would lose again to the New Jersey Devils 3-2 in a shootout loss. Enroth played one of his better
games of the season making 27 saves but left the game with muscle cramps.
Due to a Anton Volchenkov tripping penalty, the Sabres found themselves on the power-play in the 2nd period. Tyler Ennis battled in the corner and came away with the puck. He made a pass to a wide-open Thomas Vanek in the slot who buried his chance on a one-timer to beat Hedberg and take a 1-0 lead. Steve Ott also assisted on the goal. The goal was Vanek's 13th of the season.
Big moment for forward Brian Flynn. Flynn, who was recently called up from the Rochester Americans, scored his first career NHL goal. With the puck in front of the net, Flynn was able to slip the puck underneath Hedberg's pad to take a 2-0 lead. Andrej Sekera and Marcus Foligno had assists on the goal.
New Jersey would respond minutes later on the power-play. Christian Ehrhoff was in the penalty box for holding. Adam Henrique took a pass from Ilya Kovalchuk and fired toward the net. Mike Weber was able to block the shot but Henrique picked up the puck and beat Hedberg to cut the lead to 2-1.
It all looked good for the Sabres to win the game in the waning minutes of the 3rd period. However, the Devils would respond with some late-game heroics. David Clarkson brought the puck across the blue-line and took a shot on net. Enroth made the initial save but gave up a huge rebound to Patrik Elias. Elias fired on net and as Enroth dove across the crease to attempt a save, was injured on the play. Elias would go on to score and tie it at 2 a-piece with little more than one minute left.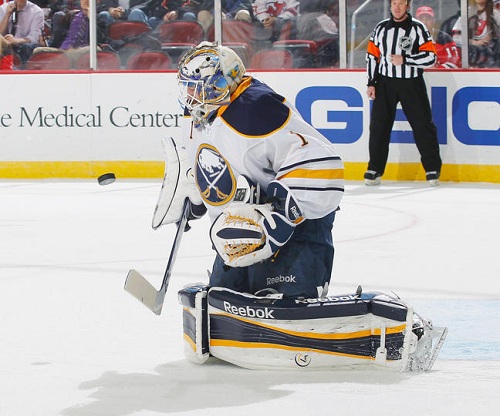 Buffalo's best opportunity came in the overtime as Jason Pominville led a 3 on 1 break. Pominville rifled a shot but hit the crossbar. The teams were still tied and would head to the shootout.
Miller would stop Kovalchuk's attempt but gave up goals to Clarkson and Elias. Actually, Elias made Miller look silly as he committed way too early and was easily beaten. Hedberg saved both attempts and New Jersey came away with the 3-2 SO win.
Game Notes:
Congratulations to Brian Flynn on his first career NHL goal.
The Sabres are currently on a 3 game losing streak.