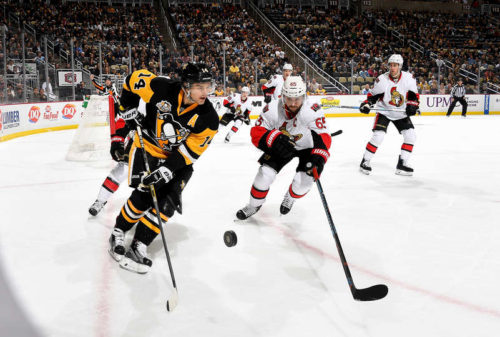 Amidst Shea Weber's blistering start in his new home, Brent Burns's insane shot totals and Drew Doughty's consistently solid style of play, Erik Karlsson was – for maybe the first time in his NHL career – lost in the crowd.
It's funny, really, given that Karlsson is doing now what he has been doing since game one of 2016-17 season, yet only recently has he received any adulation for it. Perhaps it's the fact his team is finally enjoying the kind of collective success that warrants praise of individual efforts, as the Sens have slowly crept their way into a tie for fifth in the NHL's standings.
Regardless of where the Sens sit in the standings, there's no debating the profound impact Karlsson has had this season – both in the traditional sense (i.e. offensively) and beyond. Karlsson was at one point tied for fourth in league scoring and currently sits tied for 13th with 27 points in 29 games.
One facet of his game that has received some attention but not nearly enough is Karlsson's significant change in ice time. After averaging an insane 28:58 of ice time per game last season, Karlsson has seen his minutes reduced to 27:01 under Guy Boucher, yet his shifts per game average is up to 32.7 from 27.1, while his ice time per shift has dropped substantially from 1:04 per shift to 49 seconds this year.
While some pundits view this change as a negative – Karlsson is, after all, playing less overall than he did last year when he had the best season of his career – the change makes a whole lot of sense. Playing fewer minutes per shift means Boucher can call Karlsson's number more often and, more importantly, have his star player remain fresher longer.
His special teams usage has also seen significant change in 2016-17, especially on the penalty kill where Boucher has Karlsson playing more than ever in his career. His 2:17 of shorthanded ice time per game is way up from his previous career high of 1:46 in 2012-13, while his powerplay ice time is the second lowest of his career at 3:33 per game.
Karlsson's increased usage on the penalty kill isn't the only element of his game that has caught some off guard. He made headlines just weeks ago after turning in eight blocked shots against the Boston Bruins, but the outburst wasn't the anomaly it was made out to be: Karlsson leads the league in blocks per game at 2.7, just over a half block better than his average of 2.1 last season.
And yet despite all of the above, Karlsson has received nary a hint of consideration for the Norris from many major hockey analysts and media outlets, who instead push names such as Duncan Keith, Ryan Suter, Weber, Doughty and Burns (the focus of hockey media's "he's due" crusade this year, despite being a full-time defenceman for only a few seasons) to the forefront.
If his word is to be believed Karlsson doesn't concern himself with individual awards, but surely he wouldn't mind a third Norris Trophy on the mantle by the time he turns 27. Should he continue to excel at both ends of the ice and lead his team to the post-season (a major determinant in trophy voting) he won't need to concern himself with matters so trivial.