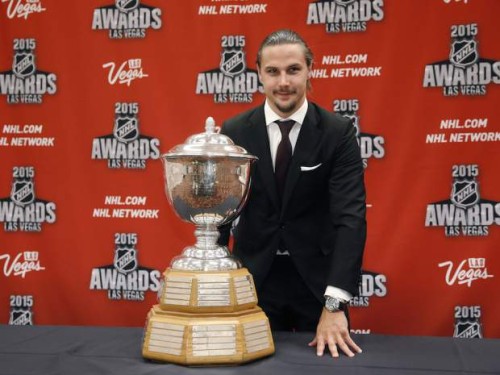 It's been 41 years since a 27-year-old Boston Bruins phenom by the name of Bobby Orr set the NHL on fire when he put up 135 points in the 1974/75 season. That feat earned him the Art Ross trophy as the league's leading scorer – an award no other defenceman has won before or since (though Orr did win his first of two scoring titles in 1970).
That's not so much a knock on the quality of defencemen who have graced NHL rosters since then – Paul Coffey, Ray Bourque, Brian Leetch and Nicklas Lidstrom, among a plethora of others – but a by-product of an era that saw some of the NHL's all-time greatest forwards take advantage of the freewheeling '80s and '90s to set multiple single-season scoring records.
But with scoring at an all-time low, and no Orrs or Coffeys or Wayne Gretzkys or Mario Lemieuxs to revive it, offensive expectations have been drastically lowered in the modern age, and the production has followed suit. Low expectations aside, there's no denying the amazing feats Erik Karlsson has accomplished to this point in what has thus far been a stellar career.
Already a two-time Norris trophy winner and three-time league-leader in points among defencemen by his 25th birthday, to surpass anything he had done through his first six seasons was going to be asking a lot. Well, not only has 2015/16 been his best season to date, Karlsson has added more elements to his game (namely shot blocking) to do the unthinkable and become an even greater threat.
So a third Norris Trophy for Karlsson should be a no-brainer right? Not so according to the mainstream media who, when weighing in on what they have characterized as a two-horse race between Karlsson and Los Angeles Kings defenceman Drew Doughty, have been vehement in support of the latter, largely on the basis that his career accomplishments warrant a "lifetime achievement" Norris victory.
Looking at Doughty's numbers this season – the only numbers that really matter – the race isn't as one-sided as some prominent NHL writers would have you believe. Below is a comparison of the two stars in the 2015/16 season in some of the most commonly referenced statistical categories, along with the figure that leads each respective category (among defencemen)*:
| | | | | | | | | | | |
| --- | --- | --- | --- | --- | --- | --- | --- | --- | --- | --- |
| | Pts | P/60 | Hits | BS | TOI/G | SH TOI/G | GVs | TKs | CF (5-v-5) | SC +/- |
| Doughty | 47 | 1.39 | 110 | 94 | 28:11 | 2:59 | 87 | 8 | 58.67 | 182 |
| Karlsson | 75 | 2.07 | 83 | 159 | 29:07 | 1:14 | 90 | 54 | 51.42 | -46 |
| Leader | 75 | 2.07 | 271 | 236 | 29:07 | 3:42 | 106 | 65 | 58.67 | 206 |
*Leaders based on minimum 60 games and 500 minutes played
To recap: Doughty, contrary to popular belief, isn't actually having the best season any defenceman has ever had in the history of the NHL. Quite the opposite in fact as he leads only one of the aforementioned categories (CF per cent at 5-on-5) and is second in scoring chance differential, while Karlsson leads three (points, P/60, TOI/G) and is second in takeaways.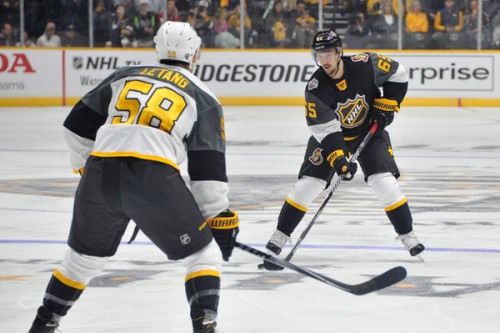 Then there's the matter of Karlsson having one of the best seasons – particularly on offence – by a defenceman in decades. The 82 points Karlsson is on pace for would put him well ahead of second-place Brent Burns and would mark the first time a defenceman has reached the 80-point plateau since Lidstrom did so in 2005/06.
(Some fans and media like to point to the four-plus minutes per game Karlsson plays on the powerplay as reason for his bloated point totals, but he has only two more powerplay points than Doughty's 22, which make up roughly 47 per cent of the latter's total offensive production.)
Karlsson also has a more than realistic shot at reaching milestones not seen since the 1970s, joining some elite company in the process. He could be the first defenceman since Orr in 1974/75 to lead the league in assists and the first to finish top-five in league scoring since Coffey placed 3rd in 1985/86. Plus his 29:07 ice time per game would be tied with Al MacInnis for the 12th highest total since the stat was first recorded in 1997/98.
Sure, Doughty's CF at 5-on-5 dwarfs Karlsson's, but when you consider Los Angeles's team CF of 56.0 is tops in the league, while Ottawa's 47.6 mark is only marginally better than the Buffalo Sabres, it's a wonder Karlsson even has a CF rating above 50 per cent. That fact may not matter much to this new-age hockey world that has trumpeted the value of advanced analytics above all else.
Numbers aside, history also suggests Doughty is getting close to his first Norris – just last season he actually received more 1st place votes for the Norris than did Karlsson, but was left off more ballots than his counterpart, ultimately giving Karlsson the victory – so everything seems to point to Doughty winning sooner rather than later.
If this is indeed his season, it should be because he truly deserves it, not because "it's time" – a popular sentiment among Doughty supporters, who claim his previous snubs (as they perceive them) make him due for this year's award – or because Karlsson has already been named the best defenceman twice, meaning his time has apparently already passed.
As much of a struggle as it may be for the voters to resist the temptation, Doughty's two Stanley Cup rings and Olympics gold medals shouldn't be factored in when it comes time to select a Norris winner. Because in case there's any doubt, here's a friendly reminder: awards are given out not for everything a player has done in the past, but for the work of a single season.
The sad truth, however, is Ottawa's position in the standings may make the debate a moot point – no Norris winner has ever played on a non-playoff team. But wouldn't it be fitting for Karlsson, in a year that will likely see him make history on the ice, make some history off it, too.
(Advanced stats courtesy of war-on-ice.com)