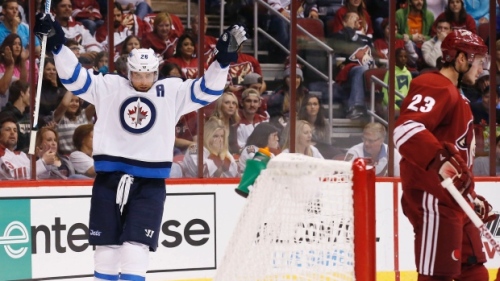 The first game couldn't come soon enough for Evander Kane, who was a subject of ridicule and trade rumours all offseason; and as it turns out, it couldn't end any sooner either.
In the season opener against the Arizona Coyotes, Kane was injured early in the first period after colliding with teammate Mark Scheifele at the blueline. He stayed down for quite some time, but was able to play one more shift, before heading to the locker room for the remainder of the game. It appeared to be a knee injury, although the severity is still unknown.
The first goal of the game came seven minutes in when Bryan Little finished a 2-on-1 off a nice pass from captain, Andrew Ladd. Arizona responded only 38 seconds later, as Mikkel Boedker was given a golden opportunity in the slot and took advantage.
Then, Blake Wheeler took the ice.
Roughly a minute later, Wheeler scored a fluke goal from a sharp angle, only to score on his next shift, redirecting point-shot from Zach Bogosian. In the second half of the period, Mathieu Perreault assisted on a Mark Stuart goal, giving him his first point as a Winnipeg Jet.
The Jets finished the first period up 4-1, but with forty minutes to play and Ondrej Pavelec in net, rest assured some fans may still have been hesitant about prematurely celebrating a win.
As the game went on it became clear that Jets players and fans alike should stop worrying and learn to love the goalie. Dr. Strange-glove (my new nickname for Ondrej Pavelec), ended up letting in only one more goal and finished with 26 saves. A great performance, but one that was not needed to win the game.
Bryan Little was able to score shorthanded goal in the third period, matching Blake Wheeler's goal total of two. But, thanks to an assist on a Dustin Byfuglien goal in the second period, Wheeler finished with a team high three points.
Hanzal scored the last goal of the game eight minutes into the third period to make the score 6-2.
The Jets will hope to keep this offensive tempo going, especially if Kane is sidelined for a significant amount of time.
The team will be in San Jose on Saturday to take on the Sharks at 10pm EST.