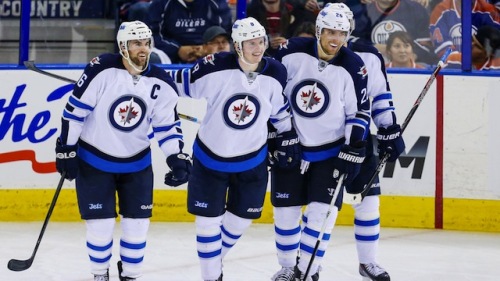 After finishing 3-4 in the preseason, the time has come for the Winnipeg Jets to prepare for their trip to Arizona for Thursday's season opener against the Coyotes.
Last season the Jets finished 37-35-10 with 84 points; the exact same result they had in their inaugural season in 2011-2012. They've struggled taking that next step, or in this case, stride forward; but there's reason to believe they have the skates to do so.
Just not this season.
The Jets have a very young roster, with a lot of promising talent the likes of Mark Schiefele and Jacob Trouba, who have taken major steps forward in their game. But for the most part, the team will not look much different than the one that finished last in the Central Division last season. Aside from a couple changes in the bottom-six (insert free-agent signing Mathieu Perreault and rookie Adam Lowry), not much has changed, including the man between the pipes. Goaltending has been the overwhelmingly dark cloud hovering over the team's playoff chances for years now; and that's not a good problem to have in the Central Division. Ondrej Pavelec, who finished last season with a .901 save percentage, will now have to get used to facing shots coming from these guys:
Together, those new additions to the Central Division combined for 151 goals last season; only 12 shy of the 163 goals Pavelec allowed in 57 games.
Hard to get excited about a Mathieu Perreault signing after the offseason the rest of the division had.
Even with the lack of moves, Head Coach Paul Maurice still believes his team can improve from last season in other ways.
"Our top-end athletes are more fit. There's some development that happens just through experience. So our expectations are higher for some players, even at a young age. And positionally and structurally we're better than we were last year."
Leaving the competition out of it, this Jets team is undoubtedly promising, with young talent found at every position. Let's take a look at how the team stacks up in each facet of the game:
Defense:
It's not very often a 20-year-old defenseman plays upwards of 22 minutes a night, but that's exactly what Jacob Trouba did for a majority of last season. His size (6'2, 200 lbs) as well as his smooth skating ability and poise with the puck helped him earn the workload he did. Expect Trouba to continue to improve his game, although there is a chance he suffers through the proverbial sophomore slump.
The rest of the defensive unit is identical to last season. Tobias Enstrom and Mark Stuart will continue to log heavy minutes night-in and night-out. Keaton Ellerby, Adam Pardy, Grant Clitsome, and Paul Postma will maintain their jobs of providing some depth in the bottom pairing.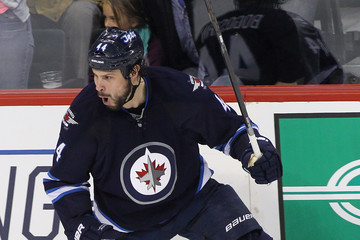 That leaves Zach Bogosian, who the team has been waiting on to stay healthy and finally breakout for quite some time. The former 3rd overall pick only put up 11 points in 55 games last season. If he doesn't stay healthy or show significant signs of improvement, the organization's patience may run out sooner rather than later. Especially when they have guys like Josh Morrissey in the system.
Overall, the defense is as close to a strong spot you will find on this Jets roster. It's all a matter of if Jacob Trouba and Zach Bogosian's productivity can come close to matching their potential. If they can, and the rest of unit stays healthy and consistent, they should be able to hold their own against the offensive powerhouses of the Western Conference.
Grade: B
—
Forwards: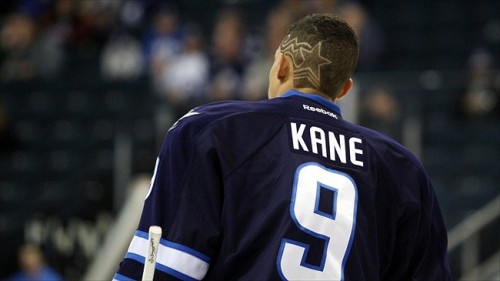 No need to check Darren Dreger's twitter account; yes, Evander Kane is still here. Despite rumours and another offseason in the spotlight, GM Kevin Cheveldayoff decided to hold on to the young winger to start the season. Kane will need to put the effort in to get his productivity back to what is was in 2012 when he scored 30 goals. If there were ever a time this team needed goals, it would be now. The team finished a respectable 15th in goals for, but the puck didn't find the net nearly enough on the powerplay. They finished 25th in powerplay percentage (15%) and did little to nothing this offseason to address the issue. Here's hoping a full season with Paul Maurice at the helm, and a growing familiarity amongst the players leads to an improvement in that department this season.
After two years of bordering on "bust" territory amongst the media, Mark Scheifele proved doubters wrong last season finishing with 34 points in 63 games. In the months of December and January, Scheifele garnered 23 points (9 goals, 14 assists) in 28 games. Maurice will hope to get that kind of input from 21-year-old on a consistent basis this season.
Blake Wheeler, Bryan Little, Andrew Ladd, and Dustin Byfuglien all finished with 20+ goals last season. These are the stats we've come to expect from these four and there's no reason to think that there will be a major drop-off in their contributions.
The rest of the offensive unit rounds out with formidable bottom liners that play a responsible two-way game, but will not light up the scoreboard by any means. The team decided to bring back Michael Frolik, who was able to help the team finish 10th in penalty killing. Frolik will likely waver between the second and third line until it is clear which role he and his linemates are most productive in. The third line will be centred by new addition Mathieu Perreault (43 points in 69 games), with rookie Adam Lowry on the wing, who earned a spot on the roster after impressing coaches in preseason. T.J. Galiardi, who will be playing on his fifth NHL team, was also added to the mix this offseason.
It's clear the Jets have a lot of "good" forwards that will provide physicality and smart play in their own end, but a lack of pure offensive talent may hinder this team. Unless Evander Kane comes back to life, or Mark Scheifele's progresses by leaps and bounds early on, there's a good chance this team will finish in the bottom half of the league in goals and powerplay efficiency.
Grade: B-
—
Goaltending:
Not long after leading the St. John's IceCaps to the Calder Cup Final, 24-year-old netminder Michael Hutchinson signed a two-year deal to stay in the Jets organization. He was able to put up stellar numbers in the AHL last season, and even in his three games he started for the Jets (2-1 with a 0.943 save %, 1.64 GAA). This preseason, both Hutchinson and Palevec took turns having good games followed by bad games. Neither goalie was able to show they could be relied on to make saves on a consistent basis. This up-and-down preseason in net led Cheveldayoff to go out and acquire Peter Budaj to help solidify the depth at the goaltender position. Hutchinson will continue to backup Pavelec, however, as Budaj was placed on waivers shortly after being acquired.
"Mike has earned the opportunity to develop here," said Jets head coach Paul Maurice. "If that means he stays and flourishes here, then good for us. There's no crystal ball in anything we do with the development. Mike has earned that right but having some depth in the goaltender position is always something as a coach you like."


The Jets added goaltender Peter Budaj (pictured) and forward Peter Holland from the Montreal Canadiens on Sunday, in exchange for forward Eric Tangradi. Budaj was placed on waivers shortly after, but will likely start some games for the Jets this season if Pavelec struggles.
(Greg Flume/Getty Images)
If Pavelec continues on his downward spiral, and Hutchinson or Budaj play well in the chances they're given, it may only be a matter of time until a permanent change is made in net. Regardless, it's hard to believe that the goaltending position will win many games for the Jets this season; in fact, expect a lot of wins to come in spite of it.
Grade: C-
—
Projected Lines:
Forwards
Andrew Ladd – Bryan Little – Michael Frolik
Evander Kane – Mark Scheifele – Blake Wheeler
Adam Lowry – Mathieu Perreault – Dustin Byfuglien
T.J. Galiardi – Jim Slater – Chris Thorburn
Defense
Zach Bogosian – Jacob Trouba
Mark Stuart – Tobias Enstrom
Paul Postma – Grant Clitsome
Goalies
Ondrej Pavelec
Michael Hutchinson
Verdict:
With only three new faces on the roster (Perreault, Lowry, and Galiardi), expect more of the same from the Jets this season. To make this season more enjoyable for Jets fans, I advice you to always keep a close eye on the team's young players. This way, even during losses, it will help push the dirt aside so you can see the light at the end of the tunnel.
Prediction:
40-34-8
88 points
6th in the Central Division
11th in the Western Conference