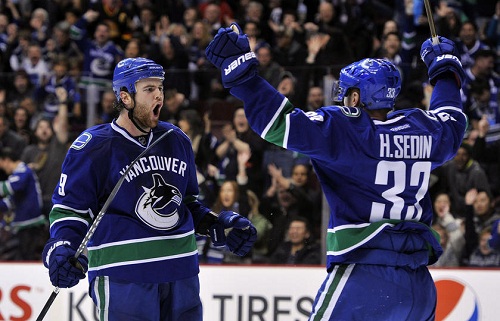 Can I ask you a question? Before the season started, did you think Zack Kassian was going to be a force to reckon with? Possibly the next Todd Bertuzzi the Canucks needed? No? Yea, same here. You still had doubts about him didn't you? Yeah I did too. The Canucks may have had a slow start to the season, but they've definitely found a new line combination. Sedin-Sedin-Kassian. Yes, the Canucks have found a new hope in Zack Kassian.
Before the season started many critics were complaining how he wasn't able to dominate in the AHL or he wasn't Cody Hodgson, but a few more games like Anaheim and Calgary, people will start saying "Cody Who?" With a few good power moves like he should be using in both the Anaheim and Calgary games he was able to score both great goals. Unfortunately the Canucks blew a 2-0 lead and they had to go into the shootout during the Flames game. After Coach AV passed up on him for three rounds, the potato dangler got his chance, and did he ever finish.
Kassian's got a lot of will and has all the tools to be the next Todd Bertuzzi for this Canucks team, but the main thing for Kassian, he has to believe in himself. If he believes in himself, he will keep this hot streak flowing for most of the season. He's strong, and has a big body, it's just a matter of being at the right place so the twins can find that open space. If they find that open space, Kassian could easily be a 20 goal scorer this season. Kassian admits that playing with the Sedins is so easy because they trained together for the first few weeks of the off-season. "You grow closer to them, you're with them every day," Kassian told the Province newspaper. If Kassian can prove his words and play consistently with the Sedins, it frees up Vigneault to use Burrows on the second line.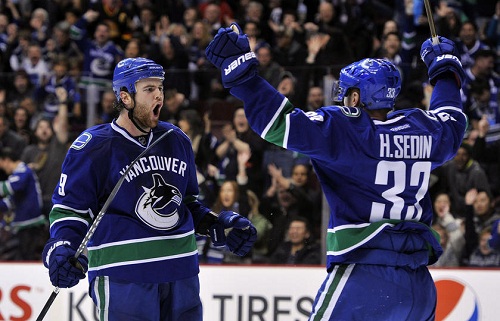 With Kassian occupying the first line for now, Coach V has many line combinations to play with and should look to juggle the 2nd, 3rd, and 4th lines to get the best possible line combo out there. But if Kassian can not pull his weight on the top line, the options will start to become more blurry then a night at the Roxy. For right now, the Canucks need Kassian to stay consistent, he's shown he can score in more ways than one. Against Edmonton he drove to the net and was awarded with a magical wizardry Sedin pass that he shoveled into the net, and against Calgary he used his body to his own advantage and scored on his own rebound.
Kassian will and should be an important player for this Canucks team this season, if he stays out of his bad habits, works hard, and plays consistently; the NHL will need to watch out for the Kassassin.