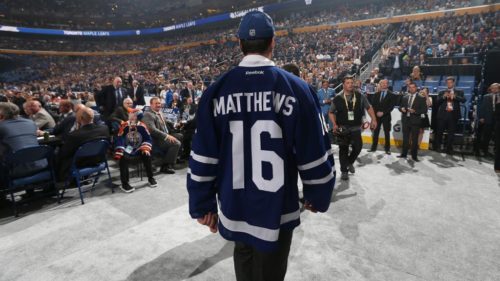 The 2016 NHL Entry Draft has officially come to a close in Buffalo, New York. With the expectations set high for this year's draft class and in addition to a few notable trade rumors that took place this past weekend — there's a lot to look forward to as unrestricted-free-agency (UFA) nears, July 1.
The first-round of this year's draft may just end up being compared to past and proven successful rounds such as the first-round from 2003, which entailed players like Zach Parise, Ryan Getzlaf, Jeff Carter, Marc-Andre Fleury and more.
In case you missed it — here's everything you need to know that happened in round-one of the 2016 NHL Entry Draft.
While the Toronto Maple Leafs fan base became accustomed to the term sell over the past year or so, no, the Leafs didn't sell their first-overall-pick for a bundle of players or picks.
But yes, United States born prospect Auston Matthews was selected first-overall by Toronto.
Fresh #content! It's the first overall edition of the TMLtalkin' podcast. #TMLtalk

LISTEN: https://t.co/tPAewIpeRr pic.twitter.com/BAWUNuiAdS

— Toronto Maple Leafs (@MapleLeafs) June 25, 2016
Matthews was just shy of being NHL Draft eligible in 2015 (date of birth), where his name was connected to last year's first two overall-picks in Connor McDavid and Jack Eichel. Yes, the Arizona-native is one of those special players who is expected to do great things and from the get-go at the NHL level, plus in arguably the league's biggest market, Toronto. In fact, Matthews spent the past year playing professional hockey in Switzerland's top pro-league, National League A, where the life-long Phoenix Coyotes fan finished second in the league's MVP voting at the age of 18.
Speaking of Eichel…a new rivalry and era has now been born and in the Atlantic Division, a.ka. the Northeast. Matthews of the Leafs vs. Eichel and the Buffalo Sabres shall serve as the new Alex Ovechkin vs. Sidney Crosby headline.
The Maple Leafs also unveiled the club's new uniforms, but that's a conversation for another time for this hockey jersey enthusiast.
Post Matthews Action
Popular guy! pic.twitter.com/ZpiaBkwmPQ

— Winnipeg Jets (@NHLJets) June 24, 2016
The first three picks of the draft were predicted to be Matthews, Patrik Laine (Finland) and then Jesse Puljujarvi (Finland) and by just about every NHL analyst. So, it was no surprise that the Winnipeg Jets and general manager Kevin Cheveldayoff selected Finnish forward Laine with the second-pick. The Jets then later took Logan Stanley with the 18 pick.
Yet, the Columbus Blue Jackets and Finnish-native general manager Jarmo Kekalainen surprised us all when they took forward Pierre Luc-Dubois of the Quebec Major Junior Hockey League — and not the fellow Fin, Puljujarvi.
Jesse Puljujarvi asked if he was excited he fell to 4th overall. "Um, no."

— Frank Seravalli (@frank_seravalli) June 25, 2016
Instead the Edmonton Oilers of all teams lucked out and drafted yet again another skilled forward by taking Puljujarvi at NO. 4 on the board. Yes, Luc-Dubois was projected as a top five-to-ten draft-pick, but the decision was still a shock and one of the biggest stories from the weekend.
EDM selects Jesse Puljujarvi at No. 4. Oh my! McDavid and Puljujarvi together. You kiddin' me!?

— Mike Morreale (@mikemorrealeNHL) June 24, 2016
The move by the Jackets will either have Columbus' fans witness something magical and expect Kakalainen to be given a contract extension within the next two-to-three seasons; or the Blue Jackets will regret the shocking decision and Kakalainen will be out of a job faster than you can pronounce his name.
https://www.instagram.com/p/BHDvcumDAH3/?taken-by=nhl
The Vancouver Canucks, general manager Jim Benning and company have never been shy about stirring the drink and stealing the headlines out of left field by adding a splash of drama to the mix. The Canucks drafting Olli Juolevi of the Ontario Hockey League (OHL) wasn't what stole the show, but Benning made it clear that the team would be interested in adding all-star forward Steven Stamkos via UFA and would be in the hunt looking to trade for Montreal Canadiens defenseman P.K. Suuban too. And, that's not all either…
It appears Benning and the Canucks will be investigated by the NHL for "tampering" in relation to signing Stamkos. Teams were available to contact UFA's at noon on Saturday, yet Benning made public comments suggesting the Canucks had already began discussions with the captain of the Tampa Bay Lightning. All of this taking place in the early hours of the draft…
Canucks GM faces tampering punishment for Stamkos, Subban talk. @wyshynski files from #NHL draft in Buffalo: https://t.co/GKFTyb94vc

— Yahoo Sports NHL (@YahooSportsNHL) June 25, 2016
That smile says enough, no?
The Calgary Flames wasted no time in drafting an all-time great's son, Matthew Tkachuk. Yes, Phoenix Coyotes and St. Louis Blues great Keith Tkachuk's son. Rumors swirled all day Friday that the Flames were also interested in acquiring Pittsburgh Penguins netminder Marc-Andre Fleury or Ben Bishop of the Lightning. It was confirmed that Fleury will start the 2016-2017 season with Pittsburgh, and that Bishop would be looking for a contract extension worth seven-years and seven-million dollars per year when traded. The Flames, who are not alone, were not interested in paying Big Bish that kind of money.
The Flames went on to acquire 2016 Stanley Cup Playoffs stud and St. Louis Blues' netminder Brian Elliott. And, this hockey writer believes Elliott will be a great fit in Calgary. The future continues to look bright in Western Canada for the Flames.
There were a handful of some other surprising picks and moves in the first-round too. The Arizona Coyotes selected Clayton Keller at NO. 7, and then Jakob Chychrun, son of Jeff Chychrun, dropped to NO. 16. The New Jersey Devils traded the 11 pick to the Ottawa Senators in exchange for the 12 pick and Ottawa's third-round selection (80). Devils' general manager Ray Shero then turned around and made another transaction with a former team of his, by trading one of New Jersey's third-round-picks (77) to the Penguins for forward Beau Bennett.
https://www.instagram.com/p/BHFRFmxgBtK/?taken-by=njdevils
Little by little Jersey's Team continues to improve. The Devils rivals across the Hudson River in the New York Rangers didn't have a first-round selection, while the New York Islanders added Keiffer Bellows — another father-son relationship drafted this year, as Young Bellows' father was Brian Bellows.
The Boston Bruins and general manager Don Sweeney have left B's fans scratching their heads again during the offseason. Boston drafted American-born forward and 18-year-old Trent Frederic of the USHL with the team's second-pick in the first-round at NO. 29. Frederic was no where near close to being projected in the first-round.
Prior, Charlie McAvoy was drafted by the Bruins with the 14 selection.
The Anaheim Ducks were another club who had two picks in the first-round, where the Ducks took forwards Max Jones (NO. 24), son of Brad Jones, and Sam Steel (NO. 30).
The Philadelphia Flyers are hoping German Rubtsov of Russia can pan out to be a dynamic center for the Broad Street Bullies down the road, and it shouldn't come as a surprise that the Flyers drafted another goalie later on too.
Other Important Highlights & Fun Facts
Still, not a single goalie was selected in the first-round. Though, ten defensemen were drafted in round-one. There was a record setting 12 Americans selected in the first-round, and five of those picks were from the St. Louis, Missouri area.
Four Finnish players were selected in round-one, which stands as the most since 2002.
Tweet your NHL related questions to @KMcKenna_tLT5 to have them answered over McKenna's NHL Podcast and be sure to use the hashtag #McKennasDigest
Kyle McKenna covers the NHL Hooked On Hockey Magazine. He can be reached on Twitter (@KMcKenna_tLT5) or via email (mckenna.kyle91@gmail.com)