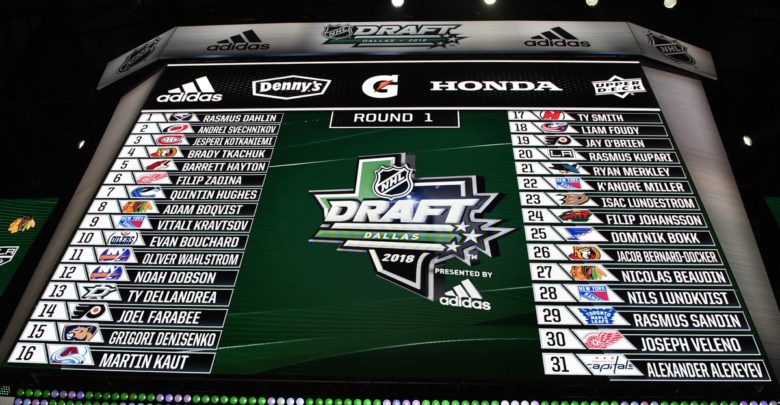 After three and a half hours the 2018 NHL Entry Draft's first round came to a close on Friday night in Dallas, Texas at the American Airlines Center. Whether or not you were happy with which prospect your respective team selected, here's everything that you need to know that took place in Round One of the 2018 NHL Draft.
Pre-Draft
The Washington Capitals wasted no time trading away highly sought goaltender, Philipp Grubauer. Grubauer had been a popular trade rumor ever since the beginning of the 2018 Stanley Cup Playoffs, and the future starting masked man was dealt to the Colorado Avalanche along with defenseman Brooks Orpik in exchange for a 2018 second-round pick.
We have traded our 47th pick to Washington…

Welcome to Colorado, Philipp Grubauer and Brooks Orpik! #GoAvsGo pic.twitter.com/m8nQGyvaxs

— Colorado Avalanche (@Avalanche) June 22, 2018
The Carolina Hurricanes were the first team to unveil their new Adidas third jersey for the upcoming 2018-19 campaign. No, this is not a mistake, nor one of those fashion jerseys the NHL tries extra hard to sell. Let's just say Hooked on Hockey Magazine is not a fan…
Back In Black. #TakeWarning pic.twitter.com/6AIHwjhzSL

— Carolina Hurricanes (@Canes) June 22, 2018
On the other end of the ice, a team that we commend for their alternate sweater would be that of the Phoenix, we mean, Arizona Coyotes. Arizona hasn't done much right at all over the past two decades, but one thing for certain is that re-introducing the team's original dark sweater as a modern-day alternate receives five out of five stars.
We wanted to create the most beautiful jersey in the world.

Then we realized, the most beautiful jersey in the world was already created.

Introducing our official @adidashockey third jerseys: https://t.co/Ku9RHXLBSH

— Arizona Coyotes (@ArizonaCoyotes) June 22, 2018
TSN Hockey Insider, Pierre LeBrun, hinted that the Carolina Hurricanes made their second mistake of the day by not convincing stud forward Elias Lindholm to re-sign. Expect Lindholm to be dealt before July 1, and potentially by the end of the draft.
Meeting between Elias Lindholm camp and Hurricanes' brass did not go well today, I'm told. Still far apart on a contract. A trade now is very much possible.

— Pierre LeBrun (@PierreVLeBrun) June 22, 2018
NHL Commissioner Gary Bettman put those in attendants on the night in their place, after fans tried to "boo" him during his speech for the Humboldt Broncos.
https://twitter.com/MichaelKlinck/status/1010307004131430400
No, the Ottawa Senators didn't trade all-star defenseman Erik Karlsson, nor did the Montreal Canadiens.
The Draft
To no surprise, the Buffalo Sabres selected Swedish defenseman, Rasmus Dahlin, with the first overall selection. Oh, Swede it is for the city of Buffalo. Dahlin became the second Swedish born player since Mats Sundin to be selected No. 1 overall at the NHL Draft, and the second defenseman taken at No. 1 since Aaron Ekblad in 2014 (Florida Panthers).
With the first pick overall in the 2018 #NHLDraft, your Buffalo Sabres select… pic.twitter.com/N4grFjcqfZ

— Buffalo Sabres (@BuffaloSabres) June 23, 2018
A message from @rasmusdahlin00 to you, Buffalo! pic.twitter.com/dRz6GpGUBr

— Buffalo Sabres (@BuffaloSabres) June 23, 2018
The Hurricanes rebounded after missing the wide open net twice as mentioned above and selected forward Andrei Svechnikov.
You will want to watch him in person 🏒

Season tickets start at just $16 per game

📞 1-866-645-2263
💻 https://t.co/lIJHmYWXmK pic.twitter.com/JyM7i9I1Ub

— Carolina Hurricanes (@Canes) June 23, 2018
Montreal Canadiens general manager Marc Bergevin is hoping and praying (perhaps in French Canadien too) that Finnish center Jesperi Kotkaniemi pans out to be just as good as a Finnish centerman the Canadiens took back in 1993…Saku Koivu. Montreal selected Kotkaniemi with the third-overall pick.
Tu as fière allure en 🔵⚪️🔴 Jesperi!

Looking good, Jesperi! #NHLDraft #GoHabsGo pic.twitter.com/7ODRsjiOVj

— Canadiens Montréal (@CanadiensMTL) June 23, 2018
Like father, like sons. Brady Tkachuk was drafted a tad earlier than projected and at No. 4 overall, after the Ottawa Senators took the scrappy forward off of the draft board. His brother Matthew, and father Keith, were also drafted by Canadian clubs.
"I'm super excited to be a part of this organization."

Brady Tkachuk speaks to media after being drafted by the #Sens. pic.twitter.com/x0WpLyEItt

— Ottawa Senators (@Senators) June 23, 2018
Center Barrett Hayton was surprisingly selected at No. 5 overall by the Arizona Coyotes, and they may regret that since Filip Zadina has made it clear that whichever teams decided not to take the Czech Republic native would be seeing a lot of rubber in the back of their nets next season. Zadina was drafted sixth overall by the Detroit Red Wings.
Love Filip Zadina's swagger. Said he's going to make Montreal & Ottawa pay for passing on him.
"I was telling my agent, if they will pass on me, I'm going to fill their nets with pucks. I want to prove to Detroit that they make a pretty good decision."

— Helene St. James (@HeleneStJames) June 23, 2018
🚨Our boy is headed to Hockeytown! 🚨Congratulations to Filip Zadina on going to Detroit 6th overall at the #NHLDraft @filip_zadina @DetroitRedWings pic.twitter.com/ixQCpzip0a

— Halifax Mooseheads (@HFXMooseheads) June 23, 2018
The New York Rangers made a big splash in the draft after the team selected two promising defensemen and one forward. The Broadway Blueshirts traded up with the Senators — exchanged 26th & 48th pick for Ottawa's 22nd selection in the first round. With that 22nd overall selection, the Rangers took six-foot-four K'Andre Miller, who is committed to the University of Wisconsin next season. The other picks New York selected were Vitali Kravtsov and Nils Lundkvist. Yes, the Rangers selected another Swedish player with the name pronounced just like their future Hockey Hall of Fame goaltender, Henrik Lundqvist.
"To have a team really want you that bad that they trade for you really means everything." Defenseman K'Andre Miller is all 😀after being selected by #NYR in the first round of the #NHLDraft.#NYRDraft @SAPSports https://t.co/Xz2h9GNKC1

— New York Rangers (@NYRangers) June 23, 2018
The moment you get selected to be a Blueshirt!#NYRDraft @SAPSports https://t.co/XuFkKHgUE6

— New York Rangers (@NYRangers) June 23, 2018
Here's the complete list for the 2018 NHL Entry Draft's first round: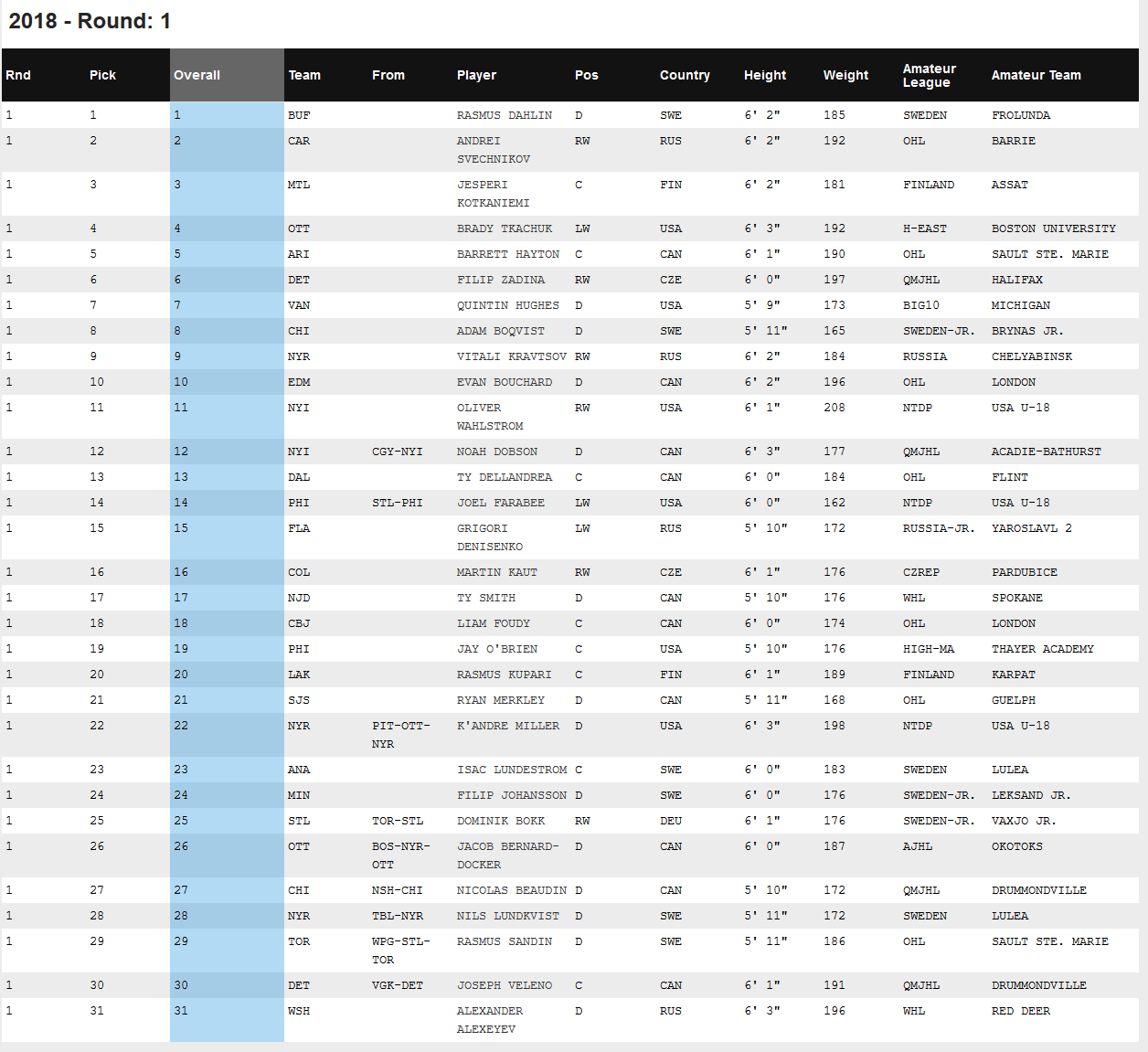 Tweet your NHL related questions to @KMcKenna_tLT5 to have them answered & be sure to use the hashtag #McKennasDigest
Kyle McKenna covers the NHL for Hooked On Hockey Magazine. He can be reached on Twitter (@KMcKenna_tLT5)