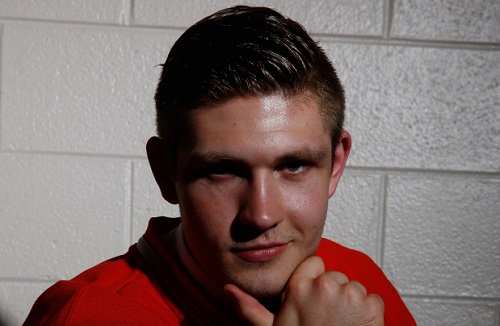 With their third overall pick, the Edmonton Oilers made the decision to select German-born Leon Draisaitl, a decision that Oilers fans seem fairly uniformly pleased with. Here are some of the traits that Draisaitl brings to the table.
First of all, he has a good amount of experience for a young draftee. The 18 year old was born in Cologne, Germany, and has played in the World Junior Championships in both 2013 and 2014 – going as far as captaining the German term in 2014. He was also named to Germany's national team for the 2014 IIHF World Championships. He's succeeded on an international stage and had a taste of playing for huge crowds under great pressure. He's a big centre who has a fairly solid record throughout his professional career, finishing fourth in the WHL in terms of scoring as a first-time draft-eligible skater
He's also a good size. Standing at 6'1, scouting reports began pegging him at about 209, though in the past several months reports have bulked him to about 215. Additionally, he was also listed for scouts as a "projectable frame" that would likely be able to be pushed to the mid 220s. In summary, he's a decent sized player who is able to use his frame on the ice. In contrast to some forwards who compensate for their relative smallness with speed, Draisaitl is able to use his bulk to protect the puck and to keep defenders away while he's trying to produce those points.
What are some opinions on Draisaitl? TSN's Craig Button commented that "Leon is a big centre who is smart, can make plays and can impact the game in multiple ways. He's the type of centre who is coveted by many NHL clubs because of his combination of size and skill." ESPN's Corey Pronman said Draisaitl "is a great passer who can beat defenders with skill, puck protection, determination, or his shot" before amending that "I'd like to see him get quicker" before predicting him as a top-3 pick. He indeed was third overall, despite Pronman's reservations, and hopefully the Oilers, who tend to have a fairly speedy style of play, can help develop the speed that Pronman may have seen as slightly lacking.
The Deuschland Dangler, as he is sometimes nicknamed, is the highest drafted German player in NHL history, with countless scouts raving about his stellar puck protection, and he tied prospect Sam Reinhart for the highest-scoring draft-eligible player in the CHL.
With someone this young, there's always the question of whether they're NHL ready. However, he is already 18 (as opposed to some of the younger draftees), he's already indisputably man-sized, and he's played at an international level several times (in addition to juniors, he's represented Germany in several U-17, U-18, and U-20 tournaments). Additionally, while this doesn't matter as much as his skills on the ice, he seems fairly media savvy in all his interviews and media attention , projecting calm confidence rather than obnoxious cockiness or fearful awkwardness, as young players sometimes do. He should fit right in and was the best pick for Edmonton at this point.
MacTavish raved about the young centre, saying "I'd say the sky's the limit with Leon. He'll certainly be a No. 1 or No. 2 centre for a long time.
Draisaitl has expressed excitement about joining the Oilers, an organization with such a rich history, as he commented on in his statement that "this is so special to be on a team that had great players like Wayne Gretzky and Mark Messier."
Love Reading About Hockey?

Subscribe to keep up-to-date with the latest and most interesting hockey news!
| | |
| --- | --- |
| | We hate spam just as much as you |