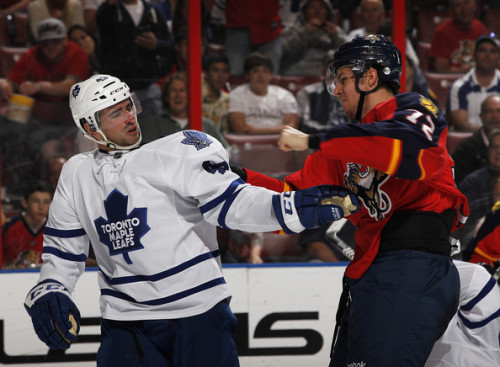 I'm about to quote Semisonic, and I'm going to hate myself for quite some time for it. Ergo, I apologize in advance; dad, I've let you down.
It was the best of times, it was the worst of times; as that one band with that one song once crooned, "every new beginning comes from some other beginning's end". Over the course of the past two days, the Florida Panthers-entrenched in a five game skid marred by atypically poor defensive play-sought to shake things up a bit in the locker room, announcing two particularly surprising roster moves. Recalled yesterday, 22-year old blueliner Alex Petrovic made the flight from San Antonio to the big club in Sunrise, joining the squad in the aftermath of a 5-4 regulation loss to the Detroit Red Wings. Linked to this move, the club announced another transaction today, placing 24-year old defenseman Dylan Olsen on waivers, presumably to clear a roster spot for the rookie Petrovic.
A second round pick-36th overall-in the 2010 NHL Entry Draft, the burly Petrovic has strung performance after strong performance together at the minor league level, his work culminating in an AHL All-Star selection. Pacing Rampage d-men with 19 points in 39 games, the former Red Deer Rebels standout's career offensive year hasn't filed down his sharkskin grit-his 57 PIMs stand third among all San Antonio skaters. Standing at an imposing 6'4″ and weighing in at a solid 206 pounds, Alex Petrovic brings an undeniable physical presence to the ice; should he be paired with fellow behemoth Erik Gudbranson in a top-six role, those two-adding up to 12'9″ and 422 pounds of genetic beast lobster-should be staplegunning opposing forwards to the boards and punching saps in the face like it's their job. Oh wait…
On the flip-side of the same coin, Dylan Olsen-a former first-rounder of the Chicago Blackhawks acquired via trade-is officially packing his bags, destination pending whatever team decides to submit a claim. A product of the Collegiate Hockey system, Olsen received his big-league break with the Cats, and he initially impressed; stringing together nine points in his first 17 tilts with the Panthers, he seemed poised to remain in Sunrise for quite some time, filling up a bottom-pairing role with solid play and the occasional offensive contribution. Lately, however, things haven't quite his way.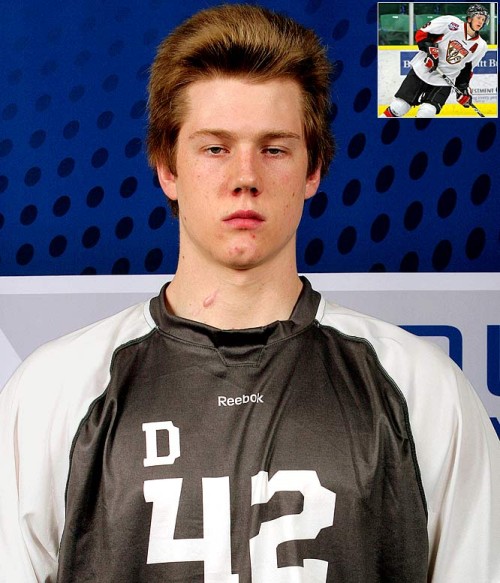 For the first half of the 2014-15 campaign, he toiled in that top-six role, occasionally watching games from the press box as a healthy scratch as a faction of the Panthers faithful (ya like all five of us hahahah lawl GET A NEW JOKE YA GODDAMN HIPPIES) called for his metaphoric head. His minus-seven rating stands worst among the Panthers' regular rearguards, paling in comparison to a team-worst -10.8 Relative Corsi Rating. In layman's terms, Roberto Luongo got peppered with vulcanized rubber each time Olsen took a shift, in spite of receiving favorable (offensive) Zone Starts 48.3% of the time, a figure that ranks third among Cats' defensemen (shouts out, Behind The Net). I honestly hope that nobody claims the guy-I think that he just needs to shake off this funk hanging over him-but the 1:56 mark pretty much encapsulates his season as of now.
At any rate, I'm pulling for both of you dudes. I should probably stop procrastinating now, and feebly attempt to be a productive college student for once,  but we all know that just ain't gonna happen. TO THE BATCAVE *sound effect*.
P.S-Shouts out, Radek Dvorak. You the real MVP.
Love Reading About Hockey?

Subscribe to keep up-to-date with the latest and most interesting hockey news!
| | |
| --- | --- |
| | We hate spam just as much as you |