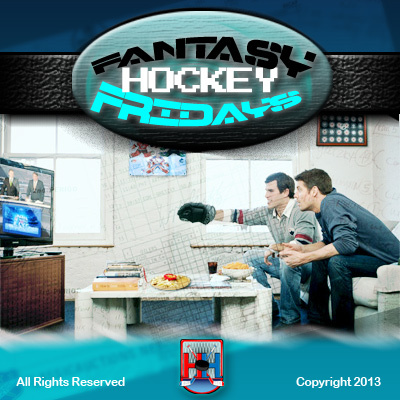 Injury Report
(Included are only players with significant impact on Fantasy Hockey)
Part 1:
Who's Back?
Patrice Bergeron (F-BOS)
Brad Marchand (F-BOS)
Kari Lehtonen (G-DAL)
Michael Ryder (F-MON)
Joffrey Lupul (F-TOR)
Who's Day-to-Day?
Cam Fowler (D-ANA) – Upper Body Injury- Could return to Ducks' lineup as early as Friday
Jeff Skinner (F-CAR) – Upper Body Injury- Is hopeful to play Saturday
Patrick Sharp (F-CHI) – Upper Body Injury- Out Friday, questionable for Saturday
Erik Johnson (D-COL) – Hip- May or may not play before end of season
Alex Chiasson (F-DAL) – Shoulder- Did not play in Thursday's game
Mike Smith (G-PHX) – Lower Body Injury
Evgeni Malkin- (F-Pit) – Shoulder- Questionable for Friday's game against the Bruins
Kevin Bieksa- (D-VAN) – Lower Body Injury- Went back to Vancouver to be re-evaluated Thursday
Who's Out?
Joni Pitkanen- D-(CAR) – Heel- Is expected to be ready for training camp next season
Artem Anisimov- (F-CBJ) – Concussion- Could play in Sunday's game against the Sharks
Raphael Diaz- (D- MTL) – Concussion- Could return to action as soon as Saturday
Ilya Kovalchuck- (F- NJD) – Shoulder- Won't play Thursday, not close enough for consideration
Erik Karlsson – (D-OTT) – Achilles- Continues to skate as he recovers, could be back before playoffs
Paul Martin- (D- PIT) -Hand- Is skating at practice, could return soon
James Neal- (F- PIT) – Concussion- Now symptom free, could return soon
Sidney Crosby- (F-PIT) – Broken Jaw- Still no timetable for return
Jaroslav Halak- (G-STL) – Groin- Skating but no time-table for return
T.J. Oshie- (F-STL) – Ankle- Underwent a surgical procedure on his left ankle
Tobias Enstrom- (D-WPG) – Mid-body/back- Closer to week-to-week than day-to-day
Skaters to Add
1. Nail Yakupov – (60.7 % F- EDM)– The Oilers rookie has compiled nine points over his past eight games while landing himself a spot on the team's top line. With the Oilers out of the playoff picture, it is likely the team will continue giving the youngster big minutes so he can further develop his NHL game. He is currently on the top line with one of the league's top scorers in Taylor Hall. Yakupov also is a regular on the team's second unit power-play unit. Yakupov saw 18:17 of ice time in Tuesday's game against the Wild and should continue to get quality minutes. This ice time is quite higher than his season average of 14:18
2. Brenden Morrow- (17.2 % F-PIT) – With injuries to Crosby, Malkin, and Neal, Morrow is blossoming in a second line role for the Penguins. He has five goals in his past four games and nine points in his past six games. There is no reason his production will decline if he continues to be play on the second line and second power-play unit. Pick him up while the Pens are without their star forwards and then monitor where Morrow gets slotted when they return. He is a proven goal scorer and should continue doing so on this high scoring team
3. Derick Brassard- (20.3% F- NYR) – Brassard has five points over his past four games and scored two goals Thursday against the Panthers. He has been a point per game player since becoming a Ranger and has also been plus two since the trade. He may be on the third line but he still gets decent minutes and power-play time. New York is fighting for a playoff spot so the desire to perform will be there and Brassard has the talent to put up some solid numbers
4. Brandon Dubinsky- (61.6% F- CBJ) – Dubinsky has been great for Columbus lately, compiling six points over his past six games. He also has put up 27 PIMs and five hits over his last four games. He is a member of the team's first power-play unit. Dubinsky is likely to keep producing down the stretch as the team tries to get into the playoffs
5. Fedor Tyutin – (87.4% D-CBJ) – Tyutin is now a must own in all fantasy league formats. He is on a four game point streak and has two goals over his past four games. He is also plus ten over his past ten games and should picked up immediately if still available
Goalies to Add
1. Ondrej Pavelec- (97.4 % G- WPG) – Pavelec is an absolute workhorse in the Winnipeg crease. He has played in the past nine games for the team and has won his past five games. Every game counts for the Jets right now as they struggle to make the playoffs. Pavelec is going to be counted on like never before to propel the team to victory. He may not have the most appealing personal statistics but wins are what usually matter so if he happens to be available, ride him down the stretch as the Jets playoff hopes are in his hands.
2. Kari Lehtonen – (81.2 % G- DAL) – Lehtonen returned from injury Thursday and got a win against the Canucks. The injury kept him out three games but he appears healthy and back on the top of his game. With Dallas fighting for that last spot in the East, the team will depend on Lehtonen to shut the door between the pipes. Dallas can taste a playoff spot and Lehtonen may be their key to actually getting one.
3. James Reimer- (97.7% G –TOR) – He may have given up five goals Thursday but likely will be given the chance to rebound Saturday against the Senators. Before Thursday, Reimer was on a roll as he was 6-2 in his past eight games, compiling two shutouts along the way. Scrivens struggled mightily in his last outing so the team is likely to rely on Reimer once again. If you can ignore his game on Thursday, Reimer would be a good pick up as he will see tons of ice time as the Leafs try to solidify a playoff spot.
Skaters to Drop
1. Tobias Enstrom – (53.5% D-WPG) – Enstrom is a big name defenseman who is a fixture on the Jets power-play. The problem is that he is injured and is being considered week-to-week now. It is likely crunch time in your pool and there is no use sitting on Enstrom as it is unclear whether he will return before the end of the regular season. If it makes you feel any better, Enstrom even went pointless in his past seven games before the injury. The only thing stopping you from dropping him is if you are in a keeper pool
2. T.J. Oshie- (52.2% F-STL) – Oshie underwent a surgical procedure on his left ankle and his now listed as week-to-week by the Blues, but he's presumably done for the regular season. He can be a reliable producer when he is healthy but was still only putting up points at a 0.7 point per game rate before the injury.
3. Devin Setoguchi- (48.1 % F-MIN) – Setoguchi has cooled off tremendously as of late and has been demoted to the third line on the Wild as a result. He only has two points (both assists) over his last ten games and doesn't have a goal in his past 11 games. He has also gone minus five over his past ten games.
4. David Clarkson- (90.3 % F- NJD) – He had a tremendous start to the season but his production has declined significantly. Only two points in his last 12 games and has gone minus four in that span. On a Devils team that doesn't produce much offense, letting go of Clarkson should surely get you a better player for the ride down the stretch.
Goalies to Drop
1. Jacob Markstrom- (23.4% G- FLA) – While Markstrom wasn't in goal for Tuesday's 6-1 loss against the Rangers, he has struggled as of late. He has lost his past four games and allowed 17 goals in that span. The Panthers are going nowhere fast and it is unlikely he will get very many wins down the stretch as the Panthers opponents will be playing to earn a playoff spot
2.  Ben Bishop- (56.3% G-TBL) – The Lightning won't be in the playoffs and Bishop only has one win over his past seven games. Ben has put up decent save percentages as of late but is still of not much use when the team can't find a way to win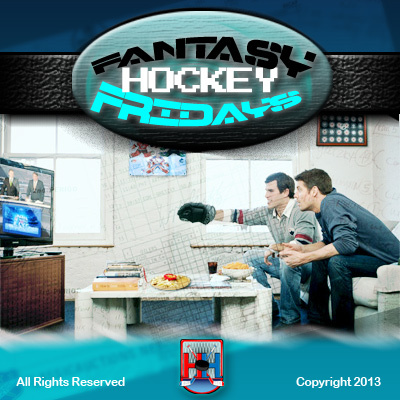 Part 2
Written By Kevin Sporka
Results From Last Week:
1. Steve Auld defeated 5. Kevin Sporka
2. Adam Bernard defeated 6. Igor Burdetskiy
And man were these matchups close.
SA vs. KS: Goals: 13-9 SA; Assists: 21-19 KS; +/-: 4- (-1) KS; PIMs 35-32 KS; PPP: 10-6 SA; SOG: 138-128 KS; Goalie wins: 4-2 KS; GAA: 1.76 to 2.51 SA; SP:.949 – .923 SP SA
Final Score: 5-5
Tiebreaker, winner of the regular season matchup – Steve Auld, who advances to the Championship Round
I lost by 3 hits.  My desperation moves can be seen below.
AB vs. IB: Goals: 12-9 IB; Assists: 21-18 AB; +/-: +1- +1 Tie; PIMs: 24-16 AB; PPP: 11-10 IB; SOG: 142-102 AB; Goalie wins: 3-2 IB; GAA: 2.13 – 2.51 AB; SP: .922 – .899 AB
Final Score: 6-3
Adam Bernard advances to the Championship Round to face Steve Auld
HOHM Fantasy League (HOHMFL)
Here are the 12 writers and their initials:
BD – Bob Duggan (Buffalo Sabres)
AC – Alvin Cho (Winnipeg Jets)
AW – Andrew Williams (Carolina Hurricanes)
KC – Kevin Cawthra (Vancouver Canucks)
SA – Steve Auld (Toronto Maple Leafs)
JB – Josh Beneteau (Team Canada/Various NHL news)
IB – Igor Burdetskiy (Founder and Editor-in-Chief of HOHM)
MK – Mike Kluxdal (Minnesota Wild)
DD – Dawson Drolet (Calgary Flames)
KS – Kevin Sporka (Detroit Red Wings)
AB – Adam Bernard (New York Rangers)
KW – Kayla Winsett (Nashville Predators)
Transaction Made This Past Week:
4/13: (Saturday, Matchups End on Sunday night)
BD – Dropped Chris Phillips
KS – Dropped Matt Martin and Added Justin Abdelkader
KS – Dropped Brandon Prust and Added Richard Clune
KS – Dropped Jakob Silfverberg and Added Ryan Reaves
KS – Dropped Kyle Turris and Added Mike Weber
4/14:
SA – Dropped Jared Spurgeon and Added David Perron
KS – Dropped Richard Clune and Added Brandon Dubinsky
KS – Dropped Mike Weber and Added Dennis Seidenberg
4/15:
AB – Dropped Jakub Kindl and Added Jake Muzzin
KS – Dropped Jordin Tootoo and Added Milan Michalek
KS – Dropped Justin Abdelkader and Added Carl Hagelin
4/16:
KS – Dropped Ryan Reaves and Added Jared Spurgeon
KS – Dropped Milan Michalek and Added Brandon Prust
KS – Dropped Jared Spurgeon and Added Matt Martin
SA – Dropped David Perron and Added Jannik Hansen
4/17:
AB – Dropped Kevin Bieksa and Added Mark Fraser
4/18:
SA – Dropped Jannik Hansen and Added Cody McLeod
SA – Dropped Patrick Sharp and Added Viktor Stalberg
KS – Dropped Vinny Prospal and Added Brendan Morrow
Love Reading About Hockey?

Subscribe to keep up-to-date with the latest and most interesting hockey news!
| | |
| --- | --- |
| | We hate spam just as much as you |