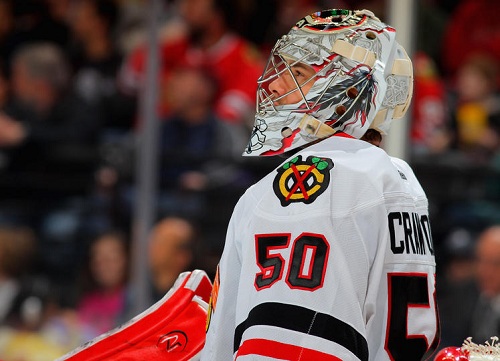 In 1985 a tradition was started in Chicago. The Blackhawks were hosting Wayne Gretzky's Edmonton Oilers and in an attempt to hype up the home team, the Blackhawks faithful started cheering during the National Anthem. The tradition grew stronger, and louder, when Chicago Stadium was the host of the 1991 All-Star Game, and it still continues today.
But one tradition that has lasted longer, though has no official origin and isn't limited to just Chicago is the stick-tap.
For the bandwagon fans who may not know the game as well, stick-taps are hockey's form of a clap; a way for players on the ice to show respect to one another, opponents or fans.
Weather you're a Blackhawks fan or not, Chicago's impressive and literally historical run so far this season deserves a universal stick-tap.
"We talked about it after the game," said Blackhawks coach Joel Quenneville. "They should be very proud of what they accomplished."
"Everyone knows you can't win 'em all. It's amazing to make it this far," said Blackhawk Captain Jonathan Toews. "If anything, maybe it does take a little pressure off us and we can sit back and look at the good things we've done."
All-Star defenseman Duncan Keith had similar remarks after Chicago's 6-2 loss to the Colorado Avalanche. "We're not happy we didn't get two points but we're certainly proud of the start we had. We're proud of it, but it'll be nice to move on now," Keith said.
That start, as a recap, meant that although this season was shortened due to a lockout, the Blackhawks have went half of the season without a regulation loss. That equals 24 straight games with at least one point to start this season off. Including last season, it makes 30 games in a row for Chicago (their last regular season loss was March 25, 2012) with at least one point and it includes an 11 game winning streak.
Newsworthy. Even for ESPN. But that's over now, and there's still work to be done.
"We've lost games before in our lives," said Keith. "It's not like we're going to sit here and cry now."
So it's back to the grindstone for Chicago. It's a good thing they already have most of the points they'll need to secure a post-season spot, as the next few weeks could be rocky ones for the Blackahawks.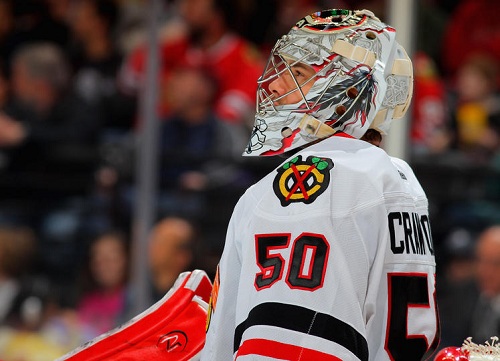 Perhaps the biggest hurdle they'll have to deal with is the loss of Patrick Sharp. Sharp separated his shoulder in Chicago's 3-2 overtime win against Colorado. Sharp is expected to miss nearly a month of play.
Sharp's a big loss for Chicago's offense has he posted 18 points in the first 24 games Chicago had on the season, and was a big contributor to their success. As a replacement, Chicago recalled Brandon Bollig of the American Hockey League's Rockford IceHogs. Bollig suited up for eleven NHL games so far this season and has yet to record a point. A big change from Sharp's performance.
A positive note in the injury department, Sharp is the only major player for Chicago lost to injury. Marian Hossa is healthy and playing, as is Andrew Shaw and Dave Bolland.
As for goaltending, Corey Crawford let in the surplus of goals that lead to Colorado's ending of the streak before he was replaced by Ray Emery. But before fans start Crow-bashing, know that he is still 15-1-3 on the season, with a GAA of 1.81, a save percentage of .930 and holds two shutouts. Emery, on the other hand, is still 10-0-0 on the season. Both netminders are looking strong and have formed a solid backbone for Chicago.
With Sharp out, players with less icetime and far less notoriety will have to step up to the challenge. Shouldn't be a problem for Chicago as that has been an underlying theme all season. Third and fourth line players are coming up with game-changing and game-winning goals.
Up next for Chicago, is Edmonton, who will make the long trip south to play at the United Center in Chicago. It may not be the Chicago Stadium, but you can bet that Anthem will be as loud as ever.
Love Reading About Hockey?

Subscribe to keep up-to-date with the latest and most interesting hockey news!
| | |
| --- | --- |
| | We hate spam just as much as you |