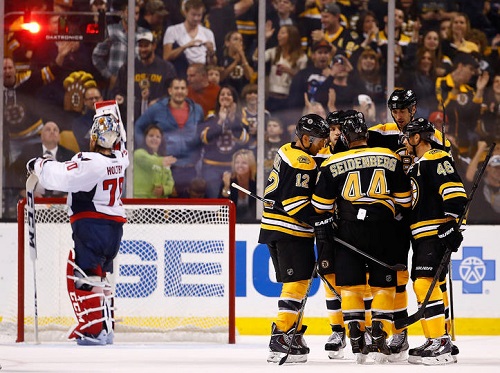 The Boston Bruins open their 2013-2014 season on October 3rd against the Tampa Bay Lightning, and with a new season comes new expectations. Here are five bold predictions for this year's edition of the Bruins.
Jarome Iginla Will Score Less than 30 Goals
Even though Jarome Iginla will be 36 years old when the season starts, he'll still be a fantastic offensive weapon for the Boston Bruins. In fact, the last time Iginla played a full NHL season without scoring 30 goals was over 12 years ago. Don't get me wrong, Iginla will score for the Bruins. But he won't score 30. Signing Iginla made so much sense for the Bruins in part because he plays a very similar game to Nathan Horton, and while Iginla has a much better offensive track record, looking at Horton's production in Boston could give us an idea of what to expect. In 2010-2011 (the only season where Horton played more than 46 games for Boston), he put up 26 goals. Furthermore, the Boston Bruins style of hockey just isn't conducive to individual scoring: since the 2008-2009 season (where Phil Kessel scored 36 goals), the Bruins have had a grand total of one 30-goal scorer (Milan Lucic with 30 in 2010-2011). Iginla will get close this year, but he won't hit 30.
Newcomer Loui Eriksson Will Lead Boston in Goals
While the Bruins style of play makes it difficult for anyone to put up outstanding individual numbers, someone still has to lead the team in goals. This year, that'll be newly acquired winger Loui Eriksson. Eriksson has consistently scored during his time with the Dallas Stars, putting up an average of 29.5 goals in his last four full NHL seasons. He'll most likely be playing alongside Patrice Bergeron and Brad Marchand on Boston's second line, and it's worth mentioning that Bergeron's strong defensive game seems to open up some offensive chances for his linemates. It might not be a coincidence that the past two seasons Boston's top two goal scorers have lined up on either side of Bergeron. Expect more of the same this year, with Eriksson narrowly edging out Marchand for the team lead in goals.
Tuukka Rask Will Win the Vezina
Tuukka Rask ended the last regular season tied in GAA with the eventual Vezina trophy winner Sergei Bobrovsky, and Rask was only .003% behind in save percentage. In fact, before last year, the last time Rask started more than 40 games, he led the league in both save percentage and GAA, and didn't even garner a nomination for the Vezina trophy. This year will be different. After shutting down the offensive juggernaut Pittsburgh Penguins in the Eastern Conference Finals, Rask is opening some eyes. If Rask continues to build on last year's success, he won't just be nominated for the Vezina trophy, he'll win it.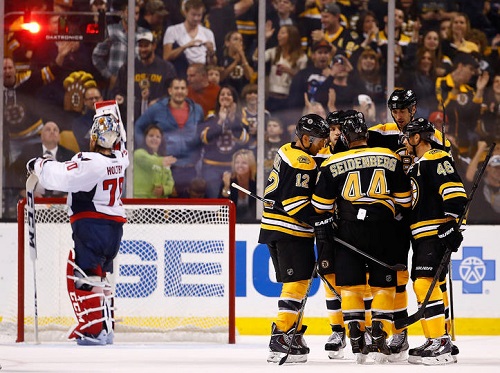 Someone Not Named Zdeno Chara Will Lead the Bruins' Defense in Points
Zdeno Chara has led the Bruins defensive corps in points since his arrival back in 2006, but that'll change this year. With playoff standout Torey Krug looking like a perfect fit on a revamped Bruins' powerplay, it looks like Chara's run might be over. Coach Claude Julien has already stated that he'll look to cut down on Chara's ice time during the season (in hopes of having him better rested for the playoffs), so it's the perfect opportunity for one of Boston's young defensemen to step up, whether it be Krug, Matt Bartkowski, or Dougie Hamilton. If someone on that defense is going to outscore Chara, this year will be the year.
The Bruins Will Have a Top Ten Powerplay
Yes, you read that right. The Bruins, who have finished 23rd, 20th, 15th, and 26th (respectively) in powerplay efficiency the last four years will finish this year in the top ten. While the Bruins have had success this preseason, it's still the preseason and those games don't count. But it's already evident that the Bruins are placing an emphasis on their powerplay this season, and with good reason. With added offensive weapons like Iginla and Eriksson (not to mention the emergence of puck moving defenseman Krug), the Bruins should be better on the man advantage almost accidentally. That, combined with the placement of 6'9" Zdeno Chara right in front of the opposing goaltender, will catapult the Bruins to a powerplay that's better than at least two thirds of the league.
For better or worse, we'll revisit this column and these predictions after the end of the regular season. They might all be right, or they might all be wrong, but either way, we'll find out starting October 3rd.