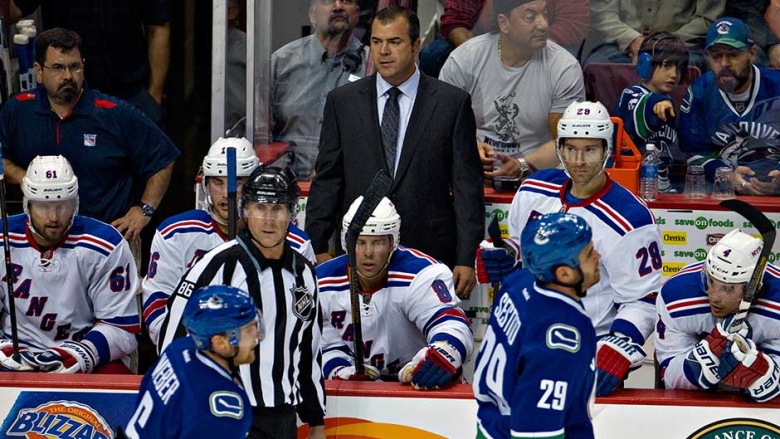 The 2013-14 season brings many new things for the New York Rangers. They have a new coach, they'll play in a newly realigned division, and there's a new plaza at Madison Square Garden to greet the Garden Faithful. Other than a couple of minor tweaks, the Rangers embark on their latest Stanley Cup campaign with a very similar roster that ended in Boston during last year's playoffs. It's well documented that new bench boss Alain Vigneault brings a much more offensive style to the team than was implemented under John Tortorella, but there's a few other things the Blueshirts need to do in order to make a deep playoff run:
Power Play Needs to Improve Greatly
Saying "rain is wet" is a less obvious statement than "the Rangers power play needs to get better." Last year's PP ranked 23rd in the league, or eighth-worst in the league (appeasing both the "glass is half empty" and "glass is half full" crowds). A success rate of 15.7% with an extra skater is completely unacceptable (the Washington Capitals led the league with a 26.7% success rate). There is too much talent on this team to not at least be an average power play unit. While AV is bringing a more open style to the team's offensive philosophy, he's going to have his work cut out for him with improving the power play. Last year with Vancouver, the Canucks were ranked 22nd in the league with a 15.8% success rate.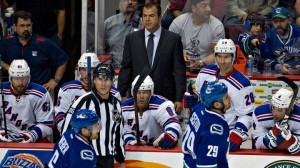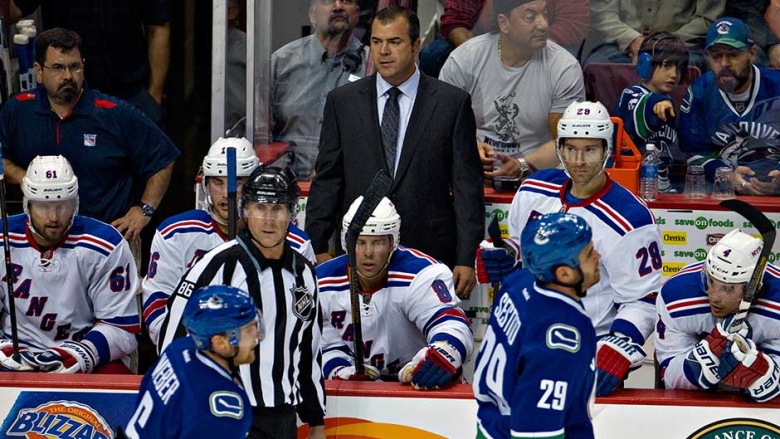 Penalty Kill Needs A Boost
The Blueshirts killed off 81.1% of their penalties last season. This left them right in the middle of the pack (ranked 15th in the league). Before last season, the Rangers were consistently a top-ten PK team. I don't think anyone expects the Rangers power play to go from dismal to dominant overnight, so keeping other team's off the scoreboard with the man advantage will be critical.
Consistency in Line Combinations
One of the often-voiced criticisms of Tortorella was that he tinkered with his line combos too much. Under Tortorella, if he had a hot line, he would break apart the players on that line to try and jump start other slumping lines. Injuries are going to happen, and that means changes will occur, but I think this team will benefit from knowing who their line mates are going to be night-in and night-out.
Continuing Their Division Dominance from 2013
The Rangers went 10-6-2 in the old Atlantic Division last year. If you factor in the three new teams to the Metropolitan Division (Carolina & Washington, they didn't play Columbus last year), they went 15-6-3. With the new playoff format (only three guaranteed teams from each division, the other two spots are wild cards), taking care of business against intradivision opponents is of supreme importance. The old Atlantic Division (Pittsburgh, Philadelphia, NY Islanders, New Jersey) was always one of the tougher divisions in the NHL. The Capitals won their division last year, Carolina will have goalie Cam Ward back from injury this year, and Columbus is a team on the rise. Factor in the additions Philadelphia made (Vinny Lecavalier, Mark Streit, Ray Emery) and the Isles resurgence last year, there will be no easy nights when playing within the division.
The Top Guys Need To Play Like Top Guys
Something Vigneault mentioned in his introductory press conference as Rangers coach was that he was going to let the top lines have a little more freedom offensively. That means guys like Rick Nash, Brad Richards, Derek Stepan, and Derick Brassard will have to be the guys that are at the top of the team's stat sheet. Playing in Tortorella's defensive-oriented system can no longer be an excuse for sub-par offensive contributions. Stepan had a great year, and it will be intriguing to see what Brassard can do with a full year on Broadway. Nash's numbers were good, but need to be better. The big question mark is Brad Richards – Is he on the back-nine of his career, or will he regain his confidence that will allow him to play better in a new system?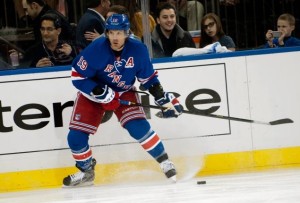 Rangers that made the roster:
Forwards: Carl Hagelin, Derek Stepan, Rick Nash, Brad Richards, Ryan Callahan, Derick Brassard, Brian Boyle, Mats Zuccarello, Derek Dorsett, Dominic Moore, Benoit Pouliot, Arron Asham, JT Miller, Jesper Fast, Taylor Pyatt

Defensemen: Marc Staal, Ryan McDonagh, Dan Girardi, Anton Stralman, Michael Del Zotto, John Moore, Justin Falk
Goalies: Henrik Lundqvist, Martin Biron
Notable Hartford-bound players: Darroll Powe, Chris Kreider
*Carl Hagelin (IR-shoulder) will miss at least the first ten games of the season with a shoulder injury. Ryan Callahan (torn labrum) has been cleared for contact, but will miss the season debut in Phoenix. He's aiming to return shortly after the Thursday night opener.