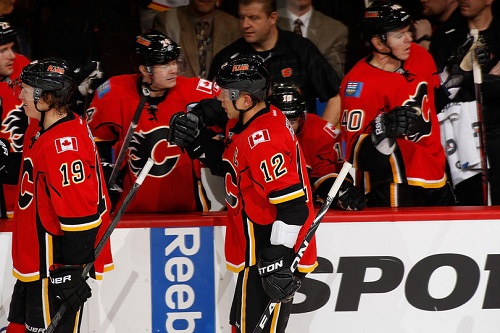 The Flames have continued their rocky start to the season as they sit tied for second last in the western conference and in the league. Although they have showed some flashes of greatness, the problem has been playing well consistently, and for a full three periods. The Flames record on the season to date is 4-5-3.
After an overtime win against the Columbus Blue Jackets, a blow out loss to the Vancouver Canucks, and a shoot out loss to the Minnesota Wild, the Flames were searching for ways to score as they only posted 1 goal in the losses to Vancouver and Minnesota.
Luckily, their search came to an end in a 7-4 win against the Dallas Stars. The Flames scored 3 quick goals in the first 10 minutes of the game. Mike Cammalleri notched a hat trick and his 200th goal in the game. Jarome Iginla played exceptionally well in the game posting 2 assists and a fight. He was heavily engaged in the victory and made a noticeable difference.
Now as a fan you would hope to think that the Flames would carry the moment of a 7-4 victory into their next game, but sadly this was not the case.
The Flames Lost 5-2 to the St. Louis Blues.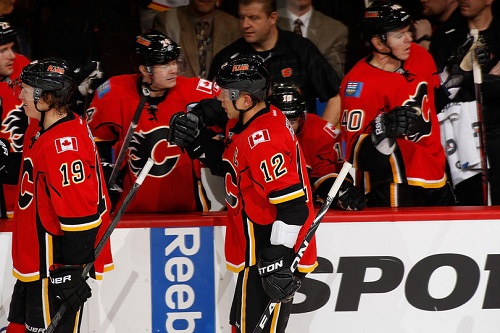 The Flames are struggling very badly in goal and are immensely missing long time starter Mikka Kiprusoff. Leland Irving has played solid, but his GAA does not lie (3.33).
The Flames next game is against the Dallas Stars on Sunday at 6:00pm ET in Dallas.
In Other News:
Mikka Kiprusoff is slated to be out for another two weeks.
Joey MacDonald was claimed off waivers.
Leland Irving was sent down to the Flames affiliate team, The Abotsford Heat.
Danny Taylor was called up from the Abotsford Heat.