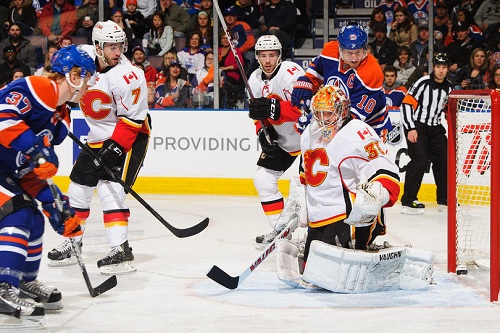 Having been demolished 8-2 by the Edmonton Oilers when they last met on the ice in Calgary, the Calgary Flames entered Rexall Place for their Saturday, April 13 game with a score to settle. The Flames are aware they won't be making it to the playoffs, but came into this game hoping to jeopardize their provincial rivals' chances.
Unfortunately for Oilers fans, the Flames triumphed this time and beat Edmonton 4-1, making it the Oilers' fifth consecutive loss.
Oilers coach Ralph Krueger put in backup goalie Nikolai Khabibulin in goal in place of Devan Dubnyk, and Calgary likewise went with their back-up goalie, Joey MacDonald. The Flames came out extremely determined, and thanks to a bit of a sloppy start by the Oilers, Calgary's Mikael Backlund scored Calgary's first point of the night within the first 30 seconds of the game.
However, Edmonton showed some good energy and managed to even the score with a goal by Lennart Petrell very soon after. The Oilers had a great opportunity only a few minutes later, as Ryan Nugent-Hopkins took a great shot, but MacDonald managed to pull out a good save.
In perhaps the most frustrating moment of the game for Oilers fans, Sam Gagner and Nail Yakupov made a great play about 6 minutes into the first period and brought the Oilers to an exciting lead. The crowd at Rexall Place was exhilarated, the Oilers seemed to get a glimmer of hope, but it was short lived – the officials ruled that the puck had bounced off Yakupov's foot and was kicked into the net, thereby taking the lead away as quickly as they had gained it.
Edmonton put a lot of good pressure on Calgary through the first period on a power-play, and Calgary likewise fought back on their own power-play, but the score remained 1-1 at the end of the first period.
Period two was unfortunate for the Oilers, as Calgary's Dennis Wideman brought the Flames into the lead about 2 minutes into the second period. Calgary then caught Edmonton on the change and stormed with a loose puck from fairly far, leading to another goal, this time by rookie Sven Baertschi.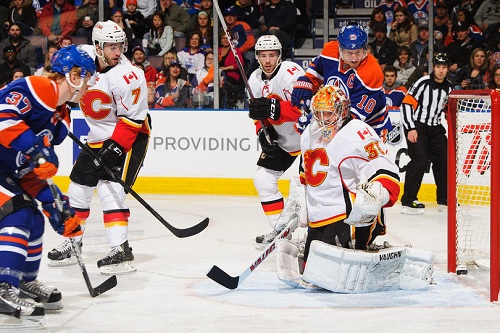 The Oilers really needed to push back in the third period and enter strong. They started out with a power-play but failed to convert it. The Oilers got a few good opportunities but they just couldn't seem to get anything between the pipes. It was the Flames' Max Reinhart who scored the only goal in the third period, moving the Flames to a 4-1 victory.
Petrell, who scored Edmonton's lone goal in the game, commented that "it's a mental battle for us. We need to muster up the mental strength to compete in these last seven games." Taylor Hall also commented on the loss, saying that "with a lot of guys out of their lineup, we were the better team on paper and just got out-worked. Bad game for us."
Both comments ring true. While letting Calgary obtain and maintain a lead coming into the third period wasn't a desirable situation, in previous games the Oilers have racked up 3 or 4 goals within very short time spans. It would definitely not have been impossible for them to rebound and take the lead with strong third period play, especially considering they beat Calgary 8-2 in their last match up. They had enough time to bounce back, but they seemed tired by the last few minutes of the third period and just couldn't pull it together.
"Whether it's energy or attitude, we have to figure it out very quickly here," said Oilers coach Ralph Krueger after the game.
The Oilers desperately needed a win this game, both to get some confidence back and to maintain any hope of getting a playoff spot. They need to figure out what's going wrong here and leading to this losing streak, especially after their exciting five game winning streak just prior to their current streak of losses.
They still have seven games to go, but they need both incredible skill and a fair bit of luck in order to have any shot at squeaking into the playoffs.
They'll face the Minnesota Wild on Tuesday, April 16.