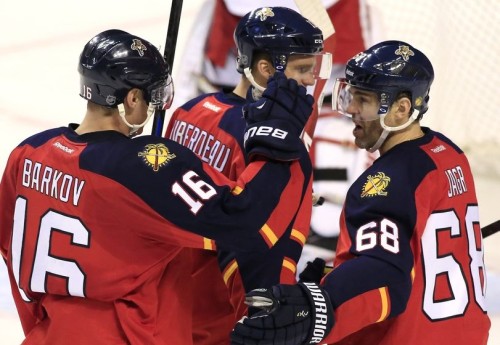 Alas, it's that time of year again-the metaphoric Florida leaves are finally changing color, the university year is rolling on at ramming speed, and starting today, I get to combine my two great loves: sports writing and procrastination. Oh, let's not forget the borderline crippling, rowing-induced tendinitis. It's a match made in heaven, really.
As I sit here on this Wednesday night, desperately self-medicating with ibuprofen and a heating pad in a vain effort to prepare myself for a 6:45 AM 6K erg test, hockey season has finally kicked off; with four games on tap, the fastest contact sport in the world ushers in a new year, complete with new subplots and new aspirations for even the lowliest of clubs. A clean slate, if you will. Sh*t's gonna be fire.
What's even better? The Florida Panthers don't hit the ice until Friday, giving my stalling ass extra time to pen and submit this season preview. Introductions aside, let's get down to it-here's what you, dear reader, can expect out of Sunrise's finest this year.
(As an aside, I'd like to apologize for the lack of stats to back claims up; I personally love all that advanced statistical jazz, but my internet cut out, because that Murphy's Law guy is an asshole. Thanks, dude.)
Forwards
In the words of the Scranton-based sage Michael Scott, this is essentially "addition by addition". Only not at all, really. Defying his traditional modus operandi, Dale Tallon chose to avoid wading deep into the waters of free agency, with all seven signings serving to shore up the farm team and add organizational depth. Opting to promote from within, Tallon named three system skaters to opening night's 23-man roster: Vincent Trocheck, Quinton Howden, and Connor Brickley. With all but Brickley having had a cup of coffee at the NHL level, the trio looks to fill the void left by the departures of veterans Scottie Upshall and Tomas Kopecky. While these three drop the average age of the forward corps and add some speed and tenacity, the Cats will very much look to the old guard to set the pace up front. Transforming the top line upon his arrival, the ageless Jaromir Jagr (and his newly-grown mullet IT'S COMING BACK BABY) will need to provide the creativity and leadership that whipped linemates Jonathan Huberdeau and Aleksander Barkov into fearsomely good form.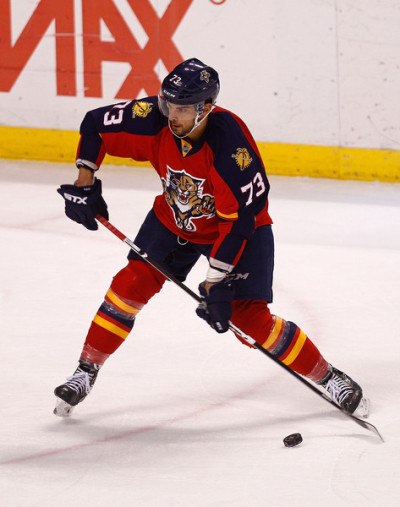 What will set this group over the top, however, is progress in the development of the team's young forwards. If Nick Bjugstad can take that next step, if Brandon Pirri can continue his torrid goal-scoring pace from last year, if every skater under the age of 25 can progress to that next level, this group ought to improve upon last year's 25th placed offense (in terms of Goals For Per Game). Factor in the ever-steady Jussi Jokinen and the offensively gifted Reilly Smith, and the power play could take on a life of its own; Jimmy Hayes' net-front presence may be gone, but with Smith's addition, a full season of Jagr magic and the emergence of Pirri as a bonafide sniper, the special teams unit could finally possess that scoring touch that's eluded it for so long.
Defense
Save for the additions of Steven Kampfer and Alex Petrovic and the removal of one Colby Robak, the eight-man defensive guard named to the 2015-16 opening night roster remains largely unchanged from last season's in terms of personnel. What comes into play, as always, are age and development: can rugged vets Willie Mitchell and Brian Campbell withstand the rigors of another full NHL season? Has Dylan Olsen overcome the yips that plagued and demoted him last year? Can Aaron Ekblad replicate and build upon his Calder-winning rookie campaign, and will Dmitry Kulikov and Erik Gudbranson finally fulfill their lofty potentials?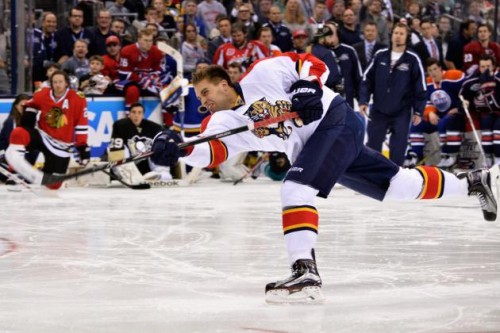 As a hopelessly optimistic sap of a man, I'm wont to answer in the affirmative; with a pair of pounders in Gudbranson and Petrovic, an already steady two-way presence in Kulikov, veteran grit in the form of Mitchell and a minute-munching top pairing of Campbell and Ekblad, there's no reason why this group can't at least replicate, if not improve on, last season's 2.60 Goals Against Per Game watermark. My only cause of concern would be Olsen-he needs to prove that his confidence and hockey IQ are back up to snuff following a dismal 2014-15-but with the smooth skating Kampfer providing a steadying two-way presence from the press box when need be, defensive concerns aren't exactly keeping me up at night.
Goaltending
Remember that whole recurring motif of "age" that we've got going here? Yeah, it's showing up again. Props for being original. Roberto Luongo may have turned in a stellar .921 save percentage and a 2.35 Goals Against average last season, but one can't help but wonder if durability may finally become an issue for the 36-year old netminder. To get the best out of Bobby Lu, coach Gerard Gallant needs to feel comfortable with playing understudy Al Montoya; Montoya, who is coming off of an abysmal campaign, is locked into the backup goaltending position, but whether or not he plays a solid 20-30 games comes down to his ability to bounce back. With Luongo and Jagr declaring this year's effort postseason or bust, I'm declaring The Big Cubano as this team's X-factor in the defensive zone.
Bottom Line
With largely the same core of skaters, the Cats bring a healthy blend of youth and experience to the table. I'm not one to gasbag, but here's my take on things. The Panthers finished two spots out of the wildcard last year, behind both the Boston Bruins and Pittsburgh Penguins, with the Ottawa Senators clinching the first wildcard berth. For the purpose of this article, I'm going to assume that the B's miss the postseason again; following a heavily scrutinized offseason and a debacle of a draft, more questions seem to surround this organization than answers at the moment. Assuming Pittsburgh doesn't wet the bed, the team I think the Cats can gun at are the Sens; unless they can replicate the insane run that propelled them into the playoff picture, I believe that the Panthers can outperform them down the stretch this go-round. The vets are motivated, the kids finally know what it's like to be involved in a playoff push; if everything comes together, 2015-16 could be the year that this team finally becomes relevant again.
No dank memes? No dank memes, guys. Sorry. Now go to bed, ya hippies, it's late AF.