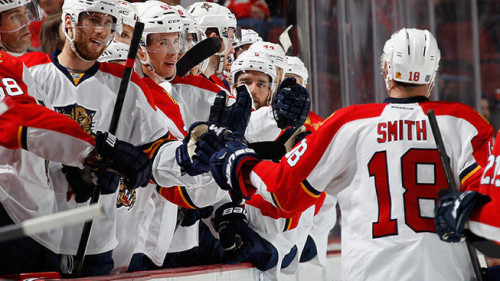 To me, there's one enduring image that defines the Florida Panthers' improbable (yet all too amazing) 11-game win streak.
It isn't a still of Roberto Luongo, flashing leather and robbing an opposing forward of a sure goal. It isn't a snap of Jaromir Jagr, flanked by linemates half his age, celebrating after extending his team lead in the goal scoring column.
No, the one photograph that effectively captures the glory of this magical streak is this little number right here.
It's Kevin Spacey. In space. On a goddamned blue hoodie. Draped over one Aleksander Barkov.
If you sit down and really think about it, the comparison isn't as ludicrous as I'm making it out to be. It genuinely makes sense. Take a gander at this quick rundown:
Nobody outside of the Panthers knows really where the hell it came from, what spawned it, or how it's being sustained.
Barkov–though nowhere near as perplexed on the ice as he is in the warm embrace of #spaceyinspace–is in the thick of it all. As are his teammates. Lost in the sauce.
However, in spite of some external criticisms of the club's newfound success, that first question can be answered fairly straightforwardly. Where'd it all come from? It stormed out of the nether during the second quarter of the season, propelling a floundering 8-9-4 club to first in the Atlantic Division while tying or setting franchise records for longest win streak, most points accrued in a calendar month and most consecutive road games won. Borne on the backs of skaters young and old, it took the league by surprise, turning the Panthers into a sensation virtually overnight.
As for what spawned it, fingers point both to general manager, whose "Blueprint" is finally coming to fruition six years down the road, and head coach Gerard Gallant, the man who guided the team to a near playoff berth and the most marked point improvement of any franchise last year. Sure, the Cats' top line of Barkov centering Jagr and Jonathan Huberdeau may get all the press due to their goal scoring antics, but just what is it composed of? Barkov–a burly manchild equally adept at putting pucks in the net as he is at preventing opponents from doing the same–serves as the pivot for Huberdeau–rapidily emerging as one of the game's premier set-up men–and that one guy who's gonna keep balling out until cataracts blind him and he's confined to a wheelchair.
Two young draft picks and a savvy trade acquisition pace the team up front: If we look at Daily Faceoff's most recently published Panthers' line combinations, we'd find that the second scoring line follows the same template, with big Nick Bjugstad captaining wings Logan Shaw and Brandon Pirri. With a third line comprised of veteran Jussi Jokinen, sparkplug Vincent Trocheck and regular goalscorer Reilly Smith and an energetic fourth made up of the scrappy Derek Mackenzie, depth scorer Corban Knight and (on some nights) the affable Shawn Thornton, the Panthers are able to consistently roll four forward lines, all posing some sort of game-opening threat.
How is it being sustained? For all of the recognition garnered by Jagr and friends, this hockey club has finally emerged as a defensive power. Anchoring the net much like he did in his first stint in Sunrise, Roberto Luongo is playing some of the best hockey of his career, turning away shots at a Vezina-caliber rate of 93.1%. Riding Bobby Lu's success, the defensive corps has turned a corner as well, with two-time consecutive All-Star Aaron Ekblad leading brazen youth (Erik Gudbranson, Alex Petrovic) and wily vets (Willie Mitchell, Brian Campbell) into action. The results have been nothing short of astounding: Heading into the All-Star break, the Cats lead the league in Goals Allowed Per Game (1.58) and Save Percentage (.941) throughout the season's second quarter.
Even if Florida's offense remains statistically average, the fact of the matter is that this team is just that–a team. Every player has their off-days: If Luongo and the D manage to crack, like they did in giving up four goals to the struggling Vancouver Canucks, the offense might just pull through, posting four of their own, salvaging a point and taking the victory in the shootout. If the offense sputters and struggles to get off the ground, like it did in a fortunate three-nil victory over the New York Rangers, the defense is more than capable of shouldering the weight.
At the beginning of this campaign–hell, even through the season's first 21 games–nobody anticipated the Florida Panthers to be making this much noise this early on. Nobody anticipated victories over early-season favorites. Nobody thought that the BB&T Center would rock again, conjuring shades of the Cats' last postseason appearance in 2012.
All I know is that if it ain't broke, don't fix it. I'm looking at you, Kevin Spacey.