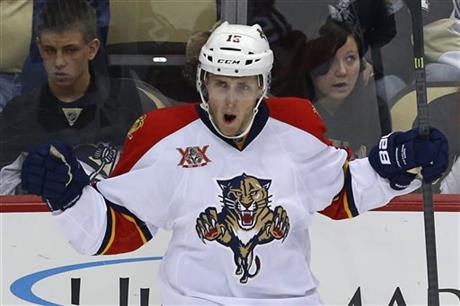 Wut.
Coming quite literally out of the blue-and a mere hour before the Florida Panthers are set to square off against the Calgary Flames-Dale Tallon decided, for one reason or another, to ship centerman Drew Shore out to the Alberta-based hockey club in exchange for Corban Knight. Corban. Knight. As in, 2009-fifth-round-draft-pick-of-the-Florida-Panthers-who-was-traded-to-Calgary-four-years-later-after-not-coming-to-a-contract-agreement-with-the-Cats Corban Knight.
I reiterate. WUT????
Look down, back up, PLAYER PROFILES:
Born in Littleton, Colorado, the 23-year old Shore appears to have found his offensive groove in the American Hockey League; playing for the San Antonio Rampage, the 6'2″ 190-pound pivot has torn apart the minor leagues, netting 30 points off of nine goals through 35 contests, a figure that sits sixth in league standings. These numbers compile his overall minor league scoring record to 95 points over 134 games, an offensive clip that has yet to translate to the NHL. Regarding the big leagues, Shore has appeared in a total of 67 NHL games to date, popping home eight goals and 20 points. Fun fact: he too was selected in the 2009 NHL Entry Draft, 91 picks before Knight.
After setting the WCHA alight as a collegiate forward for the University of North Dakota, Corban Knight shifted to the AHL's Abbotsford Heat, producing points at a .609 point-per-game pace. While his goal-scoring touch seems to have transitioned better than Shore's following the leap to pro hockey-he equals Shore at 26 goals, in spite of playing 42 fewer games-his trial in the NHL can best be described as brief; appearing in a meager nine games, the 6'2″ 200-pounder managed a singular goal. Fun fact: he isn't Drew Shore.
Per a report from TSN's Bob Mckenzie, both skaters will report to their respective AHL clubs for the time being; furthermore, Drew Shore sits a game removed from mandatory reassignment waivers, adding further impetus to Tallon's desire to clear the logjam at center on the organizational depth chart.
There's only one slight point of contention on my behalf: Corban Knight, as listed by hockeydb and Hockey's Future, skates primarily as a center. Excuse me as I weep silently in the prison cell that is my dorm room.
Love Reading About Hockey?

Subscribe to keep up-to-date with the latest and most interesting hockey news!
| | |
| --- | --- |
| | We hate spam just as much as you |