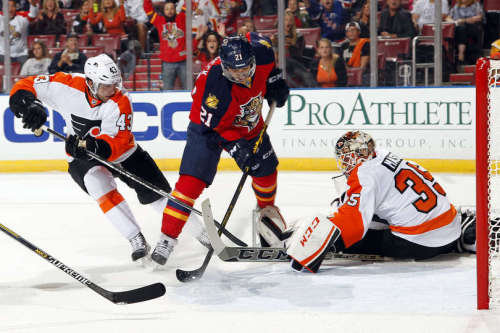 Hockey players are notoriously tough. On a seemingly regular basis, new tales surface of X skater's ruggedness, leading to equal amounts of cringes and "hell yeah's" from the general public. Remember that one time Duncan Keith took a clapper to the kisser, pulled out the mangled remains of whatever teeth managed to cling to his gums and returned to game action mere minutes later? Yeah, me too. Sh!t's cringe-worthy, but Lawdy, dat resiliency doe. And I'm sitting over here, bitchin' about some blisters on my hands. ¯\_(ツ)_/¯
You can be tough all you want, but one thing remains steadfast-being hurt blows. Playing through injury, similarly, takes it toll; even the slightest of tweaks starts to wear down with repeated abuse. The Florida Panthers are no strangers to the injury bug; a few years removed from leading the NHL in man games lost, the club's been racked with injuries thus far in the nascent stages of this campaign. They seemingly run the gamut of afflictions-Jonathan Huberdeau was a last second scratch against the Philadelphia Flyers this past Saturday, done in by "illness" (hehe catscratch fever hehehuehuehuehehe I'm stupid), while Brandon Pirri's stint on the Injured reserve was brought about by a more, shall we say, direct encounter with Keith Yandle's goddamned elbow. Necessitated by this recent rash of injuries, General Manager Dale Tallon's hand was forced, recalling prospects Vincent Trocheck and Rocco Grimaldi from the San Antonio farm in order to replenish a depleted center position.
Pirri's absence-along with Aleksander Barkov's and Dave Bolland's-essentially thrusted the pair of farmhands into the line-up; skating on a line with defenseman-turned-winger Colby Robak (Sean Bergenheim's also out with an undisclosed injury), the trio played effectively in a fourth-line role, crashing Steve Mason's cage and generating some quality scoring opportunities. The newly-formed line nearly converted a beautiful tic-tac-toe passing play, with only a desperation save by Mason saving a near-certain goal. Contributing to a 2-1 victory, that line-though on the ice for only a combined 18:38-carried it's fair share of weight in a winning effort.
The offense remains in dire straights; averaging 1.56 Goals Per Game, a spate of injuries to key contributors is the last thing this team needs. Managing to score more than two goals in a game only once on the young season, there obviously remain issues to be resolved. Perhaps this injection of young talent can jump-start this stalling engine-Tallon has been vocal, both in the past and present, of his confidence in the forwards, noting that they were some of the last cuts made during training camp. He's fairly certain that they are capable of producing now at the NHL level; maybe their offensive mojo (or their youthful exuberance, or some weird Santeria black voodoo magic) will permeate the reaches of the attacking corps. The defense, on the other hand, has played remarkably well, presenting itself as the strong suit of this Panthers squad. Their 1.89 Goals Against Per Game is third in the league-THIRD-and though the unit tasked with preventing shots on goal places 20th out of 30 teams in that regard, Roberto Luongo is playing out of his damn mind, erasing mistakes and Dikembe Mutombo'ing opposing skaters 93.3% of the time.
What this team has, in my opinion, that previous editions haven't is fight; they're tough, not necessarily in the most conventional use of the word, but tough nonetheless. Fans have decried past teams for an apparent lack of drive, of fight. "They aren't getting to the dirty areas! They aren't finishing their checks! They seem like they just DON'T CARE!"; from my limited observation, this group of men has done what they can to erase that perception of South Florida hockey. Skates are moving, checks are flying, and as a result, points are being gained. Moves are being made in the standings. Led by a chosen few veterans, the youth movement is in full effect, and though there are vital improvements to be made, the team is in significantly better shape at this juncture than it was last year. With at least a game in hand on every team in the Atlantic Division, the Cats-for once-are in a relatively strong position to claw up the table.
Alex Karras put it best: "Toughness is in the soul and spirit, not in muscles".
OH YEAH, shouts out to Aaron Ekblad for scoring his first career goal. I'm almost excited about this dude's future as I am about the new Chance The Rapper album that's due up sometime before the end of the year. IGH.