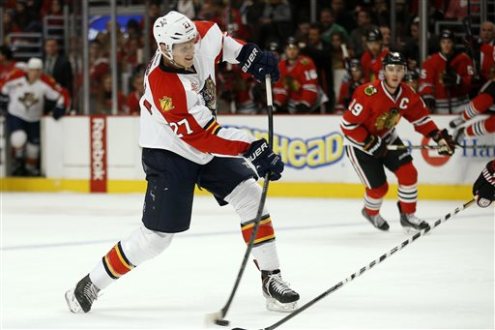 As the saying goes, C.R.E.A.M. Get the money. Dolla dolla bill, y'all.
Fresh on the heels of a one-goal performance that knotted Tuesday's game against the visiting Montreal Canadiens at the death, one Minneapolis native will be calling Sunrise, Florida his adopted home for years to come; Nick Bjugstad, the strapping 22-year old pivot of the Florida Panthers, finalized and signed a six-year contract extension post-game, a deal that nets the skater $4.1 million annually over the course of six years.
As that other saying goes, DAAAAAAAAAAAAAAAAYUM.
At this stage in life, most 22-year olds find themselves at quite a juncture, somewhere in between scrambling to find a job and moving back in with mom and pop. Bjugstad, in particular, will be making Johnny Fat-Stacks type bank, his $4.1 million annual salary comparable to that of fellow NHLers James van Riemsdyk, Jakub Voracek and American bada$$ T.J. Oshie. Though some may criticize the settlement as overpayment of a player who has yet to eclipse 40 points or 20 goals, the deal shakes out favorably for both parties involved; the Panthers, locking up a behemoth power-forward for the foreseeable future, retain a potential top-line centerman with massive upside, a skater that has paced all Panthers skaters in scoring two seasons running. And Bjugstad effectively becomes BjugSTACKS to all his homies back in the Gopher State. It's a win-win, methinks.
Furthermore, comparing Bjugstad's stats thus far in his fledgling career to the aforementioned trio, we see that Big Nick is following a similar statistical trajectory. Nevermind that, should he produce at his current clip, he would be the Cats' first 50-point scorer since Tomas Fleischmann, Stephen Weiss, Kris Versteeg and Brian Campbell realized that feat during the Panthers' magical Southeast Division title run in 2011-2012; what follows is a list of sentences, very repetitive in structure, constructed to feebly prove a point:
Including his current 51-point pace on the season, we find that Bjugstad has amassed 59 points off of 29 goals through his first two full NHL campaigns-a total of 110 games-good for a .536 point-per-game clip.
J.V.R, a former number two overall draft pick, compiled 75 points over the course of 153 games, equating to a .490 point-per-game average.
Voracek, the current leader in the NHL scoring title race, accrued 88 points through 161 contests with a dismal Columbus Blue Jackets squad; his point-per game figure reads .545.
Oshie-we all know who he is-accomplished the highest watermark of the troika, piecing together 87 points over his first 133 professional matches, producing at a solid rate of .654 points-per-game.
All's I'm trying to say, I suppose, is that Bjugstad has kept good company; making steady strides towards fulfilling his promise and reaching his lofty ceiling, Bjugstad appears slated to hold down the fort along the middle for years to come.