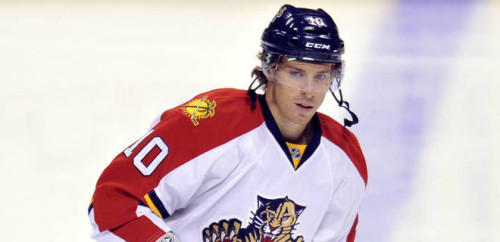 For the sake of professionalism, I'm going to attempt to break this article up into two halves: the objective, quasi-official report of what happened, closely followed by my subjective, coked-out musings on the ordeal. Improper use of AP style will punctuate the entirety of the piece, hounded by the occasional grammatical error and a plethora of run-on sentences. Should be fun.
Moving on to the man of the hour, left winger David Booth was extended a Professional Tryout Contract (PTO) by the Florida Panthers Wednesday afternoon. Booth, a former second round pick of the Cats back in '04, played some of his best hockey in Sunrise, posting career highs in goals, assists and points over the course of his 5+ year tenure with the hockey club. An offensive-minded winger with speed to burn, the Detroit native has been hampered by injury in recent years; sparked by an infamous Mike Richards check that left him concussed, Booth's been the recipient of bad luck on the injury front, missing time with injuries ranging from an MCL issue to recurring groin troubles. Figuring to have Booth compete with Quinton Howden and Rocco Grimaldi for a permanent spot on the pro roster, the Cats hope that their once solid scorer can rediscover his form of old.
Entering the subjective half, I'm gonna lead things off with an anecdote. The year was 2000-God-knows-when. As a U10 South Floridian who had no idea what a hockey was, I hadn't a clue what to expect when my parents packed my kid brother and I into our suburbanite-standard SUV and shipped off to the National Car Rental Center (or whatever it was called back then). I don't remember a damn thing about that game, save for two things:
The Panthers lost. They lost a lot back then.
There was this one dude, with a wicked mop of hair emanating from his helmet, damn near skating circles around the opposition. The memory may be magnified by the passage of time, but I swear, this dude was lightning in a bottle. That No.10 was mercurial.
Said No.10 just so happened to be David Booth. With this in mind, U10 me is sh*tting his drawers right now, freaking out over the fact that Lightning McQueen could very well grace hometown ice once more. Hell, even present day me is pretty stoked; recently, the Cats have had a solid run of good luck when it comes to signing players off of PTOs. Within the last few years, Brad Boyes, Tom Gilbert and Shane O'Brien all entered the fold, with Boyes becoming an integral veteran presence up until his release this offseason, Gilbert parlaying a strong individual campaign into a deal with the Montreal Canadiens and O'Brien filling in when needed on the blueline last season. Furthermore, I'm of the mind that any competition is good competition; he may be viewed as another warm body by management, but any time you inject a veteran skater of Booth's caliber and experience into the mold, things are bound to get interesting. Regardless of whether or not he converts his tryout to a legit contract, his presence ought to bring out the best in Howden, Grimaldi and any other rookie looking to crack the roster.
For a team on the cusp of breaking into the postseason picture, that intensity is indispensable.
Love Reading About Hockey?

Subscribe to keep up-to-date with the latest and most interesting hockey news!
| | |
| --- | --- |
| | We hate spam just as much as you |