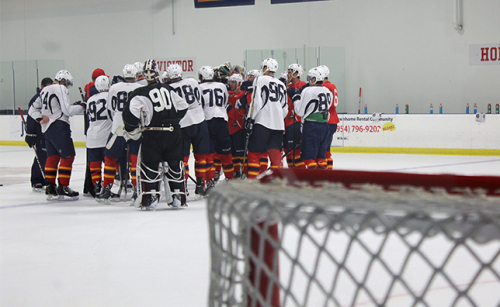 Ahh, September. School's in full swing. Rowing's in full swing (oww). I've even got a cozy little job washing dishes for an Asian restaurant up at college. Life is good, ladies and gentlemen. Life is ggggggggggeeeeeeeeewwwwwwwwwwwwwwdddddddddd.
Life's also busy as f**k nowadays; what, with all of the above coming together to the college kid's equivalent of a Kaiju, it's a miracle I've even got the time to scrounge together a social life. But, oh yeah, that's only before hockey season starts-and then I get to cover the ins and outs of Sunny South Florida's FAVORITE sporting club to the ten or so Canadian transplants that actually watch hockey/know what hockey is down here.
Life. Is. GEWD.
Opening their annual Prospect's Camp today, the Florida Panthers are among the first squads to don an NHL sweater since the Kings trounced the Rangers (*tears*) in five for the Cup. Culling together 26 of their young guns-15 forwards, eight defensemen and three goaltenders-the club invited a diverse group of players selected at all points in the draft. Ranging from blue-chip prospects to undrafted free agents, the group is slated to report to the BB&T Center for physicals, squeezing in an on-ice practice session at the team's Coral Springs-based iceplex before shipping off to Nashville to partake in a four-team prospects tournament. Featuring the talent of perennial playoff contender Boston Bruins, in-state rivals Tampa Bay Lightning and hometown Nashville Predators, the round-robin tourney kicks off this Saturday, with the Cats taking on the Bruins at 2:00 PM.
Every prospect hopes to make a splash; with 28 days remaining until the puck drops on a new season, this camp provides a stepping stone for the players in the pipeline to distinguish themselves from their peers within the system, and potentially garner some positive attention going into training camp. Each squad is bound to have its playmakers in all three zones-in my opinion, here are three players that have the potential to shine brighter than their teammates.
Juho Lammikko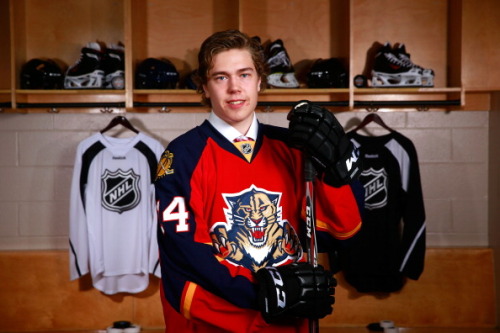 Characterized as a "winger with promising size" who "works hard at both ends of the ice", Dale Tallon saw enough in 18-year old Finnish skater Juho Lammikko to snag him in the third round-65th overall-at the 2014 NHL Entry Draft. Even in his young age (the dude's younger than I am, and he's playing pro hockey. I've got some serious reevaluation of life to do here) possesses truly promising size; standing at 6'1″ and weighing in at 190 pounds, the fact that he may still grow into his frame no doubt sends shivers of joy down Tallon's spine. Per Eliteprospects.com,
He is a decent skater with good stickhandling and playmaking ability. Lammikko has been an eager shooter in the juniors, but seems more apt as a set-up man with his vision and IQ. He is also characterized by good decision-making and sound defensive play.
I saw Lammikko play at this past summer's Development Camp, and I have to say that I was pretty impressed; the puck almost seemed glued to the blade of his stick. Lammikko is set to jump to the OHL for the 2014-15 campaign, calling Erik Gudbranson's old Kingston Frontenacs squad his first North American home. With 20-games of Liiga professional play already under his belt, he can-hopefully-translate his pro experience into on-ice success and future production at the game's highest level.
Rocco Grimaldi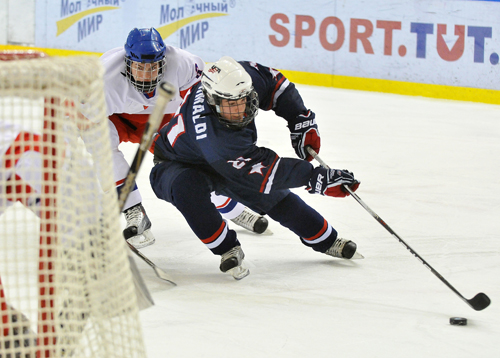 Have you ever heard the saying "It isn't the size of the dog in the fight, it's the size of the fight in the dog"? What am I talking about, of course you have. Anyway, I'm positive that Mark Twain-in between writing Huckleberry Finn and just vibin' along the Mississippi-wrote that quote to explicitly describe Rocco Grimaldi. This guy. THIS F*****G GUY. I have never-and I mean that-NEVER seen someone as tenacious as he is off of the puck. Back at Development Camp, he was flying like a bottle rocket around the ice, flinging his 5'6″ frame into dudes that, honestly, looked to be half his height. The 33rd overall selection in the 2011 NHL Draft, his speed was on full display; he was a veritable bowling ball, in an INTRASQUAD SCRIMMAGE. Compounded with a substantial scoring touch-he lead his North Dakota Fighting Sioux squad in scoring this past season-Grimaldi figures to go apesh*t yet again-only this time, it's actually against another team. If he brings his off-the-charts intensity and work ethic into both Prospects and Training camp, I truly believe that he could see some form of ice at the BB&T Center this upcoming campaign. He's also a ridiculously nice guy; he was among the most active and involved players at the end-of-scrimmage autograph/picture conga line back to the locker room, fist-bumping elementary school kids and happily posing for pictures with whoever wanted one. Character guy, right there.
Jonathan Racine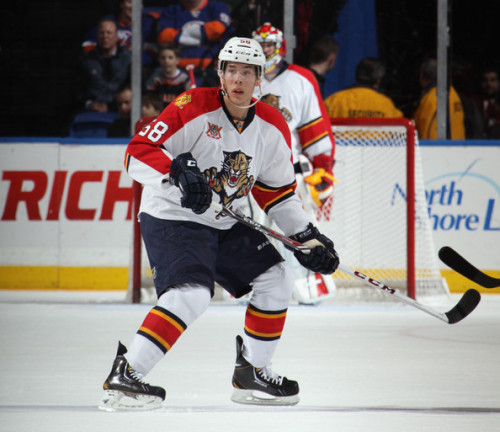 He may not get the press that first-overall pick Aaron Ekblad does, but Jonathan Racine is every bit as defensively gifted, with a mean streak a mile wide. A veteran of 59 AHL tilts, he's amassed 95 PIMs and a +12 rating on a San Antonio Rampage squad that managed a -19 Goal Differential and a last place finish in the West Division. Hockey's Future describes the 6'2″, 202 pound rearguard as possessing not only a high level of defensive awareness and hockey smarts, but is a terrific athlete as well, a combination that makes him a highly effective defender. Racine will play a hard hitting, physical game, but he will more often use those skills to supplement outstanding positioning and tactical play in his own zone. He rarely makes wrong choices even under heavy pressure and is a capable transition player even though he is not an attacking defender.
Prjecting as "an effective middle-pairing shutdown defenseman at the NHL level", the former 87th overall 2011 draft choice has the tools to defensively dominate his match-ups at the upcoming round robin. Whether or not he cracks The Bigs this year remains to be seen (duh); with a logjam at his position featuring the likes of Gudbranson, Ekblad, Dmitry Kulikov, Willy Mitchell, Dylan Olsen and Brian Campbell, Racine could very well call San Antonio his home for at least another year. Personally, I'd like to see him get, at the very least, a fair trial; if he continues his trajectory, he may be a key cog of the defensive corps for quite some time.
Look around for a bit. Really, just do it. Look at everything surrounding you, and just take it in. Find someone you love-got it? Go and hug the living hell out of them for a bit; as much as I hate being morbid, what people say is true-you'll never know when your next day could be your last. To everyone affected in some way, shape or form by 9/11, you've got my prayers-today, tomorrow, and every day after that.