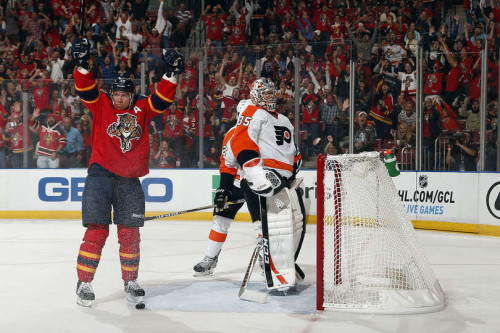 6:46. 19,424. 1738.
For the Florida Panthers, all it took was six minutes and 46 seconds on Saturday night to whip a sell-out crowd (note: SOLD OUT) of 19,424 into a frenzy. The 1738 was completely arbitrary; there's been way too much Fetty Wap bumping in the apartment lately.
Pouncing all over their opposition, the Cats cruised to a season-opening 7-1 demolition of the Philadelphia Flyers. And it was convincing, too; in spite of being outshot 39-30, the Sunrise-based hockey club scored on four of their first eight shots, chasing starting netminder Steve Mason less than seven minutes into the contest.
With that initial four goal barrage, the Cats exhibited a mean offensive streak, scoring in a variety of ways. Vincent Trocheck's tally was the epitome of hustle, with the skater blowing past the Flyers' defense, latching onto Jussi Jokinen's half-ice shoot-in and tapping home a backhanded effort 1:23 into the game. Nick Bjugstad finished a nifty passing play, sniping home a wristshot that hummed past Mason on the near post. Recently acquired Reilly Smith potted a power play goal dripping with skill, corralling a Brandon Pirri pass on his forehand, spinning square to the net and depositing at close range. And Jokinen, capping a miraculous first period, capitalized on an egregious miscue from Mason, scoring on a yawning cage and pulling the shell-shocked goalie from the game.
Throw in Jaromir Jagr's two spot and another Smith snipe, and you have yourself a complete offensive performance, one defined by balanced scoring from five different skaters.
Not to be forgotten, Roberto Luongo was massive in net, turning aside 38 shots in a superlative performance. Anchoring the defense, Lu stood tall, his night defined by a surreal triple-save where he stopped Scott Laughton on an odd-man rush, turned aside a rebound attempt with his left pad and, sprawled out on the ice, trapped a final point blank effort with his glove.
What we can glean from all this, however, is an announcement. In scoring the fastest four goals in a season opener in NHL history, the Cats slammed the book shut on a statement win. There's offensive quality on this year's squad; tacking seven on the Flyers, the Florida Panthers already trumped last season's game-high goal total. Although the power play struggled to get anything going on a 4:00 man advantage in the second frame, the special teams unit managed to convert on three of seven opportunities, scoring some pretty goals in the process. When the dust finally settled, the Panthers' youth left their mark on the scoresheet, with skaters under the age of 25 accounting for 13 of the team's 19 points.
The final takeaway? These Cats have claws.