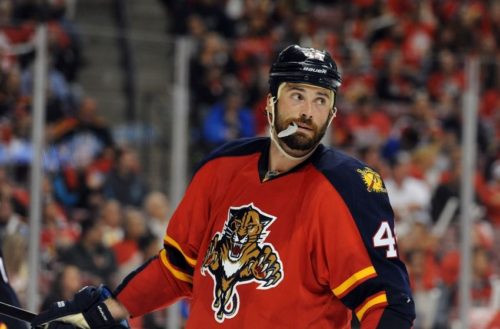 Talk about the right of parlay.
A little over two weeks after being eliminated from the Stanley Cup Playoffs, the Florida Panthers re-upped 2010 third-overall selection Erik Gudbranson on a one-year, $3.5 million contract, retaining a key component of their young defensive corps.
A veteran of 309 NHL contests at the age of 24, the 6'5″, 216-pound native of Ottawa, Ontario, had himself an exceptional year. Logging new career-highs in both average ice time (20:07 per game) and plus-minus rating (+3), Gudbranson also finished third and fourth on the team in hits (150) and shots blocked (73), respectively. Additionally, the hulking rearguard chipped in nine points off of two goals through 64 games.
From an analytical standpoint, the advanced statistics reveal a player finally coming to his own as a rough-and-tumble defensive defenseman. Head coach Gerard Gallant opted to deploy Gudbranson in the defensive zone on 67.2% of his shifts–a career-high for the five-year veteran–while dropping his offensive zone usage to a career-low 32.8%. In spite of the change, Panther goaltenders posted a .918 save percentage across all situations with him on the ice–the highest watermark of Gudbranson's career–despite a near-perfectly neutral PDO of 99.8.
Furthermore, this contract offers the Cats some salary cap flexibility, both short-term and in the long run. With forwards Vincent Trocheck and Quinton Howden on expiring contracts and Aaron Ekblad, Dmitry Kulikov, Reilly Smith and Alex Petrovic slated to hit 2017 free agency, the Panthers could use every nickel and dime saved to structure their payroll in such a manner that retains the bevy of young talent currently populating their roster.
In conclusion: Good on you, Guddy. Good on you, Florida Panthers, with your bizarre front office shakeups and newfound love for advanced analytics.
Oh, yeah. #Chance3 drops this Friday. HE GON' DO A GOOD ASS JOB.