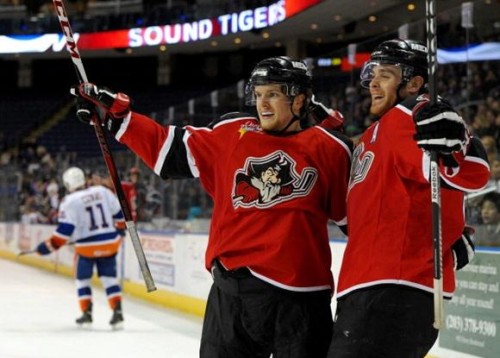 And we back. After a week of rowing in Miami, a zero on a Managerial Accounting exam and the absolute slaying of a case competition, WE BACK FAM.
In the thick of the Eastern Conference wild card race, the Florida Panthers made news in the world of Hockey Operations, announcing the signing of a four-year contract with the AHL's Portland Pirates. The deal-effective from the 2015-2016 campaign onward-sees the Maine-based hockey club become the top minor league affiliate of the Cats, with prospects and veterans alike now reporting to the Northeast for their stints down on the farm. The agreement officially ends the San Antonio Rampage's second stint as the Panthers' top feeder team, leaving the club without a professional affiliate for the time being. Additionally, Rampage General Manager Eric Joyce will also be jumping ship (HAH PUNS), joining the Panthers in their move to lobster country. Panthers Executive Vice President and General Manager Dale Tallon reflected on his team's time with the Rampage in a positive light, complementing a "first class" organization while looking forward to his squad's future linkage with a "vibrant…and hockey-rich market".
Fun fact: the San Antonio Rampage were once affiliated with the Cats before their most recent partnership, associated with the club from 2002-2005 before a seven-year spot as the now-Arizona Coyotes' developmental squad. The Portland Pirates-future minor league affiliate of the Panthers-were once in cahoots with the Coyotes. Coincidence? I THINK NOT.
Oh, ending off on a bit of a sidebar/tangent here, but shouts out Steven Kampfer, who came to terms on a two-year contract extension with the Cats about five days ago. Acquired from the New York Rangers this past offseason in exchange for Joey Crabb, the 26-year old rearguard has staked his claim as a blue-line regular, earning a full-time roster spot following a mid-season call-up. Fleet of foot, the former 93rd-overall pick has posted three points off of a lone goal through 21 games, complementing a minus-four rating. Conventional stats may not show it, but the lad's been effective in a top-six role, utilizing his obscenely good skating ability to his advantage.