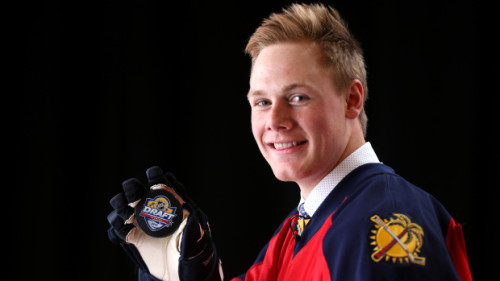 Talk about a busy day.
In a flurry of activity, the Florida Panthers agreed to contracts with four skaters on Wednesday, re-upping Alex Petrovic, Quinton Howden and John McFarland while signing newly-drafted forward Lawson Crouse to his first professional contract.
Starting the day off right, General Manager Dale Tallon announced the signing of Lawson Crouse to a three-year, entry-level contract, officially bringing the young power forward into the fold. While the specifics of the deal were not disclosed, it looks as though the 6'4″ native of Mt. Brydges, Ontario will be making his presence felt in South Florida sooner rather than later; both Tallon and second-year head coach Gerard Gallant believe that the rookie skater can leave his mark on the professional roster, logging minutes as a top-six forward. Quoth Dale,
Lawson is a strong, skilled and physically mature forward with good hands, who will provide us with a prominent forechecking presence each night. He was one of our best players in development camp and we are confident he can make an immediate impact on our roster, playing on one of our top lines
Sayeth Gallant,
Lawson's intense work ethic and his hockey sense became clearly evident at our prospects camp…His strength, size and high compete level allow him to contribute offensively and make plays at both ends of the ice. He will be given every opportunity to earn a top six forward position on our roster during training camp
Following Crouse's deal, the Cats locked up a solid roster player, committing two years to 6'4″, 206-pound defenseman Alex Petrovic. A 2010 second-rounder, Petro appeared in 33 games for the Panthers last season, finishing with three assists, a minus-four rating, 34 PIMs and one preeeeetty righteous knockdown of Jarred Tinordi. A former AHL All Star, the former Red Deer Rebel figures to play in a top-six role with the big club this upcoming year.
Rounding things out, RFA forwards Quinton Howden and John McFarland accepted qualifying offers, keeping them in the organization with matching one-year, two-way contracts. To date, Howden has encountered the most success out of the duo; selected 25th overall at the 2010 NHL Draft, the Winnipegger has suited up for 34 NHL contests, posting six points off of four goals. A swift skater and valuable forechecker, the centerman has produced at a half-point per game pace through 149 AHL tilts, in spite of missing chunks of time with various injuries. McFarland, on the other hand, has had a rougher go of things; taken three picks before Petrovic, the fleet-footed left winger has yet to crack the NHL roster, toiling in the minors and fighting for a permanent spot in the AHL.
HOCKEY, WOOOOO. Wait, can I add "made the front page of r/hockey for a hot minute" to my résumé, or nah? Honest question.