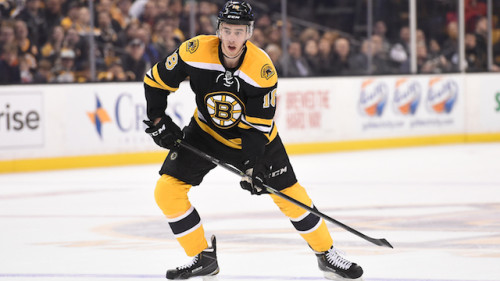 This will be a quick one, I swear-I really want to exercise my personal freedoms and watch The Incredibles at some point within the next hour. God Bless America.
The first of July brought more than just a change of the calendar for the Florida Panthers; amidst a flurry of AHL-caliber signings set to bolster the Cats' minor-league roster in Portland, Dale Tallon pulled the trigger on a deal with a less-than-familiar trade partner. To use a mediocre fishing analogy: the bait? 25-year old Jimmy Hayes, Restricted Free Agent coming off of a career-best 19-goal year. The catch? 24-year old Reilly Smith, a former Dallas Stars draft pick one year removed from a 20-goal campaign. In addition, the Cats net the contract of Marc Savard, who-a la Chris Pronger-hasn't played a game of hockey since his brain got turned to mush circa 2011.
Likely to have required arbitration in his quest for a renewed contract, Hayes has been in the trade conversation since the NHL draft, where it was found that he was a component of a package offered to the New York Rangers in exchange for the services of auxiliary backstop Cam Talbot. Over the course of a 168-game NHL career, the Boston native has managed 66 points off of 36 goals, posting roughly 0.39 points-per-game over that span. A hulking skater, the 6'6″ Hayes has developed-to this point-a reputation as a streaky player, lighting the lamp for games on end before going colder than a brass toilet seat in the Yukon. With the trade serving as a bookend to his Panthers' career, Hayes notched 35 points off of 19 goals through his final 72-game campaign in Panther red.
Though not possessive of the same size and goal-scoring touch as Hayes, Reilly Smith brings a more rounded game to Sunrise. Using Litter Box Cats' article as a primer (those guys are pretty rad over there), we can find all of the statistical guts illustrating Smith's merit; since I'm a lazy son-of-a-bitch, here's the table that Shane O'Donnell-gentleman and scholar-composed as a means of comparing the players at the heart of this exchange. The nitty-gritty explanatory stuff can be found over yonder:
| | | |
| --- | --- | --- |
| Player | Reilly Smith | Jimmy Hayes |
| Rel. CF% | 4.47% | 0.79% |
| Rel. SCF% | 5.29% | 0.86% |
| G/60 | 0.68 | 0.98 |
| P/60 | 1.52 | 1.50 |
| exp. CF% | 52.8% | 52.8% |
| Actual CF% | 55.0% | 51.8% |
| dCorsi% (exp. – Actual) | 2.2% | -1.0% |
| TOI/Game (Team Rank) | 13.14 (6) | 12.75 (5) |
| iCF/60 | 12.29 | 13.54 |
| Composite SAG/60 | 12.17 | 9.74 |
| CC% | 38.1% | 41.6% |
Trumping Hayes in nearly every metric listed, Smith-over the course of his 203-game career-has proven the more versatile player, offering a more complete offensive game and heightened defensive-zone responsibility. And, locked up for the next two years with a $3.425 Million cap hit, Smith represents an affordable scoring option on the second-line.
Now, on to those other signings we mentioned prior; signing five skaters on Wednesday and one the day after, Dale Tallon brought in a slew of players to round out the farm team. On the back-end, goaltender Mike McKenna enters the fold, signing a two-year, two-way contract. A veteran of 332 AHL contests, McKenna has had his cup of tea in the big leagues, appearing in 22 NHL games with Arizona, Columbus, New Jersey and Tampa Bay. According to my homie/boss on this website, Igor, McKenna is an all-around good dude and a hella underrated netminder. So that's pretty tight.
In addition, the club reeled in three defensemen to help stem the opposition's offensive tide. Agreeing to two one-year, two-way deals and a two-year, two-way contract respectively, Cameron Gaunce, Sena Acolatse and Brent Regner join the fold. The only one of the trio to have dressed for an NHL contest, Gaunce-a former second-round pick of the Colorado Avalanche-has appeared in 20 games; could he be this year's Steven Kampfer? Rounding out this free agent class to date, system forward Rob Flick signed on Thursday, coming to terms on a one-year, two-way contract. A former fourth-rounder of the Chicago Blackhawks, Flick recorded a career-high 19 goals at the AHL level this past year, and-in the words of Tallon himself-"adds further depth to our organization".
And now for something completely different-I think my friends and I are actually going to make a mixtape. Any and all prayers are welcome. #MARCHTOTHESEA.
Love Reading About Hockey?

Subscribe to keep up-to-date with the latest and most interesting hockey news!
| | |
| --- | --- |
| | We hate spam just as much as you |