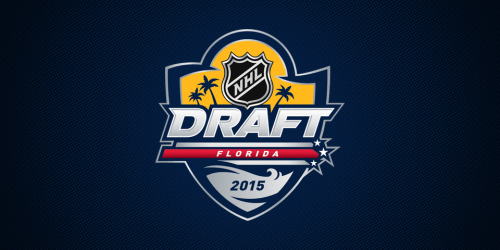 *Addendum: There will be no dank memes this article. It's killing me, but I can't; the early-onset carpal tunnel is too skrong in this piece.*
So, this draft was low-key amazing. And by low-key, I mean, holy sh*t, did the Florida Panthers kill it. I showed up on the first day, and in the midst of a frantic scramble to find Gen Ad seating before Stormtrooper Bettman manned the stage, my friends and I realized something. We thought that, as a whole, the events on the periphery of the draft itself would follow the same unfortunate script that haunts the club day-in-and-day-out: under-attended, disorganized. Expectations, while not necessarily low, hovered around the all too familiar medium of "meh". Long story short, we were delightfully proven wrong when we copped lower-bowl tickets being distributed as a means to relieve some of the stress pressing down on the standing-room only UPPER DECK. I'll save the specifics for another article (COMING SOON TO A SCREEN NEAR YOU), but yeah. They killed it. Absolutely flushed it.
From a Hockey Operations standpoint, though, Dale Tallon str8 MURKED. With their eight selections across both days of the 2015 NHL Entry Draft, the Cats managed to address some severe organizational needs, restocking the cupboards with Tallon's preferred blend of size and speed. In a draft class that includes four players over 6'3″, the "fastest skater in the draft" and a dude who crushed a home run at Marlins Park, there wasn't a single pick that-if I recall correctly-completely lost my sh*t over. I was most enthused, and here is why all y'all should be, too.
Lawson Crouse (Round One, Eleventh Overall): Left Wing, Kingston Frontenacs, OHL-6'4″, 215 lbs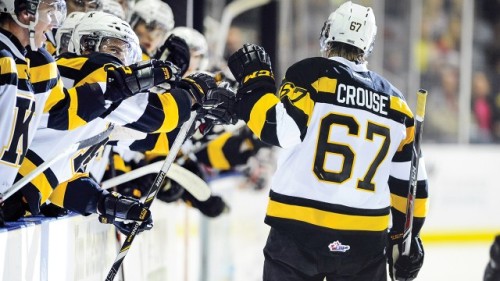 This dude makes Walker, Texas Ranger look like a baby-backed B!TCH. Codenamed "The Sheriff" by his Major Junior teammates, Lawson Crouse is the type of dude that will let you pick which hand he beats the f**k out of you with, wreck you with both grace and aplomb, and then score a goal on your punk ass. Just slightly older than my younger brother, this 18-year old specimen is more physically mature than anybody on my college rowing team (and, pending his signing an NHL contract, infinitely richer). While his offensive totals sparked negative conversation in the days leading up to the draft, Crouse is lauded as something of a power forward, willing to bang bodies and responsible in all three zones. An underager on Canada's World Junior winning squad, he has been typified as a character player, a skater who leads by example with intensity. Pair that with good hands, tenacious forechecking and an intimidation factor that took Dale Tallon by surprise, and this is one dude that could very well have a shot at making the Panthers' opening day roster. Judging by the roaring ovation he received as he stood on the BB&T Center's stage, a lot of people are pretty high on this kid.
*A confession-I actually wanted Mikko Rantanen at this spot (mainly because he was also a man-child and had played in Finland's respectable Liiga)-and lord knows I cursed the living hell out of Joe Goddamn Sakic when he picked the Finn-but at the end of it all, I'm over-the-moon about the Crouse selection.
Samuel Montembeault (Round three, 77th overall): Goalie, Blainville-Boisbriand Armada, QMJHL-6'3″, 165 lbs.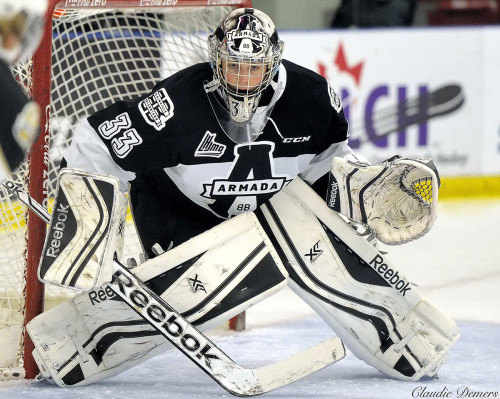 Hockey's Future doesn't outline it as such, but I see the Panthers' goaltending prospect pool as the shallow end of a diving pool, yanawhamean? For whatever reason, the talent stored in that position doesn't do much to inspire confidence-that isn't saying that I could do a better job (I couldn't stop a puck if it hit me square in the face), but this particular pool's current standing worries me just a tad bit. Selecting the third-ranked North American goalie, however, definitely takes steps in assuaging my concerns. Samuel Montembeault-native of Becancour, Quebec-becomes the highest-drafted netminder in the Panthers' system, with the stats to justify it. Employing a butterfly style, he posted a strong Goals Against Average of 2.59 over 52 games, contradicting a Save Percentage of .891. As found in ISSHockey's draft guide, he's been praised for his lateral movement and angular positioning, boasting a top-flight glove hand to boot. Idolizing Panthers' incumbent Roberto Luongo as a kid, Montembeault has posted numbers comparable to that of the Cats' legend to this point in his Major Junior career-here's to hoping they've found an heir apparent.
Thomas Schemitsch (Round three, 88th overall): Defense, Owen Sound Attack, OHL-6'3″, 205 lbs.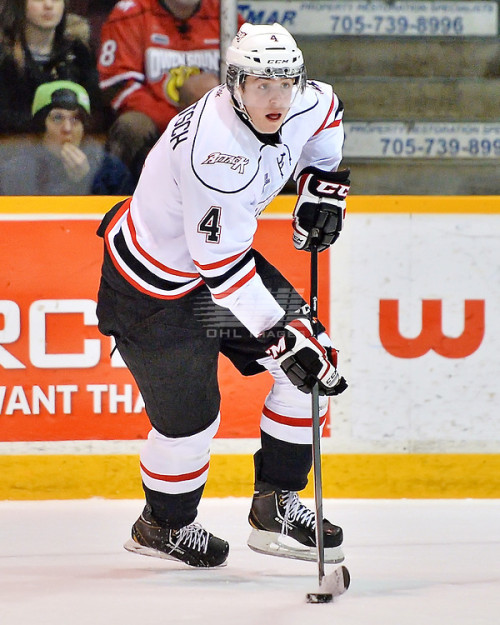 A converted forward, rearguard Schemitsch was the only defenseman selected by the Panthers in this year's iteration of the Draft. Possessing pro-caliber size, the second-year OHL blueliner turned heads in his sophomore campaign, compiling 49 points off of 14 goals through 68 games played. Simple yet effective, Schemitsch's game predicates itself on making sound reads and using his lanky range to disrupt opposing attacks with an active stick. Technically sound with a mind for the game, he utilizes a smooth-if not dazzling-stride to join the rush, consistently threading accurate outlet passes to his forwards. There are flaws in his skillset, but for an unexperienced d-man, he shows an affinity for the position, and undoubtedly bolsters a positional system that is arguably the strength of the Cats' prospect pool.
Denis Malgin (Round four, 102nd overall): Center, ZSC, Swiss NLA-5'9″, 176 lbs.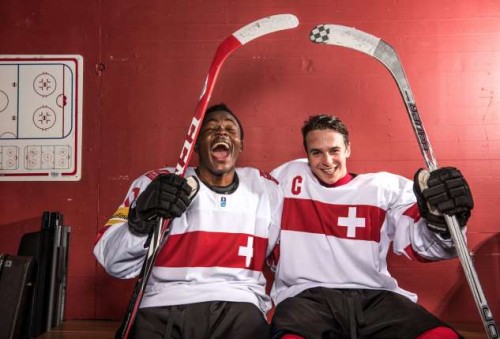 Nevermind the bollocks-or the fact that this kid weighs a couple of pounds more than I do, despite the fact that I'm five inches taller-here's Denis Malgin! A sparkplug with legit NHL potential, the diminutive Swiss pivot is an offensive force, constantly churning his legs and rocketing around the rink at top-speed with the puck on a string. As outlined by EliteProspects, this Russian/Swiss hybrid's greatest strength is his obscene puck-handling ability, something that's amplified by his "strong hockey sense and offensive instincts". He also possesses an accurate shot, one that could stand to get some more juice behind it. Plying his trade in the top tier of Swiss hockey, Malgin has proven his willingness to stand his ground and battle in the corners, in spite of his size. Knocks against the skater center around physical attributes, and call all almost be remedied with additional strength. Dude's also a responsible player in his own zone. Even if he ends up shifting to wing, I really, really dig this pick. At least we didn't take an enforcer again.
Karch Bachman (Round five, 132nd overall): Left Wing, Culver Military Academy, H.S.-5'11", 171 lbs.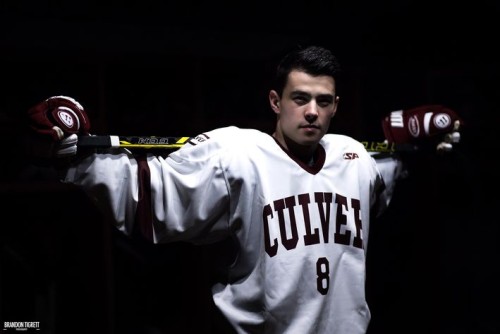 In Foreign, this kid's called un cohete. A rocket. A demon on skates, Dale Tallon raved about Karch Bachman's speed, undoubtedly a factor in the selection of the Walcotville, Indiana native. Another skater with solid intangibles, Bachman's military upbringing instilled discipline and character in the young forward, two things that Panthers' management are proving they hold valuable above almost all else. Outlined by DraftSite's Bill Placzek as a "very quick read and react player who creates scoring chances by puck movement and keeping himself in motion", the UMiami of Ohio commit is "a good strong forechecker with very good speed and perserverance". Not too shabby for a fifth-rounder, methinks.
Chris Wilkie (Round six, 162nd overall): Right Wing, Tri-City Storm, USHL-6'0″, 185 lbs.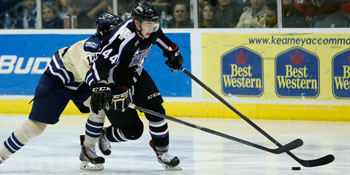 Another Panthers' draftee committed to ball out at the University of North Dakota, Wilkie was a near point-per-game producer for his Major Junior squad this past year. Per Future Considerations via Litter Box Cats,
Wilkie is a fleet footed prospect who is up to top speed in a flash, controls the puck well and has a solid shot. So shifty on his feet, he can make a defender look foolish and thread the needle with a strong pass all in a split second. His effort levels are inconsistent but when he is on he can be a difference maker.
Shane O'Donnell is of the opinion that the Nebraska native and former USA U-17 NTDP product can become an effective third-liner one day; with sporting bloodlines in the form of dad David's six-season NHL career, there's no reason why he couldn't.
Patrick Shea (Round seven, 192nd overall): Center, Kimball Union Academy, H.S.-5'10", 186 lbs.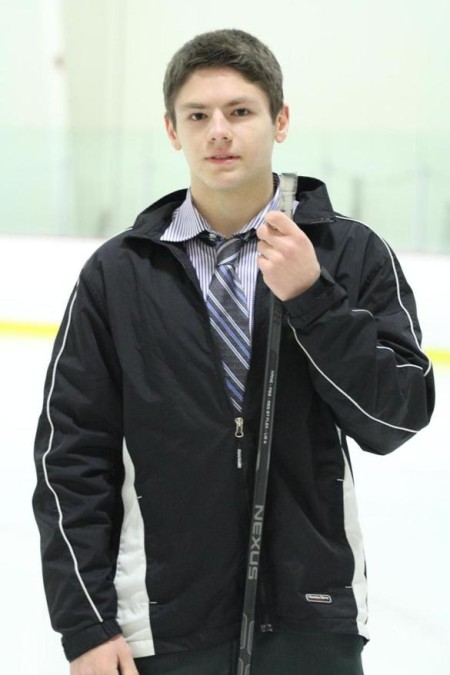 The second player in this class who's initial Google search turned up an attorney, there isn't much on the interwebz pertaining to Patrick Shea. Shipping out to the University of Maine this upcoming Fall, Shea will take a choleric mean streak to the Orono-based NCAA program, hoping to build off of a 19 goal, 39-points-through-33-games campaign at the Prep School level. That's, uhh, yeah, that's pretty much all I've got on this one. Go, Black Bears.
Ryan Bednard (Round seven, 206th overall): Goalie, Johnstown Tomahawks, NAHL-6'3″, 180 lbs.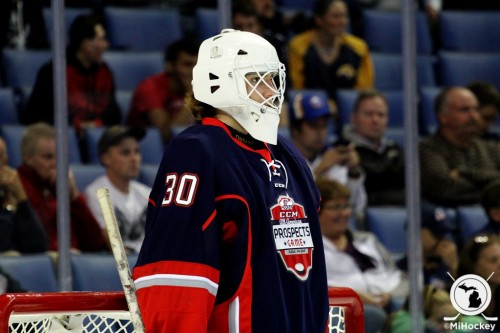 The last selection by the Cats, netminder Ryan Bednard rounds out a solid showing by the club at the NHL Draft. Selecting a rangy netminder in the seventh round for the second consecutive year, the Panthers bring yet another NCAA commit into the fold; slated to join the Bowling Green Falcons for the 2017-2018 season, Bednard quickly progressed through the American Junior ranks, culminating with a bid to play in the CCM/USA Hockey All-American Prospects Game, a 16-win/2.66 GAA/.913 Save Percentage 37-game year and a cameo with the USHL's Youngstown Phantoms. Mike Letizia, Bednard's coach with the Tomahawks, commented on his maturity: "He has the pro look to him with his size, but it is also his composure and how he competes. He's never satisfied and he is constantly working to improve his game. Sometimes you actually have to pull him off the ice after practice, or else he'll just stay out there and keep working".
So this took WAY longer than I anticipated, but whatever. *raises glass of water* Here's to all of these guys, that they may turn into absolute studs and bring about a golden age in South Florida hockey. I'm gonna go nap now. Or do homework. Probably homework. UGHHHHHHHH.