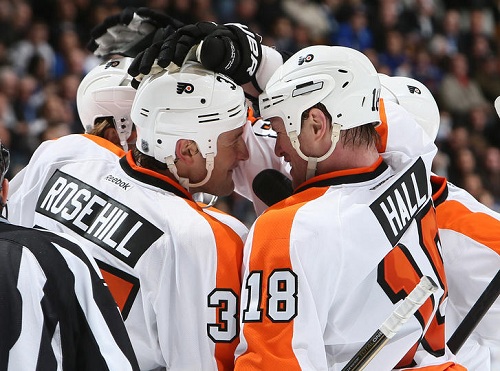 Brayden Schenn scored for the first time in 17 games and the surging Philadelphia Flyers continued their winning ways Thursday night against the Toronto Maple Leafs. Sean Couturier was the subject of many trade rumours these past two weeks but proved why GM Paul Holgrem kept him with two assists on the night. Newcomer and former Leaf Jay Rosehill scored the game winner in his first game with the Flyers as his team won 5-3.
The Flyers played the night before but it didn't show as the team now has 37 points and are two points out of the final playoff spot in the Eastern Conference.
Simon Gagne scored his second goal in as many games while Jakub Voracek and Luke Schenn also tallied for the visitors. The Leafs got goals from Nikolai Kulemin, John-Michael Liles, and former Flyer James van Riemsdyk. In addition to the loss, the Leafs also lost forward Joffrey Lupul to injury. He got crunched by the Flyers Jay Rosehill and Adam Hall while the Leafs were on the power-play. Lupul left in the first period and didn't return. He has eight goals and six assists since returning from a broken forearm on March 16.
Gagne opened the scoring 1:19 in when he redirected an Erik Gustafsson point shot. Gustafsson now has a point in consecutive games. The Leafs got the next two goals beginning with Kulemin who put in a rebound from a Dion Phaneuf point shot. Liles added to the lead around fifteen minutes later when his point shot went through traffic and got by Ilya Bryzgalov.
The Flyers tied the game late in the first when Voracek scored his team leading 16th of the year. He put the puck into an open net on a beautiful pass from Couturier.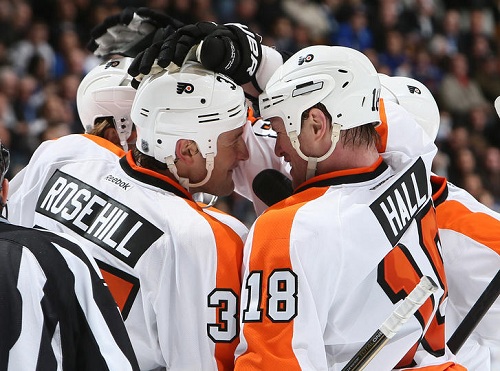 Brayden Schenn gave the Flyers the lead again just 54 seconds into the second frame when his wrist shot squeaked by James Reimer. Rosehill added to the lead with just four minutes remaining in the period when he redirected a point shot by Reimer. Not only was it his first goal as a Flyer but it was his first overall on the year.
Van Riemsdyk put the Leafs within one early in the third period when he went upstairs on his former goaltender in low. That was all the Leafs could muster as Luke Schenn added an empty netter and the Leafs lost 5-3.
Game Notes:
Luke Schenn was a force once again for the Flyers. Not only did he put the game away with an empty netter but he also led all players in ice time with 25:42. He also fired five shots on goal, dished out six hits, blocked four shots, and was plus three on the night. For all the talk about the Flyers having defence issues, Schenn is proving he may be the guy Holmgren can build his blue line around
Newcomer goalie Steve Mason was in the line-up for the first time for the Flyers where he wore No. 35. He gave way to Bryzgalov but it is unclear which goalie will play Saturday against the Winnipeg Jets
In his first game with the Flyers, Jay Rosehill showed his gritty side with a fight against Colton Orr