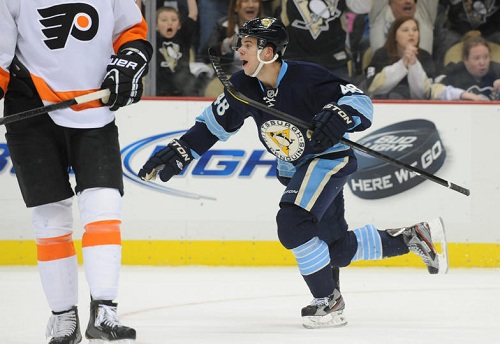 Tyler Kennedy tallied the overtime winner and the Pittsburgh Penguins extended their winning streak to 12 games with a 2-1 victory over the Philadelphia Flyers on Sunday evening at the Consol Energy Center.
The Flyers were playing their first game since March 18th where they fell 4-2 to the Tampa Bay Lightning. The team was well rested and eager to get another go at the Eastern Conference leading Penguins.
Claude Giroux scored his 10th goal of the season while goaltender Ilya Bryzgalov made 33 saves as the visitors fell to the red hot Pens. Daniel Briere and Nicklas Grossmann were not in the line-up on Sunday as they were both out with upper-body injuries. Kris Letang and reigning Hart Trophy winner Evgeni Malkin were both out for the Penguins.
Sindey Crosby scored a power-play goal in regulation for the Pens to force overtime where Kennedy would put the game away. The Flyers got a point out of the game and are now 13-16-2 on the year.
Flyers captain Claude Giroux opened the scoring 14:09 into the second period when a failed pass attempt bounced right back to his own stick. He quickly let off a lethal snapshot before Marc -Andre Fleury had fully realized that the pass hadn't gotten to the intended target. Giroux's 10th goal of the year gave the Flyers a one goal lead.
The Flyers appeared in control of the game until Wayne Simmonds and Kimmo Timonen each took third period penalties 23 seconds apart which gave the Penguins a two man-advantage. Paul Martin would feed Sidney Crosby who unleashed a wicked slap shot. The puck found a way by Bryz and tied the game.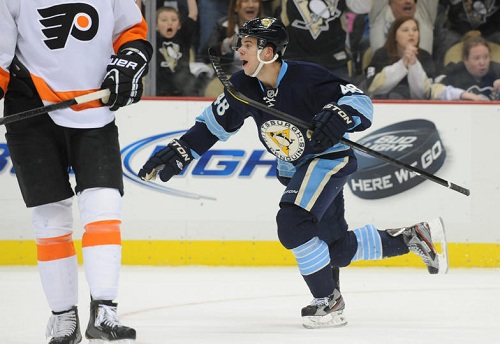 Both teams had quality opportunities in the final minutes of regulation but both goalies stood their ground. Kennedy's overtime winner came from just above the circle where he unleashed a beautiful wrist shot that went over the shoulder of Bryzgalov and propelled the home team to victory.
Game Notes:
The Flyers begin a five-game homestand on Tuesday against the New York Rangers
Luke Schenn had a monster of a game for the Flyers logging 28:29 of ice time, dishing out seven hits, compiling two blocked shots, and firing two shots on goal
After putting up 17 points in the first 19 games, Brayden Schenn has no points in his last eight games
Ilya Bryzgalov was arguably the best player on the ice Sunday coming up with some huge saves and helping the Flyers gain a much needed point
The Flyers fell to a very concerning 4-12-1 on the road this season