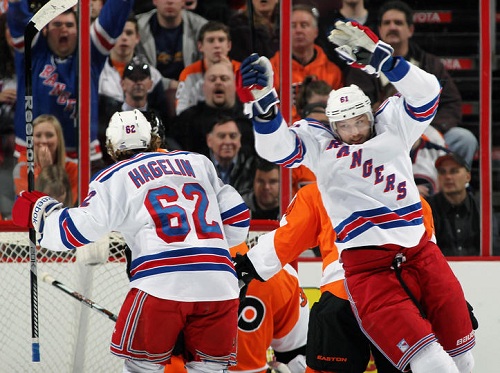 It was another important game for the Philadelphia Flyers on Tuesday evening. Playing home to the New York Rangers, both teams were eagerly chasing down that final playoff spot in the Eastern Conference. To make things even more intense, the Flyers were only five points behind the Rangers in the Eastern Conference standings.
The fans at the Wells Fargo Center didn't go home in a happy fashion, however, as they saw their team fall to the Rangers 5-2. The Blueshirts got a four point performance from Derek Stepan and Henrik Lundqvist made 32 saves to ensure victory.
Rick Nash scored twice while Brad Richards and Chris Kreider also tallied for the visitors. Despite outshooting the Rangers 34-31, the Flyers only scored twice in the game. Jakub Voracek and Wayne Simmonds were the lone goal scorers for the Flyers who have now lost three of their last four games against the Rangers.
Rangers coach John Tortorella became the 30th coach in NHL history to reach 400 wins. His team was able to maintain its eighth place seed in the Eastern Conference Standings.
The Rangers scored the first goal of the game 14:54 in when Rick Nash put a wrist shot over the shoulder of Ilya Bryzgalov. His 11th of the year came in a frantic first period where Ilya Bryzgalov robbed Carl Hagelin on a breakaway just a minute into the game.
The Struggling Brad Richards would score a power-play goal in the second period when he one timed a pass from Derek Stepan by the goaltender. Known as a power-play specialist, the goal was Richard's first power-play tally of the year and only his fifth overall. Stepan would get his own goal under two minutes later when he jumped on a loose rebound off a Rick Nash shot and put the puck into an empty net. It was Stepan's third point of the evening.
The Flyers would get one before the period expired as Simmonds would chip one in tight by Lundqvist on the power-play to put his team within two. Simmonds had previously left the game after taking a puck to the face but he returned and immediately made an impact.
It looked as those the Flyers could tie it up after they pulled within one early in the third period. Jakub Voracek awkwardly redirected a puck by Lundqvist. The Giroux shot appeared to ring off the neck of Voracek and find a way by the goaltender.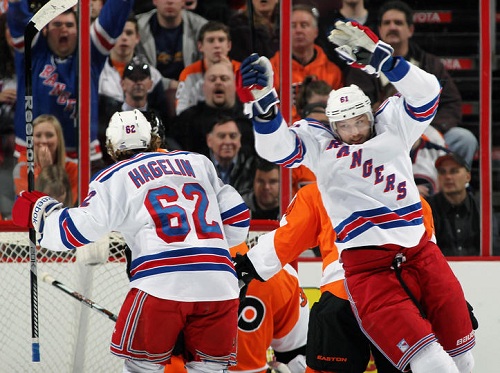 The momentum wouldn't carry for very long as Rick Nash tucked a wraparound by Bryz just over a minute later to silence the crowd and put the visitors up 4-2. Youngster Chris Krieder would add the insurance marker 12:13 into third period when he finished off a wonderful passing play from Richards and Michael Del Zotto. The Flyers would lose 5-2.
Game Notes:
Derek Stepan has been one of the most consistent Ranger's this season and now has 15 points in his last 13 games
Rick Nash scored his 300th NHL goal of his career on Tuesday
The Flyers honoured Kimmo Timonen on Tuesday as the veteran defenseman had played in his 1,000th career NHL game on Sunday against the Pittsburgh Penguins
Even though he put up two points Tuesday, Brad Richards is struggling mightily this year with only 16 points in 29 games
Sergei Bobrovsky of the Columbus Blue Jackets is third in the league with a save percentage of .927 while Ilya Bryzgalov is 39th with a save percentage of .898…
Jakub Voracek has six goals in eleven career games against Henrik Lundqvist