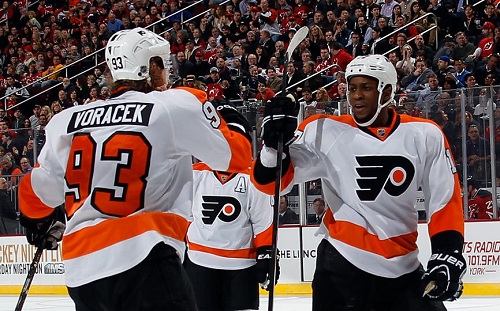 As the Philadelphia Flyers watch from the sidelines as their arch nemesis the Pittsburgh Penguins embark on a cup run, we can only ponder what could have been.
The Flyers have made the playoffs each of the last five years and made it past the first round four of those times. There are always high expectations with this team but in this shortened 48 game season, the Flyers came up short.
The Broad Street Bullies finished tenth in the Eastern Conference, accumulating 49 points on the year. Before we review the overall year, it is important to come to reality about our previous expectations.
After a second round playoff exit last season, the Flyers didn't do much to improve on the problems that sent them to the golf course. They lost star forward Jaromir Jagr and parted ways with youngster JVR. In addition, they also lost offensive defenseman Matt Carle to the Tampa Bay Lightning. In exchange for JVR, they were able to bring in Luke Schenn from the Toronto Maple Leafs .
Defensive woes sent the Philadelphia Flyers on a downward spiral against the New Jersey Devils last season and the only player brought in to fix that was Luke Schenn?
We must give props to the management team for almost landing Shea Weber and actively pursuing other big name defensemen. There is just no way that coming in to this season, fans could have thought this team was a true Stanley Cup contender. Of course there is enough talent up front to be in the playoffs but there shouldn't have been big expectations heading in to this shortened season.
Before we assess all the problems, it is crucial to recognize the many positives that came in the season.
The Good
 1. Jakub Voracek:   In this shortened season, Voracek was basically a point per game player as he put up 46 points in 48 games. He emerged as a lethal scoring threat and an extremely dangerous player on the power-play.  Many were worried after he failed to break out last year in his first season away from the Columbus Blue Jackets. Many signs were pointing to it happening this year though including the departure of first line winger Jagr and an impressive playoff performance last spring. He found chemistry with Claude Giroux and was able to easily take on a first line role. His eight power-play markers led the team. It seems like Voracek is finally living up to his high potential and should continue to be a force in the league for years to come.
2.  Wayne Simmonds:  After notching 28 goals in his first season as a Flyer, many questioned if Simmonds had the talent to duplicate this year. He showed last season wasn't a fluke as he put up 15 goals and 32 points in 45 games. If he continued at this pace for an 82 game season, he would have basically replicated his goal totals from last year. While his numbers are motivating, it is his heart and soul effort night in and night out that makes him such an asset to the team. His grit and nose for the net always gives the opposition trouble and he has become a fan favourite. His 82 penalty minutes were second on the team while his six power-play markers were tied with Giroux for second on the club. Simmonds is a clutch player and showed it with his team leading four game winning goals in the shortened season. His 110 shots on goal were third on the team and show his desire to always get the puck to his net. His great season was capped with a hat trick in one of the last games of the season. Simmonds has been rewarded for his play as he got a spot on Canada's team at the World Championships. The 24 year old is a true sign of a bright future ahead in Philly.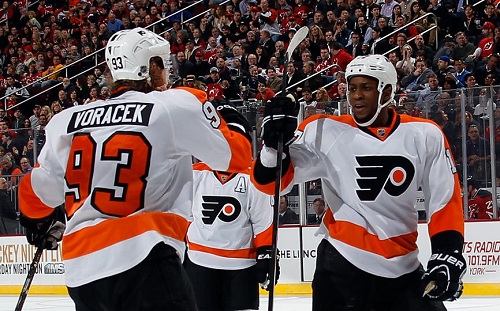 3.  The Power-Play: Considering where the Flyers finished in the standings, it may seem strange they had the third best power-play percentage in the entire NHL. There is a great deal of offensive talent up front though and the power-play benefited because of it.  Their two power-play units obliterated the Penguins last season in the playoffs and continued dominating in the regular season. Kimmo Timonen is usually the only defenseman on the first unit and his 17 power-play points were tied for 13th overall in the league. In addition, almost half of Claude Giroux's points came with the man advantage. The Flyers have lots of options on the power-play and should continue to dominate with their high powered offense. While it is clear that they are scoring with the man advantage, it is easy to realize the mighty struggles they had five on five.
4.  Luke Schenn:  The new Flyer defenseman couldn't have made a bigger impact. He is not known for his offensive talent but his defensive play may have made him the best Flyer defenseman on the year. He was one of a very few Flyer players to go positive on the year. His plus three rating speaks wonders to his play as that can be compared to fellow teammate Bruno Gervais who went minus 17 on the season. Schenn's 187 hits were third overall in the NHL and made him a terrorizing force in the league. In addition, he blocked an amazing 182 shots which was 15th overall in the league. Schenn did all this while logging an impressive 21:52 of ice time per game. The Flyers may still be in need of a top offensive defenseman due to Chris Pronger's injury and the age of Timonen but at least they have found a reliable shut down d man that they can build around.
5.  Steve Mason: The Flyers brought Mason in at the deadline and he excelled. There is no confirmation as to what will happen with Ilya Bryzgalov but Mason is a solid option no matter if it is as a starter or as a backup. The Calder trophy winner from 2009 has never been the same since that superb year but showed with the Flyers he is eager for a fresh start. In his 7 games played with the club, he posted an impressive 1.90 goals against average and a .944 save percentage. When the Flyers needed that big save, Mason was able to make it. That was something Bryzgalov wasn't always able to do. Mason has a lot of talent and now that he is no longer a Blue Jacket, his fresh start as a Flyer has been very promising .
Stay tuned for part two where the problems that plagued the Flyers are discussed. Be sure to follow and interact with me on twitter @trett27 where I am always willing to talk Flyers hockey.
Love Reading About Hockey?

Subscribe to keep up-to-date with the latest and most interesting hockey news!
| | |
| --- | --- |
| | We hate spam just as much as you |