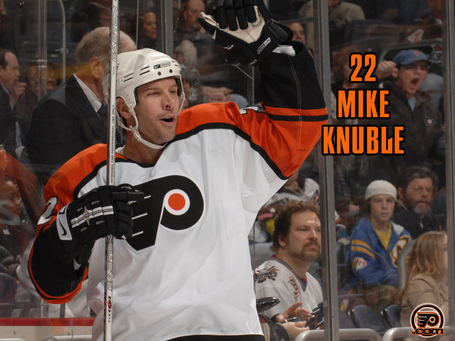 The Philadelphia Flyers are looking to sign veteran forward Mike Knuble. Flyers general manager Paul Holgrem stated Thursday that Knuble will be flying in on Friday for his physical and if everything goes well, he should be signed and ready to play with the Flyers for their games on Saturday and Sunday. Knuble was a member of the Washington Capitals last season where he notched 6 goals and 18 points in 72 games. He began training camp this season with the Detroit Red Wings but failed to make the team and signed a tryout deal with the Grand Rapids Griffins in the American Hockey League. He ended up playing one AHL game where he achieved an assist. It is being reported as a one year deal at $750,000.
The new Philadelphia Flyers forward is a proven goal scorer and had eight straight 20-goal seasons prior to his struggling year with the Capitals in 2011-2012. Another positive with Knuble is he is quite familiar with the Philadelphia Flyers. He was a member of the Flyers for four seasons where he put up 221 points in 310 games. In his stint with the Flyers from 2005-2009, Knuble scored 114 goals and became well respected by the Broad Street Bullies. At 40 years of age, Knuble has already played 1,040 NHL games where he has totaled 274 goals and 540 points. Throughout his long career, Knuble has spent time with the Flyers, Red Wings, Rangers, Bruins, and Capitals.
Knuble arrives for the Flyers in a desperate time of need. The injury bug has bitten the men in orange and they need someone to help fill in. The Flyers released on Thursday that first line forward Scott Hartnell will be out 4-8 weeks with a broken left foot. Daniel Briere is still dealing with wrist issues and is expected to return soon but an official date is yet to be confirmed. It is unclear where Knuble will be slotted on the depth chart but his presence takes the pressure off some of the young players. With the injuries to Briere and Hartnell, players like Couturier, Schenn, Read and Laughton will still need to take on big roles but the Knuble signing helps shine the spotlight away from their performances. Some of the Flyers players are extremely young and are still easing in to the NHL process so it is crucial that they aren't forced to do too much too soon. They play pivitol roles on this Flyers squad and Laviolette has great confidence in them, but bringing in Knuble helps balance out the offence. If the young guys aren't finding the back of the net, the team should have many other players they can look to for the answer.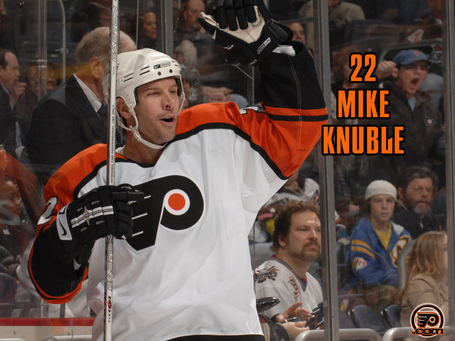 Knuble is a veteran with a lot of playing experience so he should help boost the team on and off the ice. He is a big body and is easily able to drive to the net and is also capable of establishing a net presence in front of goaltenders. He won't be able to replace the value of Scott Hatnell but he does bring a lot to the Flyers and should help them climb up in the standings.