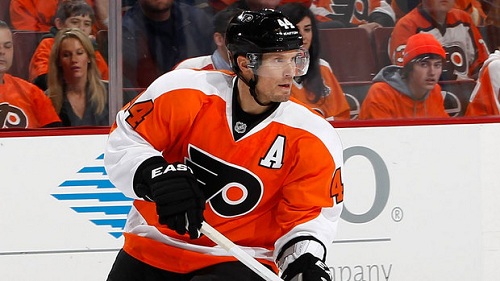 The Philadelphia Flyers have signed defenseman Kimmo Timonen to a one-year contract extension. The details of the deal have yet to be confirmed but it is being reported that the one year deal will be for $6 million. The 37 year old has put up 6 points in 11 games so far this season with the team and is averaging 23:05 of ice time per game. Timonen continues to be an ageless force on the Flyers blue line and his 46 points in 2011-2012 show that he isn't about to slow down. With the injury to Chris Pronger, Timonen has taken the reins for the Flyers defensive corpse and his terrific leadership and playmaking abilities have been instrumental in the success of many of the team's younger payers. The defenseman is a fixture on the first power-play unit and already has scored a power-play goal this season. He is usually the only defenseman on the first unit and his great vision and passing abilities help make the Flyers power-play one of the most feared in the NHL.
Timonen became a Flyer in 2008 and has since tallied 212 points in 408 games with the club. Overall, the defenseman has posted 513 points in 981 career NHL games. On July 1 2008, the Flyers traded with the Nashville Predators for the unrestricted free agent Timonen as well as unrestricted free agent Scott Hartnell. Both players agreed to six-year deals with the Flyers. Timonen's contract was for $37.8 million and was to expire after the end of this season. The one year extension is a good indication that the 2013-2014 season will be Timonen's last and the 37 year old has stated that he is 99 percent certain that he will retire after next year.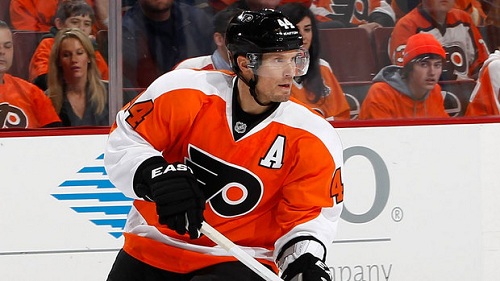 Kimmo Timonen has been a phenomenal asset to the club and helped lead them to the Stanley Cup Finals in 2010. The assistant captain is a plus 32 in his career and that number speaks to his tremendous defensive and offensive capabilities. The defenseman is also quite the spectacle on the international stage where he has put up some memorable performances. Most recently in the 2010 Winter Olympics, Timonen scored 2 goals and notched 4 points in 6 games while representing Finland.