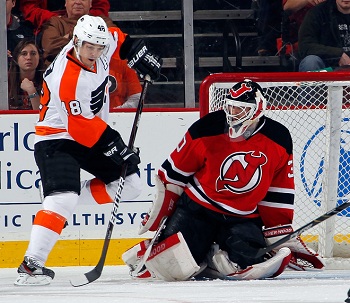 After a nail-biting double overtime finish, the Flyers finally found out who they will be playing in the Semifinals; the New Jersey Devils. Another division rival. Of course, with it being a division rival, these two teams are very familiar with each other. There will be no love lost in this series. Hits will be thrown, words will be shared, and friction will already be built between these two teams before they even hit the ice for Game 1 on Sunday afternoon.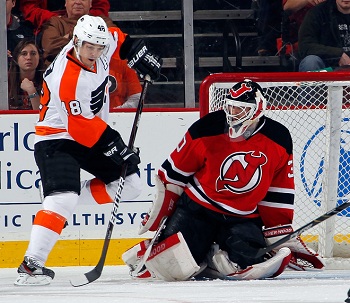 There are several things to watch for in this series. The first is goaltending. That sounds pretty cliché for the Philadelphia Flyers, but it has proven to be true once again. Ilya Bryzgalov has not played like the league's highest paid goalie. Luckily in the last series he was helped by a plethora of pucks getting past Marc-Andre Fleury. That won't be the case in this series. Martin Brodeur posted a .922 save percentage in his previous series against Florida; granted, it was Florida. And although he was pulled in Game 3, he still followed up with a shutout in game 4. He's still dangerous because, well, he's Martin Brodeur.
Goaltending is a huge issue. Especially in the playoffs. But another thing to watch for is offense; and mostly the Flyers offense. We'll get to see if their offense was really that dominant last series, or if it was solely the poor play of Fleury. Either way, the Flyers put up 30 goals in just six games last series. If the Devils want to have a chance to win this series, they'll have to find ways to score more than they did against the Panthers.
One final thing to watch for, which I'm actually most excited to see, is the Flyers Power Play against the Penalty Kill of the Devils. In the regular season, the Devils had the top Penalty Kill in the league at 89.6%. But the playoffs have been a different story. The Devils gave up 9 goals on 26 attempts, killing off only 65.4%, to the Florida Panthers. And with the Flyers scoring 12 goals on just 23 attempts in their series against Pittsburgh, this matchup could spell trouble for the Devils.
Regardless of statistics, this is a playoff series. And a playoff series between division rivals, at that. So stats don't matter. But with that being said, I can't see Philly losing this series. If Bryzgalov plays like a real goalie, my prediction will be the Flyers take this series in 5 games. I'd love to be right.
Love Reading About Hockey?

Subscribe to keep up-to-date with the latest and most interesting hockey news!
| | |
| --- | --- |
| | We hate spam just as much as you |