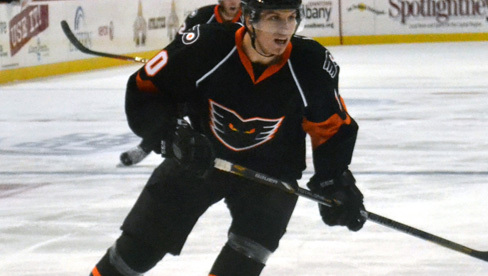 The beginning of a new year is always a time for optimism. Everyone makes a pact with themselves that the new year will be a better year full of hope and promise. New Year's resolutions are made, followed, and then – let's be honest – completely forgotten about. For the Adirondack Phantoms, 2012 hasn't been a year of optimism and it shows, as they now sit in last place in the Eastern Conference with just 27 points, beating out the Hamilton Bulldogs by just 2 points for last in the league.
While Brayden Schenn (13 G, 19 A, 32 PTS, 31 GP) and Sean Couturier (9 G, 18 A, 27 PTS, 29 GP) continue to provide the primary offensive production – as they were expected to – defense has been almost non-existent throughout. With the exception of Ben Holmstrom (+3) and Oliver Lauridsen (+6), the entire team carries a negative plus/minus.
Some key names to note when it comes to plus/minus are Brayden Schenn and Tyler McGinn, who both have a -14. Sure, a lot of pressure was put on Schenn to have a huge season playing a level lower than the league he is expected to be dominant in one day, but a -14 is unacceptable. Another player to note is Brandon Manning. Many, including myself, expected Manning to put up a bit of a fight for the 7th defensive spot on the Flyers roster this or next season. Right now he is -15. Not good.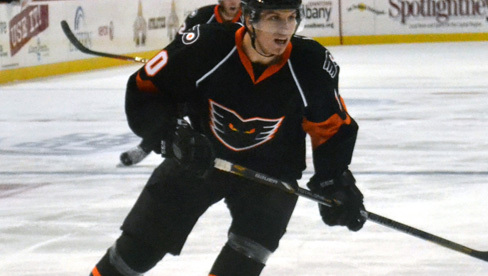 One bright spot seems to be the .918 save percentage Scott Munroe has managed to keep throughout this deficient season. Munroe, who has played in 19 games, has a .918 save percentage with a 2.59 GAA. Cal Heeter has also seen significant playing time starting 13 games, but has a .901 save percentage to go with a 3.01 GAA.
The Phantoms' struggles don't seem to be in just one area. Besides the hidden gem of Munroe's Save Percentage, the team's stat sheet doesn't look so hot. In many games the Phantoms are outshot and outplayed. The players need to play better defense in front of the goalies while at the same time putting more pucks in the net and spreading out the offensive production a little more.
The season isn't even halfway over yet – the Phantoms have only played 31 games. It's too early in the season to throw in the towel, but it is also late enough in the season to have severe cause for concern. If anyone can turn this team around quickly, though, it's Terry Murray. He may have had a little Stanley Cup hangover from being behind the L.A. Kings' bench last season as an Assistant Coach, but as current Head Coach of the Adirondack Phantoms he has a little bit of work ahead of him. A veteran in the coaching world, he is one person who has the tools to initiate a comeback. May 2013 be the beginning…
Love Reading About Hockey?

Subscribe to keep up-to-date with the latest and most interesting hockey news!
| | |
| --- | --- |
| | We hate spam just as much as you |