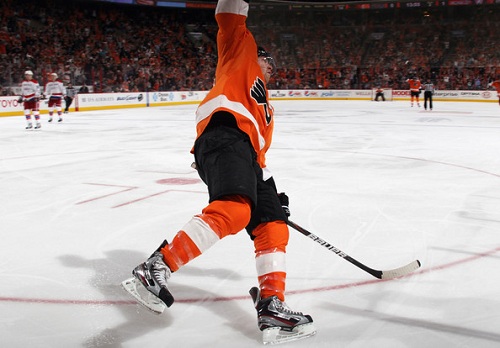 The NHL is back, which brings about a level of heightened excitement many hockey fans didn't think would be experienced at all this year. For Flyers' fans in particular, the season can't start soon enough. There will be no fan base lost or no grudges held against either party. We just want to watch some hockey.
At 10:00 Monday morning, certain members of the Philadelphia Flyers took the ice for practice at Flyers' Skate Zone in Voorhees, NJ – their normal practice facility – and for once weren't wearing NHLPA jerseys, but were wearing Flyers' practice jerseys. Among those who took the ice were Andrej Meszaros, Kimmo Timonen, Jody Shelley, Andreas Lilja, and Max Talbot, as well as Carolina Hurricanes' players Brian Boucher and Andeas Nodl, both of whom still live in the area.
After the initial excitement, it began to sink in that the Flyers season may not be as exciting as many are hoping. A lengthy list of injuries along with players still playing in other leagues could potentially make the Flyers a banged-up team heading into to a shortened, rushed training camp.
Pronger, Meszaros, Timonen, Lillja, Erik Gustafsson, and Marc-Andre Bourdon all have current lingering injuries, leaving the Flyers' defensive depth looking grim. Besides Pronger and Meszaros, all seem to be able to be ready for the start of the season. Pronger will most likely be put on Long-Term Injured Reserve and will not play this season, if ever again, due to the severity of his eye injury last season. For Meszaros, his ruptured Achilles tendon over the offseason seems to be healing well and he should be cleared to play by doctors within the next few days. Whether or not he will be able to be fully effective as a top 4 defenseman at the start of the season, if he can start, has still yet to be determined. Timonen is coming off back surgery, as well as having trouble with both knees last year. While his heart can never be questioned, his 37 year old body may finally be starting to catch up to him. Lilja is also 37 and coming off hip surgery, Gustafsson has an ankle issue, and Bourdon is having post-concussion problems.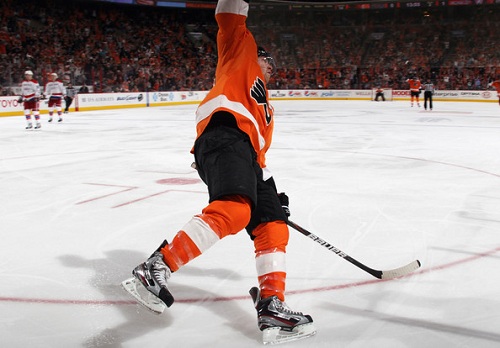 On offense, Giroux and Briere are two players that may not be on the ice come opening night. The most optimism is for Giroux, who is on the back end of recuperating from a neck injury acquired during a game in late November while playing for Eisbaren Berlin in Germany. He has had plenty of time to recover and should be ready for the start of the season. Briere will likely miss at least the first few games of the season due to a bone bruise in his wrist, sustained during a game on December 28th for the same team – Briere and Giroux both signed with the German club.
Voracek and Fedotenko were also additions to the list of possible Flyers missing some time, but not due to injury. Rumor had it that the KHL would allow NHL players playing in the KHL to finish the season if they wanted. Luckily that rumor was put to rest today when the KHL announced they would not allow players with valid NHL deals to play in the KHL once the NHL season begins. Disaster averted.
As usual, the goaltending situation should be nerve-racking this season. Though his game has vastly improved from the start of the season, Bryzgalov had been benched several times during the season for CSKA Moscow for his inept play. Backup goalie Michael Leighton – who many were iffy about before the lockout – hasn't played a significant amount since the lockout began and will need to be prepared for any inconsistencies in Bryz's game.
Although there is skepticism going into this shortened season, the most important thing to note is that hockey is back! No longer will our Twitter Feeds be filled with empty updates about unsuccessful meetings. We will now be able to focus on what we do best: watching some hockey. A 48-game schedule will mean lots of games with little breaks in between; a hockey fan's dream.