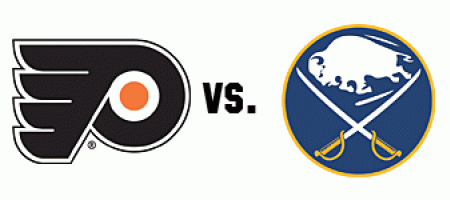 After months of no hockey, the puck will finally drop at the First Niagara Center in Buffalo, NY. There seems to be no sense of anger from Sabres fans as over 10,000 showed up to watch the team in their intrasquad scrimmage earlier in the week. Additionally, fans were quick to snap up tickets for the season and only several thousand still remain.
After a short camp, the Sabres top pick in this year's draft, 18 yr-old Mikhail Grigorenko has impressed coach Lindy Ruff enough to earn a spot on the opening day roster. He had been centering Steve Ott and Ville Leino. Grigorenko had 6 pts (2g-4a) in the World Juniors. To cut the roster to the 23-man limit, the Sabres waived D Adam Pardy, F Kevin Porter, and F Nick Tarnasky, all of whom cleared waivers and will return to Rochester. F Nathan Gerbe is still recovering from spinal surgery over the summer and F Cody McCormick (finger) was placed on injured reserve.
The Flyers are eager to get the season started after a strong performance last year. They finished 5th in the conference last year and lost to the Devils in the Conference Semis. The Flyers are loaded with forwards including Cluade Giroux, Scott Hartnell, Danny Briere, and Max Talbot.
What is to become of the Flyers defense corps? Chris Pronger still isn't cleared to play and Matt Carle (Lightning) was lost to free agency over the summer. In addition, Andrej Meszaros is still battling the effects of his torn Achilles.
Ilya Bryzgalov will once again be between the pipes for Philadelphia as their #1 goaltender for the season. He will need to play better after posting a whopping 3.46 GAA in the playoffs. With many of his top defensemen out, Bryzgalov may be tested a lot this year.
The Sabres hope to have better luck this year against the Flyers. Buffalo could not muster a win and went 0-3-1 against them, featuring 3, 1-goal games.
Let's play some hockey!