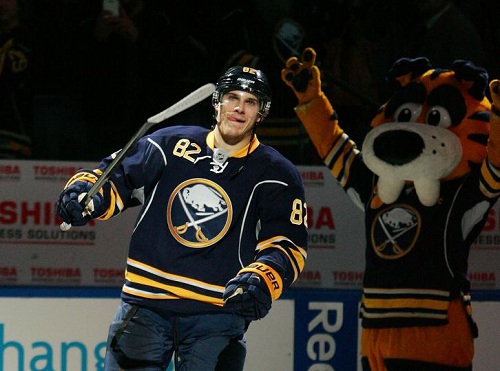 Marcus Foligno had a strong game as the Buffalo Sabres defeated the New York Rangers 3-1. Foligno scored twice for the Sabres and goaltender Jhonas Enroth made 32 saves in the victory. The win ended a 4-game winless skid.
After a scoreless 1st period, the Rangers would open up the scoring in the 2nd period. Derek Stepan beat Enroth shorthanded and the Rangers were up 1-0. Ryan Callahan assisted on the goal. The Sabres quickly responded with a goal of their own. Christian Ehrhoff missed wide on the net but Foligno was there to pick up the rebound. Foligno put the puck between his legs and beat goalie Henrik Lundqvist to tie the game at 1. Andrej Sekera also had an assist.
Cody Hodgson battled behind the Buffalo net and passed to Jason Pominville. Pominville then sent a cross ice pass to Thomas Vanek who got ahead of the defenseman. Vanek beat Lundqvist with a wrist shot to increase Buffalo's lead 2-1. The goal was Vanek's 14th of the season.
The Rangers tested Enroth a lot in the 3rd period, taking 18 shots on net. However, Enroth was up for the challenge and turned all 18 shots away.
Again, Foligno was doing the dirty work in front of the net but was rewarded for his efforts. This time Sekera sent a shot toward the net and Foligno picked up the rebound to beat the Rangers goalie and put Buffalo up 3-1.
The Sabres would hold onto the lead, something they have had trouble with the past few instances. Buffalo will play the Ottawa Senators Saturday.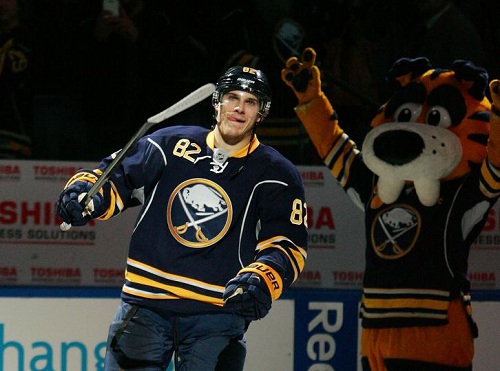 Game Notes:
The win for Enroth was his first since Nov 26, 2011. He had gone 0-9-3 in 16 appearances since that game.
The Sabres have allowed the most short-handed goals in the league with (5).
Rookie Brian Flynn has 3 points (2g-1a) in his last 3 games.